Getting the hell outta town never goes out of style, but traveling -- like every other blasted thing in life -- requires time and money. The best window most of us can hope for, most of the time, is a long weekend away. Luckily, America is packed with great cities to spend a solid three days. And while you're probably not hitting Tokyo or Beirut or Cape Town, there are a great many international destinations where you can enjoy a legit exotic escape outside the States in just three or four days. These 20 cities are a quick hop from some of America's biggest airports -- so duck out early, beat the traffic to a flight at dusk, and enjoy the adventure and romance and exhilaration of a trip abroad. We'll see you back at your desk Monday.
Recommended Video
Visit Denver: Our Guide to the Best Food & Drink in Town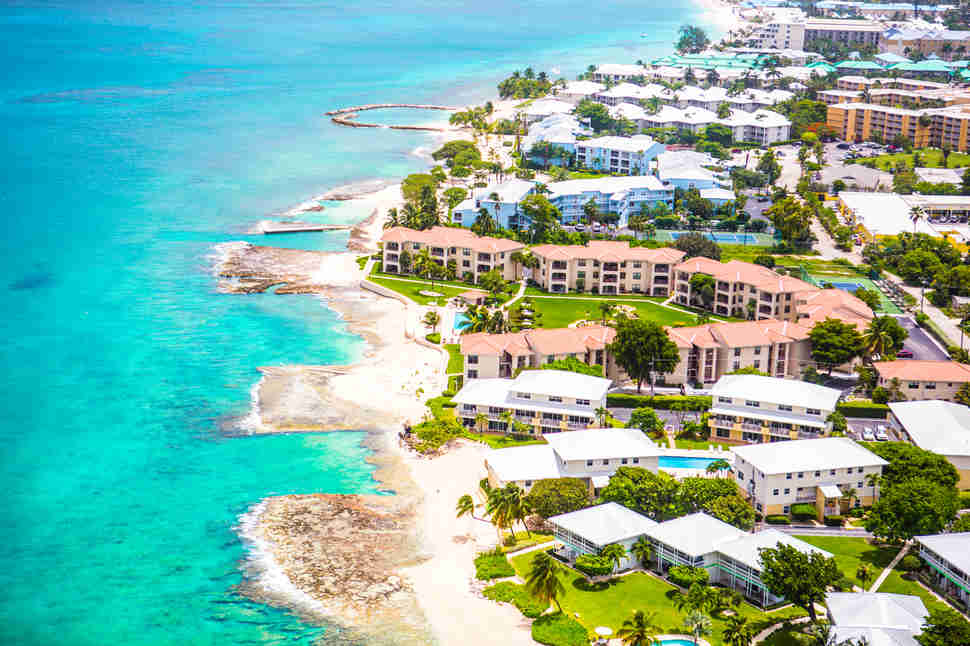 Cayman Islands
Travel time: If you're in Miami, great, because a direct flight is just an hour and a half. From Chicago or New York, it's under four hours. A round trip will run probably $300 to $550. Aim for March or April, the sweet spot when hotel rates drop but the rainy season hasn't quite yet kicked in. And keep an eye out for more of those Southwest deals.
Why you'll love it: The Caymans are three islands, each with a different vibe. On a short trip, you'll get the most out of your time on Grand Cayman, the largest. Visit the Cayman Turtle Centre to swim with sea turtles (and learn about local marine life). For a smokeshow beach, which I'm going to assume is one of your higher priorities, head a few minutes south to Seven Mile Beach. Maybe feed a stingray while you're there.
Not really an ocean person? That's cool -- you can go to Hell, a surreal landscape of black limestone. It's free, though it's worth paying a small fee (meaning a gratuity) for a guide to give you a more thorough experience. Keep walking, if you must, on the renowned Mastic Trail, which cuts through a rad a nature preserve. If you can make it during the first week of May, you can catch the annual Carnival festivities, known here as Batabano. And definitely don't go back home without sampling the world-class jerk chicken. It's ubiquitous, but East Ender's is a cut above. -- Kastalia Medrano
Whitehorse, Yukon Territory
Travel time: Fly into Whitehorse Airport (with a short layover in Vancouver) on Air Canada or Air North, the only two airlines that offer year-round service. Travel time varies from West Coast hubs like LA, Portland, and Seattle, but you can get there in as little as six hours. Considering you'll be within driving range of the Arctic Circle, it's not bad for a Friday night flight. Book early to keep costs as low as $450 (r/t Seattle).
Why you'll love it: The Pacific Crest Trail and Kilimanjaro may be next on your adventure to-do list, but who's got that kind of time? Instead, channel your inner Paul Bunyan by exploring Canada's least-populated territory, where spruce forests and jagged mountain peaks have inspired intrepid travelers since the Gold Rush. A stop at Braeburn Lodge is a must for the cinnamon bun alone; it's so big you'll be snacking on it all weekend as you head north to Tombstone Park where you'll drop off the grid and be forced to ponder life's big questions.
You'll have plenty of sunshine, too. During the summer months, the "midnight sun" stays up until well after the witching hour. So float down the mighty Yukon River on a white-water rafting trip or chat up the friendly locals -- they're all in bands, and will low-key try to convince you to move here (they may be onto something). Just don't check the time, and your long weekend will feel like an endless summer. -- Ryan MacDonald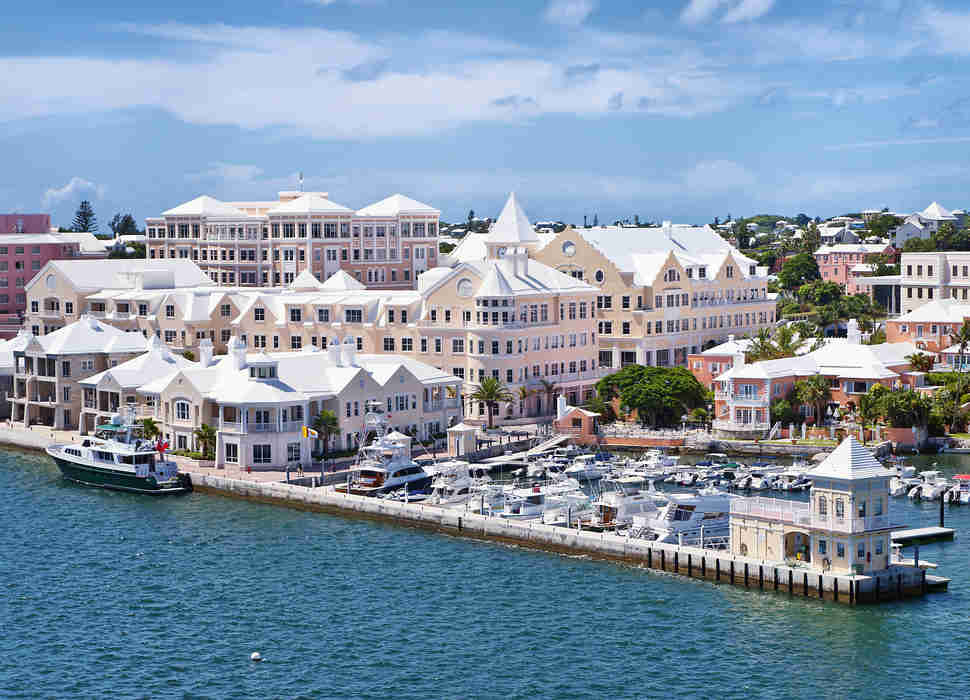 Hamilton, Bermuda
Travel time: Bermuda is an easy flight from the East Coast: two hours from New York, DC, or Boston; about three from Miami or Atlanta. Often you can get there for about $300.
Why you'll love it: Bermuda is a weird bird. It's not tropical, but it is warm and sunny and has pink sand beaches and sunsets over the North Atlantic. It's also close, both geographically and culturally. Brits and Americans have been there since the days of pirates (it's still a playground for captains of finance and their offspring), so you get gnarly old cannon-laden forts and a flourishing nightlife. You can ride a jet ski into the Bermuda Triangle. You can visit The Swizzle Inn for an iconic rum swizzle, and then seek out authentic local fare in St. George's or drop some cash at Marcus Samuelsson's chic eatery Marcus'.
Or, save your dough -- even if you don't want to spend hedge-fund-manager dollars, you can enjoy the same beaches. Or venture onto the bicycle trails, try a stand-up paddleboard, and walk around Hamilton's Downtown. It's quaint, relaxing, and a shorter flight home than some New Yorkers' morning commutes. -- Emily Zemler
London, England
Travel time: You're pushing it for a three-day jaunt, but it can be done from Boston (6.5 hours) or New York City (7-ish). Fly out Thursday after work ready to nap. You'll arrive Friday morning and take the Heathrow Express straight into the city. Fly back Sunday night and return stateside while it's still Sunday, meaning you only need one real day off for an incredible weekend in London. Off-season, you can pull this stunt for under $400 in airfare.
Why you'll love it: If you've never been before, get yourself to a double decker bus and breeze through the sights: the British Museum, Buckingham Palace, Westminster Abbey, and The Tower of London, or just toss the traditional guidebook vacation and be a Londoner for a weekend.
Not only do Londoners order drinks in a better accent than wherever you're from, they are just undeniably more fun. Don your best day-to-night outfit and set out to explore the stone streets of Covent Gardens for boutique shopping, then pop into Soho's posh stores and Berwick Street Market for a bite and perhaps even venture out to Brockley (pronounced broccoli) or Barnsbury to people watch and drink your way around the up-and-coming neighborhoods like a local. Because everything is so packed together throughout the city (which is all connected by public transit), you can hit up impressive amounts of pubs, shops, food stalls, restaurants, and even shows in a mere three days. So fetch. -- Melissa Kravitz
Antigua, Guatemala
Travel time: You can fly to Guatemala City in three hours from Miami ($400), four from Dallas ($550), or around five from New York ($400) or LA ($650). But don't stop there. (Seriously, the capital is polluted and kind of dangerous.) Hop an airport shuttle to Antigua, the charming colonial town an hour away.
Why you'll love it: You'll spend the weekend getting off your butt and off your phone. Go bar hopping through Antigua's cobblestone streets after fueling up on legit street food in Parque La Merced. Then burn off those tacos and beers with a hike up one of the volcanoes surrounding the town. If one of them is particularly active, join an overnight trip with OX Expeditions (~$100) where you'll camp in view of exploding lava and hike to the peak at sunrise.
Or put on flip-flops and take a shuttle three hours west to the shores of Lake Atitlán, which is so chilled out and pretty that backpackers regularly get stuck here for months at a time. There are about a dozen different lakeside towns to choose from: Panajachel, San Pedro, and San Marcos are the most popular with travelers, but it's also worth visiting one of the more traditional Mayan pueblos to catch indigenous villagers going about their everyday lives -- and maybe to pick up a traditional multicolored blanket or two. It'll really tie your lounge room together. -- Sarah Theeboom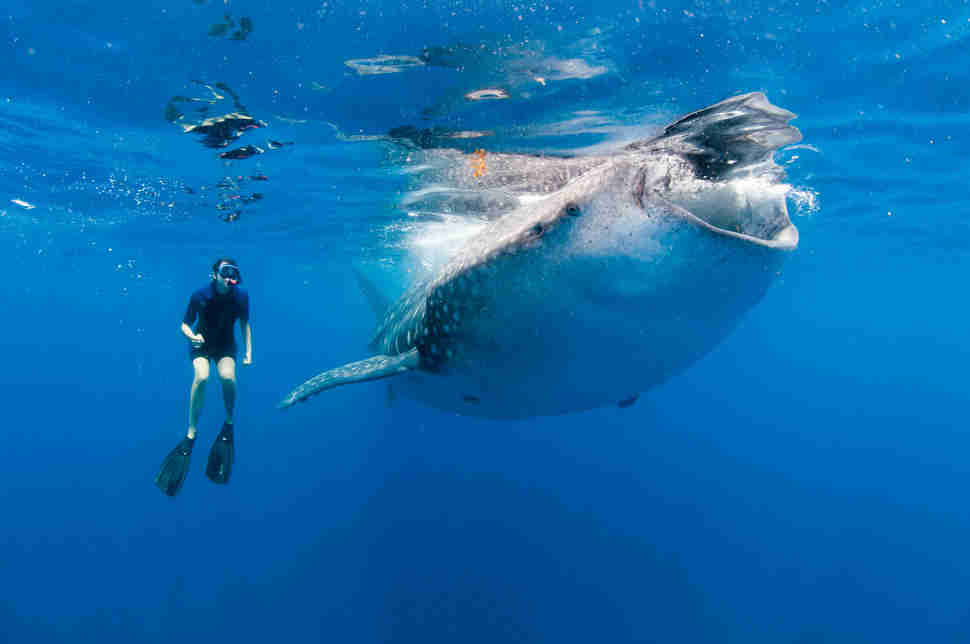 Isla Mujeres, Mexico
Travel time: You can fly into Cancun in about four-and-a-half hours from LA, and just two hours from Houston or Miami. A round trip will probably run you less than $250, and the ferry from Cancun is only a few bucks.
Why you'll love it: This island right off the coast is an excellent place to enjoy the things for which people go to Cancun without having to interact with the people who go to Cancun. The vibe is relaxed -- this is where you go not to party for a weekend, but to laze. For a day at the beach, head to Playa Norte, where the waters stay waist-deep for probably as far out as you care to walk anyway. Jaunting around Isla Mujeres via golf cart is a popular move, but if you're willing and able, rent a bike or moped; the island is small and relatively car-free, so you shouldn't have to worry about safety. Don't miss the Underwater Museum of Art, which comprises 500-plus statues and sculptures that are, as the name suggests, underwater. You can view them from a glass-bottomed boat, or snorkel and/or dive your way through the collection.
Visit during the summer, and you're in the planet's optimal time and place for snorkeling with God's most noble and mysterious creation, the whale shark. These gentle, school bus-sized creatures aren't actually sharks, but rather the world's largest fish. Though their migration patterns have stumped marine biologists for years, Isla Mujeres is where they're most reliably known to turn up. -- Kastalia Medrano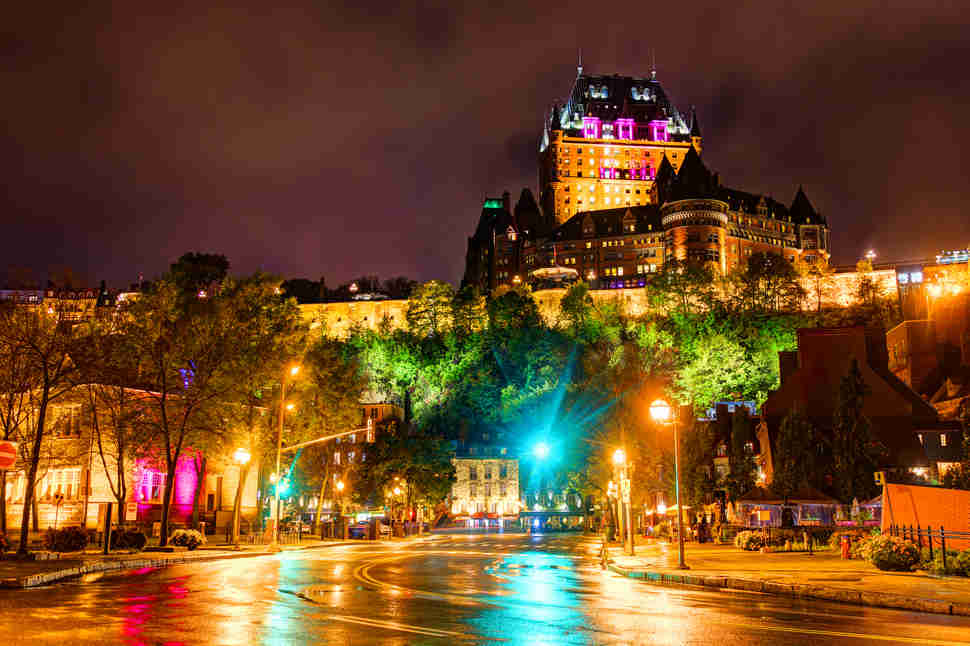 Quebec City, Quebec
Travel time: You can drive there from Boston in about six hours. From the East Coast, it's one connection through JFK; from the Midwest, through Chicago. If you can get to either of those airports, the flight is just a couple of hours.
Why you'll love it: Quebec City is the most French place I've ever been. And I've been to France. Not only are the francophone people a cultural immersion that it's hard to find north of the border, the streets here look like the opening sequence to Beauty and the Beast. Small, European buildings packed closely next to each other, where bakeries alternate with cafes, brasseries, and bars making for a completely walkable vacation. It's also the only walled city north of Mexico, and during the summer you can climb atop the rampart and do a lap over the entire Old City. In the winter, it's home to Carnaval de Quebec, a sort of snowbound Mardi Gras where people jam the streets, sub-freezing temperatures be damned. Quebec City is the most European experience you can get in a weekend away from the States, and a city unlike anything else you'll find in North America. -- Matt Meltzer
The British Virgin Islands
Travel time: From Miami, a nonstop flight to Tortola is under three hours. But you can fly to St. Thomas in the USVI from New York, Miami, Atlanta, Charlotte, and other major hubs in just a few hours, and take a short, scenic ferry ride to any of the four islands. If you leave work at noon to catch your first flight, you'll be eating dinner on a beach by sunset.
Why you'll love it: The BVI is, quite simply, the nicest destination in the Caribbean. Despite being a British territory the islands are distinctly Caribbean, where small fruit markets, windy roads with rickety cars, and slow-moving roti shops abound. But because the people who frequent the BVI have money, the infrastructure is better than you'll find in most of the Caribbean. The islands are nice, but it's not a "you-can't-sit-with-us" kind of exclusivity one might find in St. Martin or St. Barts. Here yachtsman pour into a ramshackle beach bar called Foxy's on the island Jost Van Dyke, sipping cheap beer on the white sand with no pretension. Jost is also home to White Bay, one of the world's most beautiful beaches that's also lined with cheap bars and no attitude. -- Matt Meltzer
Mexico City, Mexico
Travel time: Direct flights from major airports will get you into el DF quick: 2.5 hours from Dallas, three hours from Miami, four hours from LA, five from NYC. Round-trip fare usually ranges from $300-$500. Or go all On the Road with it: From San Antonio you're a 16-hour drive away.
Why you'll love it: Anything feels possible here. Spend an afternoon wandering the tree-lined streets of super-trendy La Condesa or La Roma (like a Paris that rides the bus to work), and sip artisanal coffee while eavesdropping on local slang (no mames guey!). Get cultured in the Centro Historico, where grand colonial buildings and churches tower over the electric, modern murals that line the alleys. The top draft choices among the 150 museums in the city are the stunning Museum of Anthropology and the Casa Azul of Frida Kahlo. Do 'em both.
At night, the city comes alive -- as will you, when you sample pulque (a traditional, fermented agave drink, flavored with strawberry or celery) and befriend the mariachi band busking on the sidewalk. Get a midnight snack of the capital's renowned tacos al pastor, then stumble off to dance until the sunrise. Don't forget a day trip to the epic, pre-Hispanic city of Teotihuacan, where climbing the steep steps of the ancient pyramids will leave you eager for a long lunch in a restaurant in the desert: right next to a cactus farm. -- Laura Yan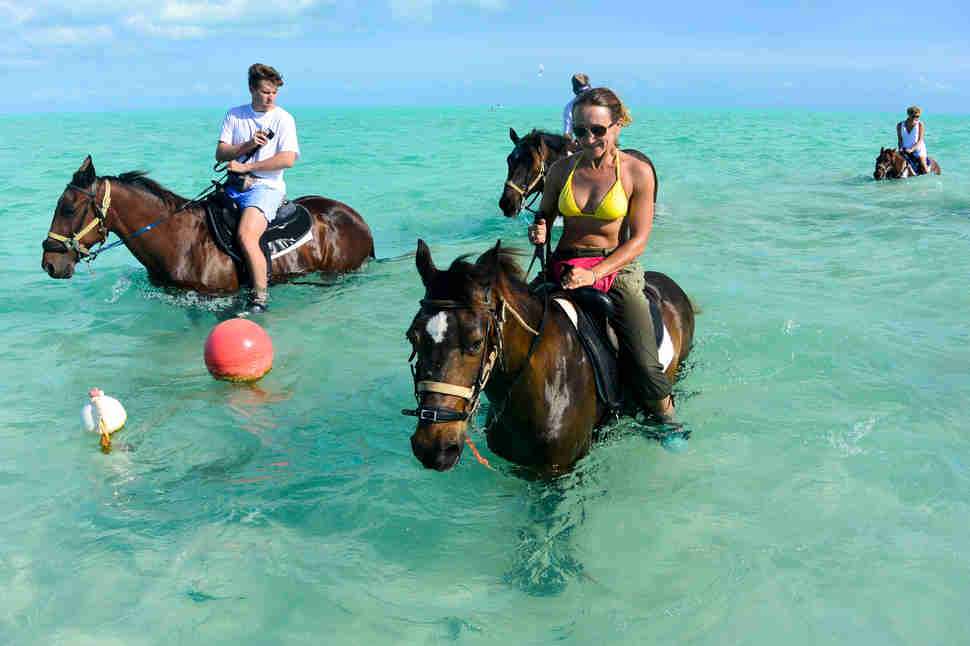 Turks and Caicos
Travel time: A direct flight from Miami will put you there in less than two hours; from Chicago or New York, less than four. You should be able to get a round-trip ticket for comfortably under $500 (half that, from Miami). Keep an eye on Southwest Airlines, which often features discounts to Caribbean destinations.
Why you'll love it: Turks and Caicos makes the news when Kardashians (or Jenners) descend there to stay in a $33,000-per-night hotel, and, yes, it is (vacation) home to a lot of celebrities. But don't write it off as too exclusive or too expensive for you, person who is not Bruce Willis. There are hotels in the $200-$300/night range that will feel luxe enough to scratch the vacation itch. Hurricane season spans roughly June to November -- iffy months, sure, but also vastly less crowded and cheaper. Plus, the currency (US dollars) will save you on conversions.
As activities go, there's a beach full of puppies you can play with, so that's a start. A massive barrier reef makes the waters ideal for swimming and snorkeling. Set aside at least one lazy morning on Providenciales for Grace Bay Beach, one of the Caribbean's prettiest, a 3-plus-mile stretch of white sand with the unnerving blemish-free aesthetic of a high-quality stock photo. Traveling with kids? If you get there by Thursday night you can catch the weekly fish fry, where dozens of local artisans and food vendors collide alongside live, local music. For an even quieter, off-the-grid weekend than what you'll find on Providenciales (often called Provo), catch a ferry to the North Caicos or Middle Caicos islands, or -- for a weekend where you conceivably might not run into a single other person -- Salt Cay, the smallest of the main islands, where the population hovers around 108 souls. Turks and Caicos is still recovering from Hurricane Irma, so bringing those tourism dollars while blissing out in a tropical breeze for a few days is a win-win. -- Kastalia Medrano
Lisbon, Portugal
Travel time: About 7 hours from the northeast or 8 hours from Miami. Boston is the sleeper deal here: New England has a huge Portuguese population, and you can often find round-trip deals between Logan and Lisbon in the $400s, rivaling the best New York prices.
Why you'll love it: Think of Lisbon as a Barcelona that hasn't been swarmed yet. It's cheap, it's beautiful, and the food and wine are fantastic. You'll want to spend your evenings drinking and eating your way through the streets of Bairro Alto on the northwest side of Lisbon's Downtown, but make sure to take day trips to both Belém and the panoramic views of the Atlantic Ocean in Sintra. (Belém is just a seaside tram ride away from Downtown Lisbon and it's worth the ride just to get pastéis de Belém, the Portuguese egg custard pastry, where it was perfected back in 1837.) And yes, go see a Fado, ideally at A Baiuca and preferably with a few bottles of Vinho Verde. Then catch a flight home by noon Sunday: With the time change, you'll be back in New York by midnight, the perfect crime before showing up bleary but unbowed on Monday morning. -- T.M. Brown
Lake Louise, Canada
Travel time: You can fly into Calgary in about two-and-a-half hours from San Francisco or Denver; four hours from Chicago. Look for tickets in the $300 range.
Why you'll love it: Situated in the preposterously scenic Banff National Park, the glacier-fed Lake Louise is where, from December-ish to April-ish, you can avail yourself of what many consider to be the world's best ice-skating rink -- go after dark for night skating. In the summer, go rock-climbing or horseback riding, and if you have the extra coin there's heli-hiking, which is exactly what it sounds like: a helicopter ride to a remote alpine location (the route can be easy or strenuous, depending on how seriously you take your fun) from which you hike back. The Canadian Rockies are a perfect destination for solo travel, especially if you're a woman who wants the option to socialize with other humans or avoid them entirely. -- Kastalia Medrano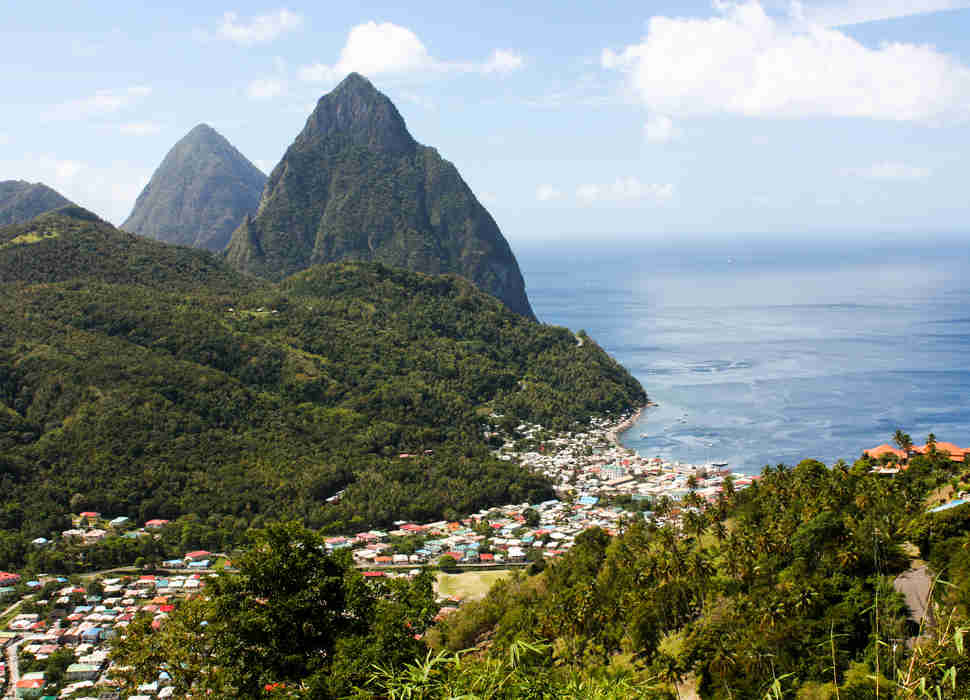 St. Lucia
Travel time: You're pretty much consigned to flying out of or connecting in Miami, where a direct flight to UVF is going to run you in the $700s and but take just 3.5 hours. You can find cheaper but slower flights into the island's smaller airport, SLU.
Why you'll love it: Maybe you can find another drive-in, active volcano, but chances are you won't find one as gorgeous as the bubbling pits found on this island, which would just be a scrub of an island in the Caribbean Sea if not for the slopes of the Piton Mountains and the rich green rainforest covering every inch of land that isn't pure beach. Besides eye candy, the mountain peaks are also your sign of quality on the label of any locally distilled bottle of rum.
At only 238 square miles around, St. Lucia is easy enough to cover in only a few days. The most festive time of year is the May jazz festival, when contemporary giants of the form and international tourists dance across every city on the isle to drink rum, eat banana sandwiches and fresh lobsters, and Calypso until their legs turn to jelly. Flights are cheaper during the summer and autumn months -- admittedly hurricane season -- but presuming you avoid the storms, the tropical atmosphere will make the rains a welcome, likely brief, refresher as you walk from your hotel room to the nearest beach. And if you do decide to spend your entire trip doing nothing more than lying on the sand, you'll loaf before a landscape that native son and Nobel-winning poet Derek Walcott described as so full of beauty "the sigh of History dissolves." -- Peter Rugg
Belize City, Belize
Travel time: Flights to Belize City are quicker than you realize from huge hubs like DFW, Atlanta, and Miami (three hours each) or Houston (2.5 hours). Tickets from those cities can get down under $300; if you're connecting, you'll pay a bit more.
Why you'll love it: Lush tropical rainforest, check. Ancient Mayan ruins, not bad. Those cayes, though. This little country on Mexico's knee has more than 200 small islands that roll out some of the clearest turquoise waters and blindingly white sand you'll ever see. For roughly the cost of your flight you can do it up Johnny Depp-style and Airbnb an entire island for the weekend.
If you'd rather mingle with locals, and maybe drink your weight in daiquiris, the most popular choices are Ambergris Caye and Caye Caulker. From there you can take a short boat ride out to the world's second-largest barrier reef to snorkel with a mind-boggling variety of stingrays, sharks, and fish. The Great Barrier Reef is bigger, but I can tell you from experience, Belize is better. Close the day with Caribbean vibes, jerk chicken, coconut rice grilled on the beach, and ask yourself how you've lived this close to paradise without ever finding time to visit before. -- Katie Lockhart
San Juan, Puerto Rico
Travel time: A three- to five-hour nonstop flight from major hubs (JFK, O'Hare, Dallas-Fort Worth, and Miami) to the capital city of San Juan will only set you back around $300 to $350 during low season.
Why you'll love it: Yes, Puerto Rico is a US territory, but it truly rocks a distinct flair, and it could use your tourism dollars right now. Carve trails in Old San Juan and stumble upon offbeat spots like Mi Pequeño, a shop that makes and sells hand-painted reproductions of San Juan's doors and building facades. Stop by Caribar at Caribe Hilton, birthplace of the piña colada, and treat yourself to one. Explore the brilliant street art of the Santurce neighborhood. Then day-trip: Among the best excursions are Vieques' bioluminescent bay; the adventure park of Toroverde, where visitors can hop zip-lines -- some of the world's longest -- over a lush canopy of trees; and El Yunque, the country's only tropical rainforest. -- Michelle Rae Uy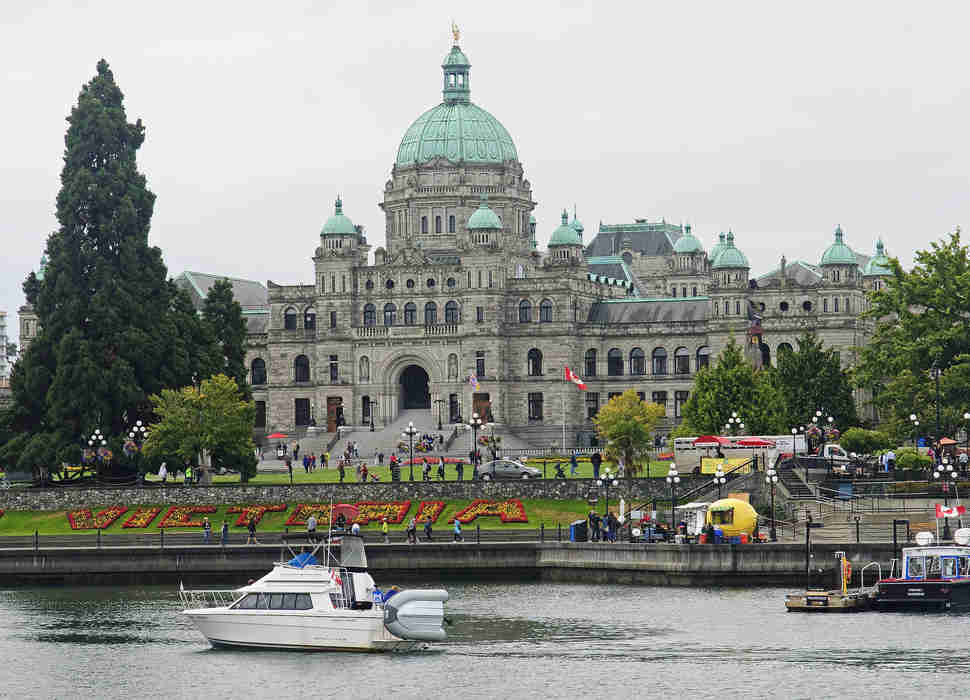 Victoria, British Columbia
Travel time: Get there direct from Seattle for less than $350 on a 45-minute direct flight to YYJ. Or fly into Vancouver (YVR) and then hop across the Strait of Georgia to Vancouver Island (a bit confusingly, it's where you'll find Victoria, not Vancouver) via commercial flight, sea plane, or ferry. The whole trip will take you 4.5 hours from LA or six hours from Houston or Chicago. Or drive and ferry from Seattle in about five hours.
Why you'll love it: Vancouver -- so sexy, so filmable -- overshadows its smaller, harder-to-reach provincial capital. But the Garden City offers a mix of the bold and the British that makes its tourist-friendly yet genuinely rad Downtown one of the chillest little vacation nooks on the West Coast. Stone-clad buildings like the grandiose Empress Hotel and British Columbia's Legislature loom Englishly over seals splashing happily amid houseboats in the harbor nearby. There Red Fish Blue Fish, a harborside fish-and-chips shack housed in a renovated shipping container, has eats that justify what will likely be a lengthy wait in line.
Fish and chips not your thing? Head to farm-to-table OLO for cutting-edge eats in Canada's oldest Chinatown. Watching seals from the dock too sedate? Hop in a speed boat and chase some orca, taking a sec to notice the snow-splattered Olympic Mountains rising in Washington state, still visible to the south. -- Lewis Kelly
Jacmel, Haiti
Travel time: To Haiti's capital, Port-au-Prince from NYC takes four hours; from Dallas, 5.5; and from Miami or Fort Lauderdale, just two hours. From there it's a 2.5-hour car ride to Jacmel.
Why you'll love it: Because you're ready for an island adventure truly and very well off that beaten track we all blather about. Whether you're jonesing for picturesque beaches, artisanal appreciation, and/or culinary wonders, Jacmel -- an architecturally charming port city often considered the cultural heart of Haiti -- will blow your mind. Its most sought-after sight, the pristine waterfall and basin called Bassin Bleu, is a must-visit. Tucked deep into the mountains, half the adventure is trekking over uneven back roads and crossing a river to get there (or hire a driver -- either way, bring some cash for the tiny entrance fee).
Almost as breathtaking are Jacmel's stunning beaches (Raymond les Bains is a hot draw, but check out local favorite Ti Mouillage for a less frequented local favorite). Arrive hungry, plant yourself in a chaise longue and dive into a seaside meal of fish, just caught and served hot. As you gawk at some of the city's French-influenced architecture (and maybe even pop into a voodoo temple), wander over to the Iron Market, a flea market that brings out artists and food vendors. Some of the most locally authentic wares can be found among the galleries and craft shops dotting Jacmel, a UNESCO-designated hub for the creative arts. -- Farah Fleurima
Cartagena, Colombia
Travel time: Three hours direct from Miami and Fort Lauderdale, or five hours direct from New York, with flights starting at around $250 courtesy of United, Avianca, and JetBlue. Alternatively you'll find lots of connections through Bogota.
Why you'll love it: You can be forgiven if you forget that Colombia is Caribbean, and it's a gem, with white beaches cushioning the blue waters. Ceviche, cocktails, champeta, and cumbia provide the setting to Gabriel García Márquez's Love in the Time of Cholera. Still retaining the fantasy charm, the old town is riddled with tropical food spots, with plenty of opportunities for drinking rum and dancing exclusively with your hips in the local taverns. It's where the old colonial romance seeps through the city's historical walls, exuding Latin beauty of every corner. And should that not be enough, boats will take you to any spot within the nearby Islas del Rosario -- otherwise known as the next thing you'll find to paradise.
You're still going to be on the forefront of the tourism industry there. But hurry. Colombia is becoming safer, and in the past 10 years has seen a 250% rise in visitors. Yet prices haven't caught up to the spike. You can eat fabulously well for under $20, with equally acceptable rates in hotels, and Airbnb rentals. All of this on perched on the exquisite Caribbean coastline, the ideal sanctuary to find your 100-hours of solitude. -- Daniel Cole
Dublin, Ireland
Travel time: If you want to play hooky in Europe, you can't get much closer. Direct flights from New York, Philadelphia, Boston, and other major East Coast cities run at about 6.5 hours and as cheap as the $300s.
Why you'll love it: Dublin's hardly a secret, but it's one you can easily browse past if you're planning a Euro trip. Look, it's cheap, dense, walkable, culturally rich, and full of locals who will drink you under the table, day or night -- don't overthink this. For a blowout three-day weekend, it's ideal. On these cobbled streets, you'll meet street performers performing magic and making dog sculptures out of sand. Skip the tourist-choked joints around Temple Bar and instead hit up the art scene at the Irish Film Institute or The Temple Bar Gallery and Studios. Pop by the Leprechaun Museum and sit in a giant chair 10 times your size, best after pints and drams at the Guinness Factory and the Jameson Distillery. If you prefer to eat your alcohol, try some Guinness stew or stop in at Murphy's for a rotating menu of ice cream flavors that includes an Irish coffee flavor.
Then keep the party going. Hit the Brazen Head for live music or hit a pub on Harcourt street for a sloppy, make-out-with-a-local kind of evening. Your new friend (what's his name, again?) might lead you into a bleary made-up game like "good bottle, bad bottle" (hint: It always ended in bottles breaking). After two days soaking up culture, history, and ethanol, head out for a tour of the stunning countryside and the cliffs in Howth, to clear your head and lungs before heading back home to real life. -- Hannah Friedman
Tijuana, Baja California, Mexico
Travel time: Mexico's northwestern-most state is a 20-minute drive from the San Diego airport, so just do the math on a cheap flight into SAN and add a car rental. Or, hell, just take the trolley (or walk) into Tijuana, whose airport is best accessed via Latin American airports.
Why you'll love it: Butting up directly to the U.S.-Mexico border and the Pacific Ocean, Baja California is a close-to-home departure that will leave you feeling like you just got off a 10-hour plane ride (minus the long plane ride, of course). Tijuana, directly on la frontera, is both safer and more dynamic than you expect -- a burgeoning mecca for art, for design, and like its sibling San Diego, for craft beer tours. The city's first two boutique hotels just opened alongside a glut of fine and upscale-casual dining restaurants serving internationally lauded modern Mexican cuisine.
Down the coast highway is the port city of Ensenada, known for its second-to-none fresh seafood options and the Valle de Guadalupe, Mexico's finest wine country. With 150+ architecture forward wineries, inventive boutique hotels and restaurants helmed by Michelin-starred chefs, this less-explored food and drink paradise is a side of Mexico most people outside of Southern California (and plenty of people in it) haven't yet experienced. -- Jackie Bryant
Sign up here for our daily Thrillist email and subscribe here for our YouTube channel to get your fix of the best in food/drink/fun.