Are kid-free zones on airplanes worth it?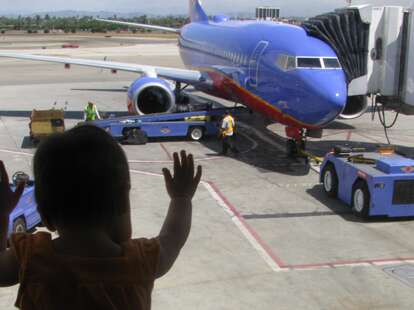 Yet another airline has joined the small group of carriers fervently set on creating a "kid-free class" in which passengers under 12 are not permitted. Singapore Airlines' low-cost arm, Scoot, has gone to market with a spankin'-new option dubbed "ScootinSilent," where for an additional $14 you'll have the pleasure of sitting in a five-row adult-only zone, with those under 12 being dubiously placed "somewhere else". Unfortunately, these rows are in the back of the plane, and there's no guarantee "somewhere else" won't be the row directly in front of yours
Scoot joins Malaysia Airlines & AirAsia X, who've already implemented kid-free zones on some of their longer flights, which, if you haven't noticed, is kind of starting to trend. Obviously this Asia-specific phenomenon can only be explained by one of two seemingly unfounded conclusions: 1) Asian children have never watched Mad Men and thus have no idea what it means to fly with class, or 2) their parents have watched Mad Men and realized that flying with children is mad annoying.
To see if traveling childless was a priority for those of us in the States, Skift.com took to the internet and posed the question: "Would you pay an additional fee to sit in a child-free zone on a flight?", and after a contentious discussion between Kate and Buzz McCallister in which there was no clear victor, 1,085 people on the internet have spoken: No, no you would not. The survey, taken by a similar number of men and women within all income ranges, yielded some interesting results
• Most of those who answered don't care about flying with children, or would not pay more to fly in a child-free zone.
• More than one in five humans (and 100% of penguins) who took the survey responded with "I don't fly."
• Those anti-millennials in the 35-44yr-old range are the least likely to pay higher prices for fewer youngsters, while the 25-34yr-olds are way more likely to dish out the dough on some kid-free flying.
East and West may be split for now, but it isn't outlandish to think that child-free sections (or even entire flights) could be an actual thing on (and hopefully between) our shores (coast to coast with kids blows). Just a little something to think about as you relax at home... alone.