So there's a snowball's chance you'll ever choose to visit Winnipeg on vacation – in fact you've been known to say that hell would have to freeze over first – but that's kind of what's happening, because in Winnipeg, winter is so frightful that its rivers freeze solid. But good news, if forced there this winter, we've found a (frozen) solid bet for the best al fresco eating option around: Raw: Almond, a pop-up restaurant/tent right on the fork of the Assiniboine and Red Rivers.
Pop-up restaurant Raw: Almond's a collaboration between restaurateur Mandel Hitzer and architect/ designer Joe Kalturnyk, in an effort to showcase Winnipeg's arts and food communities.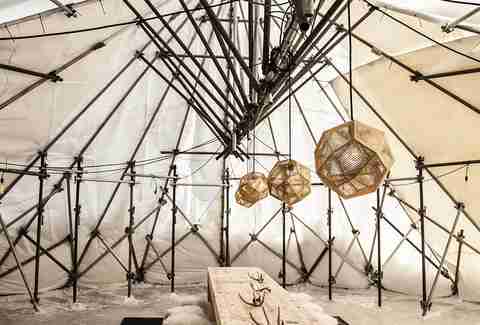 Is it an Igloo? A teepee? A snow globe? Break the ice with fellow diners by explaining to them that it's actually supposed to look like a twisty shard of river ice "thrust up to the surface", and the weird stuff happening around you is "video- and light-based artwork".
If eating on ice wasn't cool enough already, a rotating dozen of the area's hottest chefs will respectively create two days' worth of five-course meals.

The event only runs from January 24th to February 13th, and with just 1,300 slots this season, you'll want to book soon!
Sophie-Claire Hoeller is Thrillist's über-efficient German travel writer. She's had frequent flyer status ever since her mother gave birth to her at a Lufthansa terminal. Follow her adventures via Twitter at @Sohostyle.