Paid Content For

Real Nomads Share Their Best Advice on How To Make Anywhere 'Home'
Paid Content For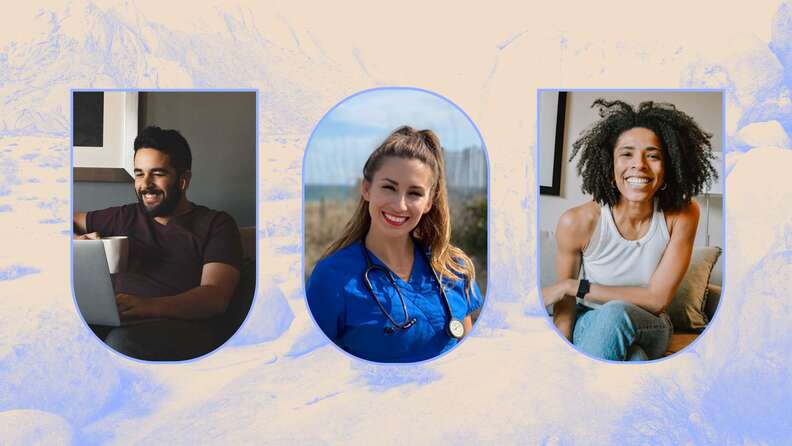 PHOTOS COURTESY TAMIR VAKIL, ALEXANDRA SCOTT & RACHAEL ADAMS; DESIGN BY MIA COLEMAN
PHOTOS COURTESY TAMIR VAKIL, ALEXANDRA SCOTT & RACHAEL ADAMS; DESIGN BY MIA COLEMAN
One of the world's most beloved nomads may have said it best: travel isn't always pretty. That's especially true when you're jumping from city to city frequently (either for fun or for your job) and coordinating short-term leases, where (and if) to store your furniture, and how to make friends along the way. Right now, more people than ever are embracing this lifestyle, too. That's why we hit up three people who have embraced the nomadic lifestyle for their best advice on living life on their terms, and made it happen with the help of a new housing startup, Landing. Here's what they had to say:
Find your essentials first
When you touch down in a new city for a vacation, you've usually got a tight itinerary and concrete plans, because you're only there for a short time. When you're calling a new city home for a month or two (or more), figuring out what to do to actually feel at home can be daunting. That's why nomad Rachael Adams, a member of Team USA's women's Olympic volleyball team, suggests tracking down what you consider to be essential, first and foremost. For her, that's a grocery store and a gym. For Alexandra Scott, a traveling nurse who has spent the last five years in as many cities, a coffee shop, local park, and a good place to hike are on her list. Once you've got those places nailed down, you'll feel a lot more settled — even if you're not a permanent resident.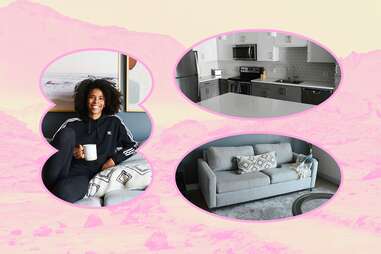 Find a homebase that actually feels like home
As an Olympic athlete, Rachael splits her time between training in Anaheim, California, and competing internationally, with no real "home base" since 2012. That means spending a lot of time looking for a place to crash. "Sometimes, I would get a [short-term rental] in a nice neighborhood, but the furniture inside was super outdated. And one time it had pictures from other families in there, and it was just a little weird," she tells Thrillist. "When I come home, I just want to relax and just throw my body down. You want to feel good, obviously now more than ever, when you're home. And so many times, I did not feel great at all."
That was until she found Landing, a housing rental startup that is creating a new way for people to live on their terms. They operate in 200 plus cities across the country with both furnished and unfurnished apartments, offer flexible lease agreements and allow you to transfer your lease to any other apartment in their network with as little as 30 days notice — no need for security deposits, new applications, or first and last month's rent. (Members pay just a $199 annual fee.)
That kind of setup works for Rachael and nomads like her who move around based on where their work (in her case, training and competitions) take them. "I just roll with the punches," she says. "And this is why Landing is so great because it rolls with you."
The only thing worse than moving is remembering to update your address constantly with your employer, bank, and credit cards. If you'll be living multiple places in one year, Alexandra suggest setting up a PO Box so nothing gets lost in transit, and so you'll never have your bank decline an online purchase if your billing address doesn't match what they have on file. You'll have to make sure you open up your box in a city you visit fairly regularly, or is near a friend or family member you can trust to grab your mail, though.
Consider a four-legged travel companion
As exciting as a nomadic lifestyle is, one of the most difficult parts is leaving your community behind and setting out on your own. It can be lonely and downright isolating, especially in a pandemic, when typical socialization isn't exactly in the cards. Prior to 2020, Alexandra usually joined online groups, sports teams, and even dating sites to make friends. But, once she adopted a puppy, she found it easier to meet locals in her current city (Wilmington, North Carolina) than in previous locales. "It seemed like everyone got puppies and were out walking their dogs," she says, adding that the dog park was one of the first places she visited in her new city, too. "We were here for three months and made more friends in those three months than we did a year in San Diego." As a Landing member, Alexandra was even able to find a pet-friendly apartment with ease, too.
Pack the essentials, leave the rest
Boxes, storage units, a truck — these expenses rack up quickly when you're just moving across a city. Moving 5,000 miles away makes these costs skyrocket, which is why it's imperative to travel light, especially if you don't plan on staying in one place for very long. Nix the big and bulky furniture, but Tamir Vakil, who hopped between Boston, Austin, Charleson, and Miami over the course of the last year with the help of Landing's network of apartments, suggests making room in the car for some cooking equipment, especially if you have tools or gadgets you use all the time, like a quality chef's knife or blender. "I love cooking, so I brought all my spices with me," he says. "I'm from Israel, so I have very specific stuff. I can't get it everywhere." Landing furnished apartments cover the basics like pots and pans, plates, and silverware, but keep your favorite recipes in mind as you plan your packing list.
Ever come back from vacation and feel like you need another week to just rest before getting back to the grind? That feeling is all too real when trying to work and travel at once. That's why Tamir recommends setting clear times to rest and explore, in between getting your work done. "For me, the biggest thing about why [my partner and I] wanted to do all this stuff is to explore these cities a little bit more like a resident, rather than just a tourist," he says. That's why he made it a goal to explore only one or two aspects of the city every week for the three months he stayed in each place, rather than packing in his weekends with sightseeing. "You're not back to back to back— all the best places, all the best restaurants in three days. [Instead,] every month I'm going to try at least two or three good restaurants. Every weekend we go to a different beach or a different place. And then Sunday, we actually just chill in the apartment," he explains. "It's a lot more fun to just explore what the people who live in that city explore."
Get comfortable with being uncomfortable
While traveling is considered a leisure activity, moving is ranked as one of the most stressful life events you can undertake, so the nomadic lifestyle isn't exactly for the faint of heart. But most nomads wouldn't change a thing: "I've gotten to know myself a lot more. What I like and what I don't like, what makes me feel good, what brings me joy," Rachael says. "I'm always uncomfortable, but just being able to challenge myself in new cities, and new countries, and new situations— I definitely have grown from all of that."