The 'Real Housewives of New York City' bring the drama to Anguilla.

| Photo courtesy of NBC Universal
The 'Real Housewives of New York City' bring the drama to Anguilla.

| Photo courtesy of NBC Universal
Although last Sunday's episode of The Real Housewives of New York City (season 14, episode 10) took place amid the tranquil waters of Anguilla, the atmosphere was anything but chill. That is to say, it contained all the makings of a classic reality TV vacation episode: Jessel and Sai had a tense conversation on the deck of a yacht; at dinner, the sun-kissed girls bonded over embarrassing stories; and, just as the episode was about to end, Ubah and Erin engaged in a full-on screaming match.
The Anguilla episodes, currently airing on Bravo, are functioning exactly as they should be, successfully tethering viewers to a cast that they were, up until this point, only just getting to know. Because in the reality TV universe, when the stars go on vacation, you inevitably see sides of them you never saw before (take Jenna Lyons refusing to fly coach, for instance). Not to be confused with competition or dating shows set entirely in elaborate rental villas on idyllic islands, the vacation episodes we're talking about are a stark break from the format's everyday routine. The cast, riddled with budding conflicts seeded in previous episodes, are shipped off to a remote location while those of us at home lounge on the couch, just waiting for the powder keg to explode.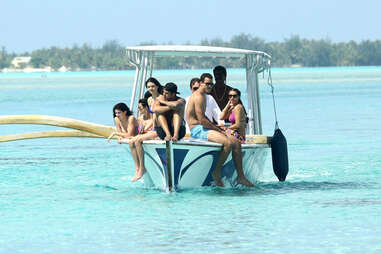 Of course, vacation episodes aren't exclusive to Bravo's glitzy homemakers. The onscreen trope is so effective precisely because it's so ubiquitous, showing up time and time again throughout the genre's history. On MTV's Laguna Beach, what happened in Cabo back in 2004 definitely never stayed in Cabo. The 2011 Bora Bora episodes featured in season six of Keeping Up With the Kardashians gave birth to one of the internet's greatest memes thanks to Kourtney's off-handed remark, "Kim, there's people that are dying." And the muggy summer air was thick with excitement when the cast of MTV's Jersey Shore landed in Florence to film their fourth season—though things quickly went awry after Snooki rear-ended a police car and Mike "The Situation" slammed his head into a concrete wall.
"However the cast is going into the trip, they are going to come out of it differently—their alliances will change, people who were feuding will have made up, people who were good going in will now be frenemies" says Kacey Calahane, an associate professor of history at Chaffey College and one of the brains behind Historians on Housewives, a multimedia project that turns critical conversations about The Housewives franchise into podcasts, academic symposia, and, soon, a written anthology. "There's so much that happens in the arc of these trips—fueled by alcohol, not enough sleep, and a lot of time together, it's a fast-changing landscape."
In RHONY lore, season three's "Sun, Sand, and Psychosis"—aptly nicknamed "Scary Island" by fans—cemented the vacation episode's undisputed iconicity. Devoted viewers will never forget when, on a 2010 girls' trip to St. John, a very pregnant Bethenny Frankel yelled "GO TO SLEEP" at an emotionally distressed Kelly Killoren Bensimon (Bensimon later revealed she was upset after finding out one of the castmates had a traumatic health issue). As proven by its off-the-chart ratings, the episode was so compelling that the franchise not only began incorporating a vacation into each subsequent season, but also went on to create entire travel-oriented spin-offs, like The Real Housewives Ultimate Girls Trip (2021) and Luann and Sonja: Welcome to Crappie Lake (2023).
These moments can also produce some of the most memorable one-liners—like when RHONY season seven star Luanne de Lesseps uttered, "Don't be all, like, uncool," after getting caught up to some late-night antics. Sometimes vacation episodes offer us some comic relief, a silly glimpse into the classic fish-out-of-water experience. That was the case for RHONY's very urbane, season six cast, tasked to spend some quality time in the wilds of Montana. The rural backdrop might have provided a tamer setting than Ramona Singer's island getaway, yet it still gave way to plenty of hijinks as the girls tried their hands at fly-fishing, skeet shooting, and repelling down a mountain.
Location, location, location
"[Vacation destinations] take them out of their comfort zone," says Lisa Shannon, RHONY season 14 executive producer. "They're telling stories that they might not have otherwise told. They're able to break off into different groups and form connections, which was important to us."
To determine a trip setting, producers work with the cast members to find places they might like to visit, whether it's a bucket list spot, a chance to try something new, or a place they're already linked to. They sometimes share the responsibility of shoring up the details with the cast, injecting the upcoming vacation with additional drama by making the planning a part of the storyline. This year's RHONY sojourn to Anguilla, organized by star Sai De Silva, is a prime example. "In this case, with Sai, she was so on Erin about her hosting skills," explains Shannon. "[Sai] really wanted to host something to show how she could do it, and then we helped with the cost of the trip."
Other factors come down to sheer logistics. This year, the crew happened to be shooting in January, so with its temperate climate and turquoise waters, the dreamy British Overseas Territory appeared to be a no-brainer. "I think with New York in particular, we tend to go to the Caribbean, Miami, or Mexico," Shannon says. "It's a really nice juxtaposition to jump from the cold to this very beautiful, lush escape."
When it comes to showcasing the essence of a vacation location, producers stress the importance of getting locals involved. In Anguilla, it's all about rum—a fact that's solidified when the women visit Elvis Beach Bar in next week's episode and sample the eponymous owner's famous rum punch recipe. "We try to vary the activities so they're not just going from meal to meal, but having them do things that are really fun and indicative of wherever location we may be," Shannon adds. Real Housewives vacation episodes have even memorialized certain onscreen haunts, lest we forget the now-shuttered Fat Turtle, the bar in St. John that sparked Ramona Singer's trademark catchphrase, "Tuuuurtle time."
Location is equally important during the staycation—a field in which RHONY particularly excels. Depending on where the cast retreats, whether it's the Hamptons, Massachusetts, or even just the next neighborhood over, the chosen environment immediately indicates to viewers exactly what they should expect. "Dorinda's Berkshires home, Blue Stone Manor, essentially functions as its own character on the show, much like the SUR alley in Vanderpump Rules," Calahane says, referencing another Bravo reality hit. These shoots also work to shift the power dynamic, bringing into play obstacles the cast wouldn't normally encounter otherwise. "The hostess always has a lot to manage, with all the different personalities staying in the home," Shannon adds.
Distancing themselves from the drama
It would be unfair to characterize all vacation episodes as mere montages of messy drunken blowouts. "There are also a lot of internal challenges within these trips that get caught on camera, tensions that aren't necessarily about the trip itself, but what they're leaving behind," Calahane continues, pointing to revealing footage showing the introverted Jenna Lyons navigating big sleepovers, Bethenny Frankel letting go of her mommy guilt, and Aviva Drescher facing her travel anxiety.
Reality TV vacations can be used to pull on the heartstrings, often diving into genealogy to enrich the characters' backstories and strengthen their relationships with one another. In 2010, The Real Housewives of New Jersey's season two players traveled to Italy to visit relatives and track down family connections. Season 11's Meghan King brought her fellow Orange County wives to Ireland in a quest to trace her own lineage. And perhaps one of RHONY's most poignant moments unfurled onscreen when Dorinda accompanied Carole on a season seven journey to London to retrieve her late husband's ashes.
"As a historian, I think about how much those women were sharing, and how this was such a healing experience for them," says Calahane. "Dorinda and Carole were talking about these life experiences that they couldn't share with the other women in the group because they're not widows. They aren't necessarily very close before this trip, but they come back with a very deep connection."
Calahane notes that sometimes vacations can open the door to meaningful, historical conversations, both onscreen and off. Season 10 of Keeping Up With the Kardashians, for instance, follows the family on a trip to Armenia. And in sharp contrast to the standard frivolous banter, the camera touchingly captures Kim and Khloe at the Armenian Genocide Memorial in Yerevan to honor the 100-year anniversary of the political tragedy.
The Real Housewives of Potomac's season four followed a similar script when the women visited the plantation where cast member Gizelle Bryant's ancestors were once enslaved. "It was kind of a mind-blowing TV moment, especially when you think about how this aired in 2019, when Southern Charm was big," Calahane says, referring to the popular Bravo reality series that featured its cast engaging in commercial plantation tourism in several now-deleted scenes. "And so what happens, then, when this becomes a foil to other presentations of the South that we see?"
Whether they're creating pop culture landmarks or commenting on heavy social issues, reality TV vacations are without a doubt spreading travel inspiration among viewers. "The Amsterdam trip from [Real Housewives of] Beverly Hills comes to mind as a place where the women do so much—they're bike riding, they're on boats, they're going to the cafes to have edibles and smoke weed," Calahane says. "I know I've planned full vacations around where reality TV people have vacationed."
So go ahead and make some memories out there—just try not to throw your wine glass at anyone.