It all starts out so harmless: "Hey, my friend knows someone who can get us a ski house for the entire winter. If we ask [insert annoying friend who will do anything you ask here], we'll only be paying like $150 each for the entire winter! Ski season, bro!"
Ski house shares are at times comparable to moving in with a significant other: exciting, adventurous, and even a little financially savvy. But eventually, it will crap all over your emotions, and likely the floor, and you'll end up wanting to set the place on fire (with yourself still inside). 
Don't believe us? Here are the 14 reasons partaking in a ski share is THE WORST.
No one is on the same ski level. Ever.
You will constantly have to find new, creative ways to ditch the people who can't keep up with you -- and then even more creative ways to not make things super awkward when you see them back at the house.
 
Two words: Group. Activities.
No, you really don't want to drive three hours to a tube park that will absolutely be full of five-year-olds. Thank you. 
 
There's always someone who thinks he's Emeril Lagasse and insists on spearheading over-the-top group dinners every night
You've had your eye on that Stouffer's French Bread Pizza since you got there.
Someone will talk nonstop about his or her fire-starting skills and suck at actually building fires
During the entire process you'll fear for your life. And be cold.
 
You'll believe your girlfriend's claim that she's a good skier
How's sitting in the lodge all day long been?  
 
The weekends you get to use it are never convenient
Half share? Quarter share? Wait a minute, which weekends do I actually get a bed?
The hot tub is a cesspool you just can't avoid
One dip = hooking up with everyone on the trip without the benefits of actually hooking up with everyone on the trip. 
 
Speaking of hooking up, you'll have to do so in shifts because of the five other people sharing your room
Oh, and good luck blowing anyone off afterwards. Remember, you're alllll staying there. 
 
People from the share will try to be friends back in your real life
"Hey, I'm in your neighborhood. Want to grab a beer?" No, no you do not. 
Your car will definitely be borrowed, and almost definitely be damaged
Especially because you didn't spring for the 4WD.
 
The boot heaters may as well be part of The Hunger Games
Securing your spot often results in a fight to the death, and people will form alliances to take out the person -- and there will be one -- who spreads their entire wardrobe out on all of them. 
 
Local bars are awesome until your entire posse arrives
A 20-person deep crowd tends to kill that ski bum vibe.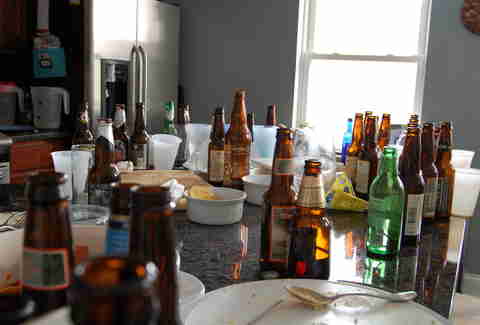 The house will 100% get destroyed
True story from a ski house share veteran who has very smartly decided to remain anonymous: "One night we did a Santa Pub Crawl when we were in Vail. When we woke up, we found the glass coffee table shattered into a million pieces and no one knew who did it... until someone woke up and started freaking out about his ass bleeding." 
 
The elusive phantom toilet clogger
Striking fear into the hearts of mixed company since the beginning of time, the suspect will always find a way to clog the toilet in secret forcing the next user to be the one who asks for a plunger. Or, it could be you trying to pass blame. No one really knows. This person remains at large. 

Liz Newman still skis using the "Pizza + French Fries" method, and has been emotionally and physically scarred by at least two winter house shares. She swears she's not the phantom toilet clogger.