This Overlooked Southern State Is One of America's Hidden Gems
In the Natural State, you may even discover diamonds.
If you're looking for an easy way to define the state of Arkansas, good luck. Perhaps instead of the Natural State, the slogan should just be "This place will probably surprise you." There's two mountain ranges, mesmerizing geologic formations, limestone caves, diamond-filled craters, and nearly three million acres of protected forest snaking with rivers, lakes, and hot springs.
Across this red Southern state you'll find progressive small towns boasting huge LGBTQ+ scenes, important Civil Rights landmarks, and the library of a certain saxophone-playing Democratic former president. Leather-clad bikers are drawn to Arkansas' open roads, cyclists to its epic trails, road trippers to its roadside oddities—like a giant Budweiser can, and the largest statue of Jesus Christ in the country.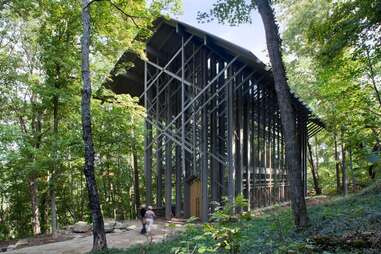 Arkansas is also an unexpected cradle for the cultural arts. Local artists transform wide open spaces into sculpture-filled art parks and elaborate stone labyrinths, gleaning inspiration from the stunning Crystal Bridges Museum of American Art. That's all courtesy of Walmart; born from humble beginnings in Bentonville (the original store is now a museum), the company has invested billions into the area's infrastructure and arts—like the Walton Arts Center in Fayetteville—and helped transform Northwest Arkansas into one of the most desirable places to live in the US.
Before you pack up the Uhaul, go see what this underrated state has to offer. Here are the best cities to visit in Arkansas, and other highlights to hit on your tour through the Natural State.
Scope the sophisticated small towns of Northwest Arkansas
If you watched the third season of HBO's True Detective, you're already familiar with a few spots in Fayetteville, Arkansas. There were shots of Herman's Ribhouse, a local icon that's been serving hearty slabs of meat since 1964. There was the attractive, floral-filled downtown square, the historic Old Main building at the University of Arkansas, and the subterranean restaurant Hugo's (if you go, get the burger). Even the gorgeous Devil's Den State Park made an appearance.
Just 30 minutes up the road in Bentonville, you can tour the original Walton Five and Dime, then pay witness to what billions of dollars of conglomerate money can do. The Walton money funded the world-class Crystal Bridges Museum, which houses an impressive, free-to-visit permanent collection of American art and also draws in nationally touring exhibitions. The futuristic facility is jaw-dropping, incorporating lush outdoor trails which take you past immersive sculptures by artists like James Turrell. There's even a Frank Lloyd Wright-designed home, the Bachman-Wilson House, which was brought in and reassembled on the museum grounds.
Intrigued? This little corner of Arkansas is one of a few places in the US that will actually pay you to move there. Included in the relocation deal is a bike, which will come in handy on the 200 miles of trails, including a greenway that extends 37.6 miles from north Bentonville to south Fayetteville.
Spend a weekend in Eureka Springs
In this writer's high school days, she'd drive the hour or so from Fayetteville to the charming town of Eureka Springs to visit her favorite jewelry store for some locally-made earrings, and then eat some homemade fudge from Two Dumb Dames. Inevitably the air would smell of patchouli, and sounds of jazz would waft from downtown's Basin Park. Years later, I returned when my kind-of goth friends got married at the 1886 Crescent Hotel, a sprawling hilltop Victorian landmark that's reportedly the most haunted hotel in America.
Historic Eureka Springs has a population just shy of 2,000—over 30% of which identifies as queer. It is both an LGBTQ haven with a prominent drag scene and year-round Pride parades, and a pilgrimage for Christians who come to see the last days of Jesus re-enacted in the annual Passion Play. It's an artistic haven catering to creatives of all types, and a destination for bikers and antique car owners who get their thrills motoring on the twisty, precarious mountain roads.
Explore the area's natural springs at spots like the Blue Spring Heritage Center, and don't leave without admiring the award-winning Thorncrown Chapel designed by E. Fay Jones, Arkansas native and Frank Lloyd Wright protege. Nestled in the woods and constructed of forty-eight feet of wood lattice and 6,000 square feet of glass, it blends beautifully into the surrounding trees and is free to visit.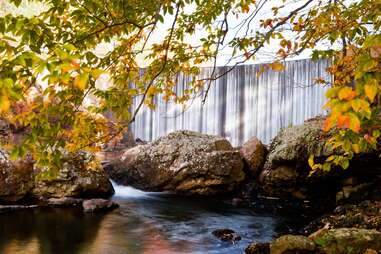 Soak it all up in Hot Springs
From one Springs city to another, you'll find the town of Hot Springs inside a national park of the same name. Located in the Ouachita mountains, Hot Springs National Park is both the smallest national park in the United States and the oldest, dating back to 1832. Historically known as "America's Spa" for its 47 flowing thermal springs, the area has drawn MLB players and mobsters alike for a good soak, such as Al Capone, Lucky Luciano, and Owney "The Killer" Madden (a history all documented in the Gangster Museum of America on Central Avenue).
Today, the city of Hot Springs is home to a documentary film festival, thoroughbred racing, the 210-acre Garvan Woodland Gardens, the Mid-America Science Museum and plenty of art galleries to boot. And of course, you can still visit mineral spring-fed bathhouses historic and modern, with two of the originals—Buckstaff and Quapaw—still operating on Bathhouse Row.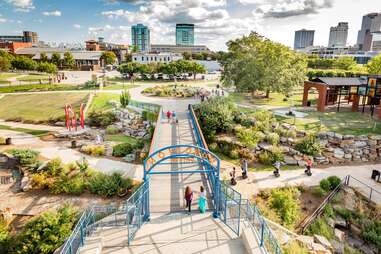 Delve into history in Little Rock
Nation-changing history resides in Arkansas' capital. Don't miss the Clinton Presidential Center, a stunning glass building that cantilevers over the Arkansas River and looks especially cool lit up at night. Inside at the Clinton Library and Museum, check out a replica of the Oval Office, a presidential limo, and all the archival papers of the 42nd president. Plus, a saxophone exhibit.
Little Rock is also home to the Little Rock Central High School National Historic Site, where, in 1957 following the ruling of Brown v. the Board of Education, nine Black students were prevented from entering the school, sparking a national crisis that served as catalyst for the Civil Rights movement. You can take a free ranger-led guided tour of the still-functioning high school, though they're currently on pause due to the pandemic.
Pay homage to the Man in Black in Dyess Colony
This one's for the Johnny Cash stans. In 1935, when the Man in Black was just a child in… probably black, his parents moved to Dyess Colony in northeast Arkansas. The largest farming resettlement community in the nation, Dyess was created under the New Deal to provide struggling farmers with fertile farmland and a five-room farmhouse, for no money down. Today you can tour the whitewashed clapboard home where Cash lived out his high school days, which also briefly appears in Walk the Line. The town also holds an annual three-day music and heritage festival in his name.
Make it a mini tour of notables: About an hour away in the town of Piggott you'll find the family home of Ernest Hemingway's second wife, where the writer penned several short stories, and a portion of A Farewell to Arms. It's now a museum and educational center.
Explore the outdoors already!
Hey, they don't call Arkansas the Natural State for nothing. It's a veritable outdoor playground: home to 52 state parks, seven NPS sites, and three national forests covering more than 2.9 million acres. In the Ozark National Forest, a hike through Devil's Den State Park will lead you past waterfalls, cool rock formations, deep caverns, and historic cabins dating back to the 1930s. Or take in the vistas of Petit Jean State Park, in the shadow of Petit Jean Mountain, the first state park in Arkansas. It houses one of the largest bluff shelters in the state, home to indigenous Americans over a thousand years ago and where you can still see pictographs on the wall.
Crater of Diamonds State Park is the only place in the world where the general public can pan for diamonds in their original volcanic source. $10 gets you access to 37 acres of dirt mounds—and any rocks, minerals, or gemstones you find are yours to keep. Since the park was created in 1972, more than 33,100 diamonds have been claimed.
There's swimming, skiing, scuba diving, boating, and kayaking to be done on Lake Ouachita, and historic reenactments to be seen at Prairie Grove Battlefield. And meandering for 135 miles through the Ozarks is the mighty Buffalo National River, the country's first National River, ideal for both rafting in its rapids and lazy floating in its quiet pools. Just remember to pack a cooler.
Vanita Salisbury is Thrillist's Senior Travel Writer. She once attended a geology summer camp which entailed driving around Arkansas, putting acid on limestone, and watching it fizz. You had to be there.