The Underrated American Destination Everyone Overlooks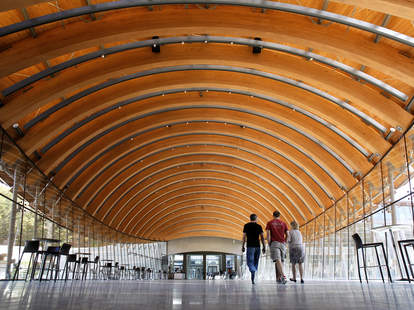 When most folks think of Arkansas, thoughts generally meander to... Walmart. Sure, the mega-retailer was born there, in Bentonville, but did you know the brand also foots the bill for a gorgeous, uber-modern art museum that looks like it belongs in a sci-fi flick? There's a lot, in fact, you may not know about the Natural State, including its cache as a bicyclist's paradise, its booming brewery and dining scene, and how it's home to water-sport experiences ranging from paddling to whitewater kayaking (soaking in hot springs and gazing at waterfalls count as water sports too, right??). Here are 10 things that make Arkansas the South's hugely overlooked travel destination.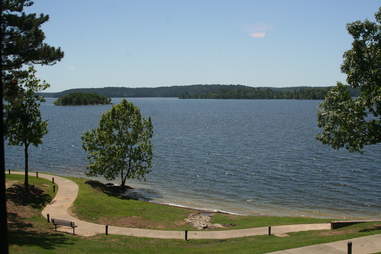 DeGray Lake State Park

| Flickr/Amy the Nurse
It lives up to its nickname
It's not for nothin' that Arkansas is nicknamed the Natural State. Every corner of the map seems to be part of a state park, national park, or national forest -- hell, Arkansas even has the nation's first-ever national river. With its breathtaking hilly terrain in the mix -- including, of course, the Ozarks -- there's a mess of hiking adventures that await the wilderness walker, at every level of difficulty. Outdoorsy types can pitch their own tents at rustic campsites or rent a cabin in a wooded, waterfront, or mountaintop setting, or glamp it up in a yurt at DeGray Lake Resort, which is -- guess what -- also a state park.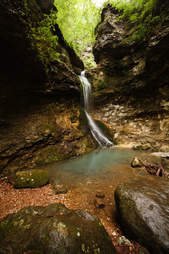 Eden Falls

| Flickr/AR Nature Gal
There's water, water everywhere
From rapids to calm streams, there're more than a half-million acres of lakes here, perfect for fishing, swimming, boating, and even diving. If kayaking is your speed, the Buffalo National River winds through mountains, providing rapid-water thrills. Not up for whitewater-style adventures? Paddle through the state's water trails, made just for slow sailing and nature gawking. Arkansas is also studded with gorgeous waterfalls, including Eden Falls and Mirror Lake Falls in the Ozarks and the stunning Cedar Falls at Petit Jean State Park.
It's a cyclist's paradise
Not only did the League of American Bicyclists cite Conway, Fayetteville, and North Little Rock as bike-friendly communities, but five trails located in Bentonville, Fayetteville, and Hot Springs were named International Mountain Bicycling Association hotspots for their top-notch amenities. The Arkansas River Trail includes a destination anyone would love to say they've been to: the Big Dam Bridge, the world's largest such structure made just for cyclists and walkers.
Eureka Springs

| Flickr/meltedplastic
Natural springs make for incredible spas
Hot Springs and Eureka Springs have loads of charm and are packed with bed & breakfasts and spas that sprang up from the olden-days obsession with thermal springs. Eureka Springs, especially, has a rich spa history dating back to the late 1800s, with experiences ranging from casual and medically therapeutic to scenic and luxurious. What would you expect from a burg with a Bathhouse Row? Whether you want a luxury spa experience with every amenity or a simple bathhouse that gives you a spot to sit in earth-fed waters, the Springs cities have got you covered.
The booming food scene is waiting to be discovered
Lowbrow eats, highfalutin dining, and every cuisine in between can be had in Arkansas. Little Rock has begun to draw raves for its blossoming dining scene, thanks to casual joints like
Cotham's
(home of the famous Hubcap Burger) and
One Eleven at the Capital
, helmed by a James Beard-lauded chef. But there's greatness outside the capital, too, as seen at
The Hive
, the James Beard semifinalist-led farm-to-fork establishment in Bentonville, as well as enough barbecue across the state to keep you busy for weeks. For the ultimate taste of roadside Americana, pop into the
Parachute Inn
, a restaurant set inside a grounded 737, for its storied Friday night catfish.
There's a beer, wine, and distillery scene to drink in
Arkansas is also a hot new draw for hopheads, thanks to breweries like
Bentonville Brewing Co.
and the state's very first cidery,
Black Apple Crossing
. Cap off your Hot Springs spa experience with a visit to
Superior Bathhouse Brewery and Distillery
, the first of its kind to make brews and liquors from thermal spring water. Want a souvenir of your beer-soaked exploits? Grab the
Fayetteville Ale Trail
passport and get it stamped at the eight participating breweries. On the vino side of things, Arkansas is the most productive wine-making state in the South, with loads of wineries you can build an entire trip around.
King Biscuit Blues Festival

| Flickr/Sam/Denny Lawton
Get to the heart of Southern music
Arkansas seems to get lost in the shuffle of states that contributed a wealth of killer voices to the music of the Delta, but it's a musical history goldmine. The preserved Depression-era community Dyess Colony boasts the
Johnny Cash Boyhood Home
, restored, refurnished, and bestowed a visitors center. His hometown of Jonesboro also holds a music festival in his name each year. Blues enthusiasts can get down and dirty with home-grown music at the King Biscuit Blues Festival every October in Helena-West Helena; bluegrass and folk festivals cater to fanatics from near and far. Arkansas is also a member of the
Americana Music Triangle
, a collection of attractions where visitors can uncover the roots of blues, country, jazz, and more styles that were forged in the Delta.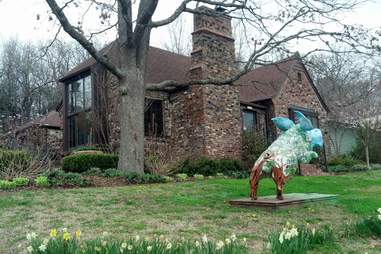 Clinton House Museum

| Flickr/Eric Langhorst
Follow Bill Clinton's rise to the top
Go back to where it all started for Bubba with a tour of the former president's birth home in Hope, which is now a National Historic Site, and the
Clinton House Museum
in Fayetteville, the first home of Bill and Hillary, stocked with mementos from their life together. The
Clinton Presidential Center
and Park takes up a scenic, sprawling corner of Little Rock and features a replica of the Oval Office. And how's this for a modern touch: the Center is one of three sites where you can find "Wish You Were Here" -- a series of life-size outlines of postcards that you can drop yourself into for picture-perfect selfies.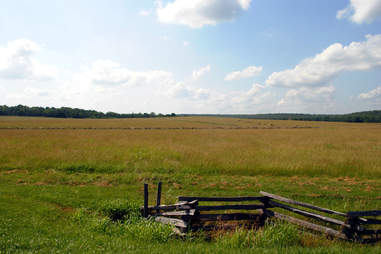 Pea Ridge National Military Park

| Flickr/NPS CulturalLandscapes
You can satisfy your history jones
Going even farther back than Billary's early days, Arkansas is also home to Pea Ridge National Military Park, a pristinely preserved Civil War battleground, and Arkansas Post National Memorial, which commemorates the first European settlement in the area. There's also loads of civil-rights history to mine here, starting with Little Rock's Central High, where the battle over desegregation of American schools heated up.
The Crystal Bridges Museum is its own work of art
Tucked away in Bentonville (the birthplace of Walmart),
Crystal Bridges
houses an impressive permanent collection of American art and also draws in nationally touring exhibitions; plus, the facility itself is futuristic and jaw-droppingly beautiful, with trails and lush grounds on which you can picnic. And behold the power of the Walton family-backed facility: Crystal Bridges had a Frank Lloyd Wright-designed home, the Bachman-Wilson House, disassembled, moved, and reassembled on the museum grounds. Admission to the permanent collection is always free, thanks to Walmart. No, seriously.
Sign up here for our daily Thrillist email, and get your fix of the best in food/drink/fun.
Farah Fleurima is a Dallas-based food and travel writer who's also nicknamed the Natural State. Follow her at her blog, The Dallas Diva, and on Twitter at @TheDallasDiva.