Why Buffalo (Yes, That Buffalo) Is America's Most Underrated City to Spend a Weekend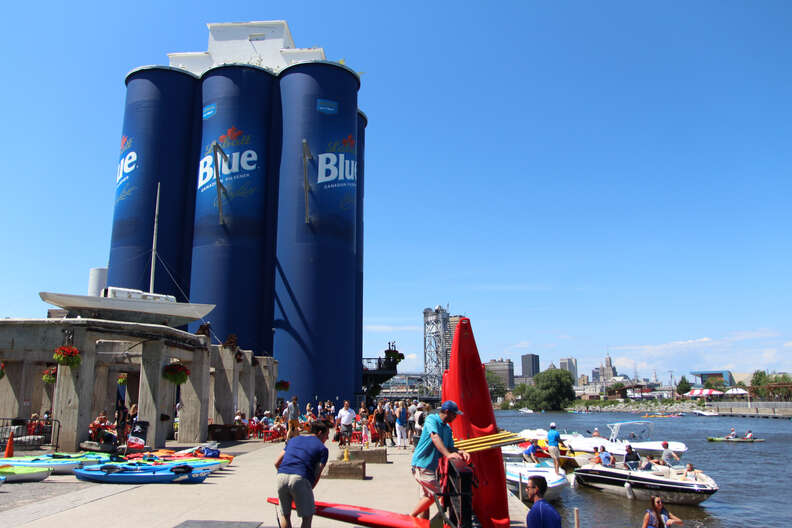 "Buffalo??! Man, ain't shit to do up there," my trainer said when I told him why I'd be gone for five days. It was a similar combination of bewilderment and pity I might have gotten if I'd told him I'd gotten a job as a prison guard.
Buffalo sits at the corner of a Great Lake and a late-night punchline. Let's get out of here, bro, this place is like the Buffalo of clubs. And though the cries of "Buffalo is Back!" have been coming from the shores of Lake Erie for a few years now, the combination of bitter cold and perception of decay have kept people from going to find out. But I thought I should, much to everyone's confusion.
"Well," another friend told me, "at least Toronto is only like an hour away."
"We've always prided ourselves on being a blue-collar, no-bullshit kind of town."
Most people assumed I was going to see Niagara Falls. Some mentioned wings. They were all clueless. Because after four days, I finally understood why everyone I ever met from Buffalo has an incomprehensible amount of civic pride.
In a time when every American city starts to seem the same, when Dallas looks like Tampa looks like Charlotte looks like Phoenix, Buffalo feels solidly like Buffalo, New York. It doesn't have glass towers, but it's rich in grain silos. You won't find many Starbucks, but every block has a corner tavern. Nobody's using the word "craft" to justify $17 drinks, but bars are open until 4am. The people are real, the food is great, and they've repurposed beautiful relics without a hint of pretension. You will party harder, eat better, and make more new friends in a weekend, all for less money, than anywhere else in America.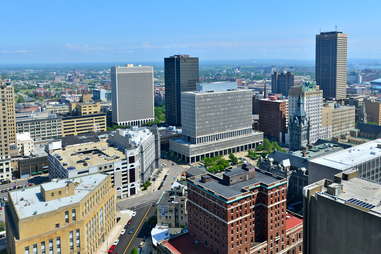 An unspoiled city makes the most of its history
To understand what makes Buffalo such a great town to visit, you first need to understand where it came from. Situated on one of the world's great inland waterways, Buffalo was to America's industrial heyday what San Francisco is to technology today, complete with the wealth that came with it. This is why today, nearly 70 years after its population peaked, Buffalo still rocks its own philharmonic, ballet, the Albright-Knox gallery, and world-class architecture from names like Frank Lloyd Wright.
But the Great Depression hit Buffalo hard, and the city was never the same. The flight of manufacturing jobs kneecapped the economy. In the early 2000s, only Detroit and New Orleans saw a bigger exodus of residents percentage-wise, but Buffalo had no government malfeasance or natural disaster to blame. Buffalo was the disaster.
During the past decade, though, Buffalo has called upon its industrial past to create new opportunities. Instead of trying to lure dead industries back to town, it looked to technology and life science to boost its manufacturing output. Tesla is opening a plant. Bak tablets are made here in an old hospital. A massive medical campus opened just off downtown. And when young workers arrived, they found really cheap old-stock housing. From 2006-2012 Buffalo saw an increase in residents aged 18-34 of 10.5%, one of the highest rates in the country. And these new residents have taken the great, old things about Buffalo and turned the city into a hard-partying museum of America's industrial past.
"The best nights in Buffalo are the ones you don't remember," the city planner told me.
"There's a cool balance in Buffalo between our industrial grit, and this forward-thinking creative overlay," says Peter Burakowski, who heads up 43North, a small business incubator that awards funding to startups located in Buffalo. "You're seeing grain elevators with light projections on them. Or adventure courses connecting elevator silos. There's this organic, laid-back fun atmosphere, that's all around you, that's completely devoid of pretense."
Grain elevators not getting your heart pounding? Understandable. But spend an afternoon kayaking through canals that wind through the old elevators of Silo City and you'll see why this industrial ghost town is just as calming and fascinating as a trip through Florida mangroves.
At the end of Silo City you'll find the Buffalo Riverworks brewery, possibly the city's greatest testament to reinvention. Here, old silos have been turned into an urban adventure park, where after a few waterside beers visitors can zipline between silos, or scale the climbing wall set against another. Or ice skate in the winter.
"Buffalo is lucky because we went through an economic crash, so nobody came and ripped things down that were amazing and built crappy strip malls in their place," says Christa Glennie Seychew, a former food editor at Buffalo Spree magazine. "It's like someone put a big glass dome on Buffalo and let it sit for 50 years, and now we can (actually fix it up) and it's amazing. That's the kind of character that's been rolled out of other cities."
A party culture matched only by Miami
Buffalo's industrial history is also why it's one of the best party cities in America. Bars here close at 4am, a practice dating back to when late-shift workers needed late-night spots to tie one on after work.
Corner taverns like Gene McCarthy's in the old First Ward sit surrounded by two-story Walt Kowalski homes, and ghosts of laboring dads strolling over after a long night on the line are easy to see. Essex St. Pub on the Westside and Arty's Grill are nightlife districts unto themselves, gathering places for residents who all live within walking distance. With the influx of young residents, they're every bit as energized as spots you might find in nearby Allentown, one of the best drinking neighborhoods in America.
It's given Buffalo a late-night culture matched only by Miami and Las Vegas, a place where going out at midnight is the norm, and staying up until sunrise isn't at all unusual.
"Going out in Buffalo between 3 and 4am is one of the most unique drinking experiences in America. Crazy things that can happen," says city planner Chris Hawley, who also hipped me to most of the city's history. "The best nights in Buffalo are the ones you don't remember."
Most of those nights end at The Old Pink, a graffiti-walled, sticky-floored, cheap beer emporium in Allentown that's a cross section of everything that's great about Buffalo. Here, college kids toss back tallboys right next to new arrivals to the city, who drink right next to service industry types. Nobody ever bothers to ask "What do you do?" Strangers bought me shots when my lone friend from the city introduced me simply as "my friend from Florida." I'd planned to call it a night at 2am, but in Buffalo "hospitality" means pouring you shots of Jager at 1:45 and saying, "In Buffalo, this is how we get the night started."
The come-drink-with-us fun isn't limited to late-night dive bars, either. At the swanky new rooftop bar atop Downtown's Curtiss Hotel, I met a married couple who saw me drinking alone and bought me a beer. By the time we parted ways after 2am, they'd invited me to come out with them the next night, and the husband even gave me his phone number. None of it felt even remotely creepy.
A short wander from the Curtiss at the Lucky Day whiskey bar downtown, I was sitting in front of a wall of whiskeys talking to the bartender about what to order. I opted for a nice Pure Kentucky XO 107, then asked him what I owed. He waved me off.
"Welcome to Buffalo," he said. "Tell all your friends we're not as bad as they think."
Not that I needed people to pay for my drinks. Beers -- even of the local craft variety -- were rarely over $5. Cocktails rarely over $8.
Wings, weck, and grease pools: The best comfort food in America
Cities struggling for recognition often point to their "burgeoning food scene" and "up-and-coming chefs" as a reason people should give it a look. Buffalo has that, for sure, with modern spots like Roost where chef Martin Danilowicz fills the bottom floor of an old riverfront warehouse with upscale comfort food like apple-fennel pizza. Or Las Puertas, a 20-seat Mexican-French hybrid where the chefs and waiters pull double duty.
But you're probably not here for the cutting edge of American food. That's fine, because Buffalo restaurants are quite happy to just play the hits.
"We've always prided ourselves on being a blue-collar, no-bullshit kind of town," says Seychew, the food editor. "And the bulk of Buffalo likes simple, approachable, filing, value-driven food. If you have football teams that lose all the time and tragic amounts of long dark winter, a hamburger feels pretty good."
That's not to say there aren't great, modern restaurants here. It's just that when you're in Buffalo, eat what they do best. "Even when posh food writers come to town, they don't want to go to the new, innovative restaurants," says Seychew. "They want the divier, grittier comfort food."
Locals will debate who serves the best wings until the bars close, but Duff's seems to be the consensus pick. There is, of course, the Anchor Bar, the birthplace of what the rest of the world calls Buffalo wings. This is about what passes for a tourist trap in Buffalo. Seychew recommends Bar Bill, where they literally hand-paint each wing with sauce.
The best I had during my stay were at Gabriel's Gate, a joint also known for its burgers. Just down the street at Allen Burger Venture the No. 3 with caramelized Omeggang onions, applewood bacon, and porter Cheddar was one of the best things I ate all year. For Buffalo-style pizza, Imperial Pizza is the quintessential pick, complete with the pepperoni and their trademark grease pools.
Debate away. In Buffalo, you can stop someone on the street and ask for a food recommendation. There's a half-decent chance they'll end up having lunch with you.
Just don't look for any chains. Aside from a smattering of Tim Horton's and a Salsarita downtown, I didn't see a single franchise during my time there. I couldn't even find a Buffalo Wild Wings, which might've been like eating at Taco Bell in Mexico anyway.
Buffalo even smells welcoming
The night air in Buffalo smells like Cheerios. This is something people don't tell you, that the General Mills plant gives off the scent of fresh-baked cereal at all hours. It makes the entire city smell like a combination of mom's kitchen and a Krispy Kreme, adding to the place's homey, welcoming feel.
Like a cartoon waft of coffee aroma luring a Looney Tune out of bed, the smell drew me down the street to enjoy the air. After a few blocks of wandering, I found myself in front of the famous Anchor Bar, and this being my first time in Buffalo I had no shame playing tourist and going inside.
Within five minutes of sitting down, two gas workers from across the bridge in Ontario had started up a conversation with me about football. An hour later they picked up my tab and invited me to keep the night going with beers at Fat Bob's Smokehouse. Even at the tourist traps, Buffalonians are confusingly welcoming -- a big reason why this is one of the best places to be if you're traveling solo.
At Fat Bob's, the bartender seemed to think we'd all been best friends for years.
"No, I'm just in town for the weekend," I told him. "Met these guys at Anchor Bar."
He smiled as he poured me a draft. "That's Buffalo for you," he said. "You say you're from out of town, and we'll make sure you love this place as much as we do."
After four days the people of Buffalo had succeeded. They'd showed me a city that embraced its unglamorous past, and turned it into a destination that has what many in America lack: a sense of place. It doesn't need new construction, or Michelin-starred chefs, or celebrities filling its hotels.
Make all the jokes you want. Folks in Buffalo know they've got something amazing. Spend a weekend here, and you'll get it, too.
Sign up here for our daily Thrillist email and subscribe here for our YouTube channel to get your fix of the best in food/drink/fun.
Matt Meltzer is a contributing writer to Thrillist who will be back in Buffalo as soon as it warms up a little. Follow him on Instagram @meltrez1.