Everyone thinks their college is the best college. And while no college is outright BAD, some are certainly better than others. And from there, it reasonably follows that one college -- and the town that makes it what it is -- must be the finest of them all.
Over the course of many tireless months working much harder than actual college students, we'll be conducting our noble Search for America's Best College Town. Now keep in mind, we're not really talking about academics at all, and in some ways, even sports are only a small part of the formula. It's the everything else -- the bars, the burgers, the bars, the buildings, the lovable famous weirdos on the streets, the weather, the bars -- that build a college town's case. Get ready to re-enroll.
Next up: Chapel Hill, home of the University of North Carolina. Here are 14 reasons why no other college town in America can hold a candle to it.
We bleed Carolina basketball
Ok, let's start with an easy one: Michael Jordan. Dean Smith. Vince Carter, James Worthy, Phil Ford, Tyler Hansbrough, Roy Williams, Dewey Burke. Do we need to go on?

The sky copied our color scheme
If God isn't a Tar Heel, then why is the sky Carolina Blue?
Fried-chicken biscuits, pulled-pork barbecue, a side order of Heaven -- this soul food joint satisfies cravings 24/7.

Franklin Street's got funk
Chapel Hill's iconic, 200-year-old avenue not only boasts an eclectic array of bars, restaurants, head shops, music stores, and street performers, but it also has, among other oddities, its own planetarium! And when we win a national championship, the street looks like this.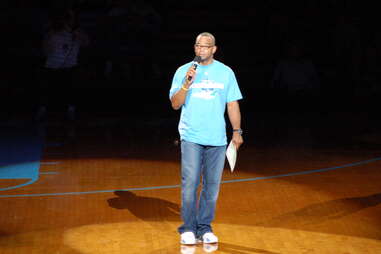 Stuart Scott
"Stu" was cooler than the other side of any pillow, and he was our own. He loved UNC so much that he regularly hosted "Late Night with Roy," the basketball program's season-opening Midnight Madness event. He will be missed -- and remembered.

Our town crossroads is a brewery. And a distillery.
Top of the Hill, or "Top O," rises above Franklin Street for a postcard-perfect view of Chapel Hill. Their brews have won over 100 awards, and they distill the first and only organic, "grain-to-glass" spirits in the state.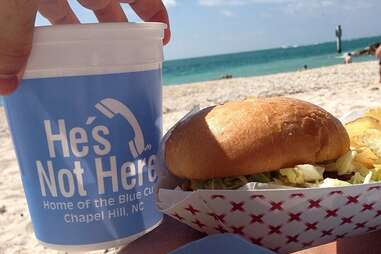 Two words: Blue Cups
Speaking of beer, He's Not Here offers its collectible, 32-ounce buckets of domestic suds for only $5 on Tuesday nights; and on Sundays, they make you incredible at karaoke.

We do big things
John Grisham, Lewis Black, Ben Folds, and James Taylor are among the distinguished folks who have lived in Chapel Hill. And James K. Polk, Charles Kuralt, Andy Griffith, Thomas Wolfe, Mia Hamm, Jordan, and Stu have all called the dorms home. Boo-yah.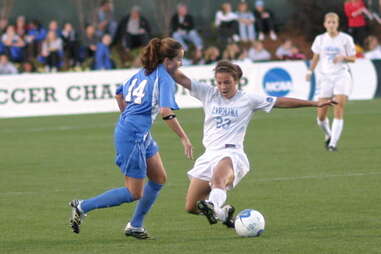 In women's soccer, we're like a mid-'80s Hulk Hogan
If you thought we only cared about basketball, take a second to ponder this little nugget: there have been 33 NCAA national title games in Division-I women's soccer history. UNC has won 21 of them.

We're No. 1... at saving money!
In 2014 both Kiplinger's and The Princeton Review ranked UNC-Chapel Hill the country's best value among public universities. We're Kiplinger's champ again in 2015 — for the 14th straight year!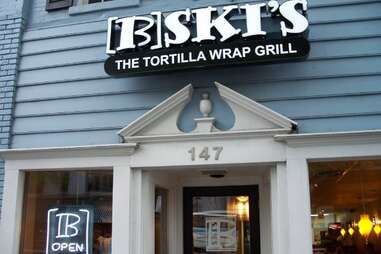 Our best food's served after 2am
Cosmic Cantina's burritos, Joe's Joint's burgers, dogs, and chicken fingers, [B]Ski's everything-under-the-sun wraps -- the Hill's late-night eats blow every other college town's away.

For many, the words "Deep End" ARE college. Twenty-five-cent brews, Country Music Night, and the world's most hygienic Beer Pong... did somebody say "Cannnnoooonnnnballllll?"
The Old Well runs deep
Freshmen, graduates, alumni, newlyweds, and babies drink the Holy Water. To visitors, it's a well. To Tar Heels, it's home.

Our campus looks like a movie set
Classic architecture, lush quads, and the Coker Arboretum ensure that a walk around campus will involve gawking at more than just coeds.

While at UNC, Sam Rosenthal covered Tar Heel athletics for The Daily Tar Heel and WRALsportsfan.com and was a reporter for Carolina Week. His glassware collection consists mostly of Blue Cups. Follow him @SamRoseWrites.