Paid Content For
7 Reasons Your Summer Plans Should Include a Cruise
Paid Content For
Dan Evans/Thrillist
Dan Evans/Thrillist
Traffic, crowds, overpriced watery drinks. While the most popular summer vacation destinations attract tons of people, they rarely deliver on a premium experience. So where can you find that perfect balance of escape and amenities? That stress-free, promised land of relaxation? Easy: Hop on a cruise ship. Cruises these days aren't like that one time in the early '90s when your parents dragged you on a boat promising food and fun for the whole family. Now you can get to wherever you want to go in the world at the height of leisure. In case you need more justification, here are seven reasons you need to quit wasting time figuring out summer vacation plans and get packing for the high seas.
Stretch those dollar dollar bills
With a non-cruise vacation, it's hard to know what you're actually going to spend every day once you add up hotel, transportation, food, and activities. But with a cruise, you know what your trip is going to set you back -- plus or minus a few extras. You've got a bed, a means of transportation, and a boatload (literally) of friends and things to do.
Pro tip: You can purchase add-ons like all-inclusive beverage packages so you don't have to worry about keeping track of what you're spending every time the bartender stirs up another piña colada.
Dine on award-winning food
When you think all-inclusive, if you think boring buffets and same-old, same-old menus, then you haven't dined aboard a cruise ship lately. Menus change daily, so you won't eat the same thing twice (unless you really want to), plus cruises can cater to dietary needs, such as vegetarian, gluten-free, and kosher. A note to fitness bros: you can easily counteract your caloric intake at the onboard gym.
Pro tip: Celebrity chefs are now lending their talents to developing cruise ship menus. As in, made-in-house-daily pasta from Jamie Oliver. Or gastropub-style dishes from James Beard award-winning chef Michael Schwartz.

Try [insert ANY weird activity]
Cruises include heaps of activities, so you can try all sorts of crazy things that you'd probably never try on land. Or anywhere at all. Like going to circus school -- hello, trapeze -- or riding a surf simulator. Boredom is not a thing, but if being bored is your goal there are plenty of places to zone out to a backdrop of deep blue.
Pro tip: Make sure to mix it up. On what other vacation can you simulate skydiving and surfing?
Life's a beach
You know when you drive to the beach in the summer, have to wait forever to park, then spend another forever hoofing all your umbrellas/coolers/chairs/sand castle buckets to the last possible corner of open sand? That sucks. But that doesn't happen on a cruise. Instead, you pull up to private islands, a.k.a. sandy shores you can only access on cruises. And these islands are insane. Think zip lines, water parks, kayaks.
Pro tip: Play Gilligan, IRL. Hang out in a hammock, wander around, and search for food. (Though Gilligan's island definitely didn't have a floating bar.)
Road rage no more
With someone else piloting your ship, you can tend to more important things like sunbathing, drinking drinks with mini umbrellas, or doing nothing. It's the ultimate multi-tasking: You're getting where you want to go, while doing anything you want.
Pro tip: A typical, week-long family vacation usually involves at least two full days' worth of traffic. A properly planned-out cruise itinerary will make sure every second of your week-long vacation is spent maximizing relaxation time.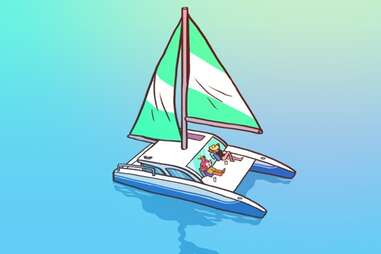 See a bunch of places at once
On a cruise, you're not just out at sea, stranded like Tom Hanks in Castaway until you wash up at some random island. Cruise lines have perfected the art of leisure travel and the boat is ultimately your means of transportation (just a really pimped out means of transportation). Caribbean destinations may pop to mind first, but cruises go everywhere these days: Alaska, European capitals like St. Petersburg and Monte Carlo, Hong Kong, Fiji, Hawaii. Name a location and you can probably cruise there.
Pro tip: Find a cruise that hits up the kinds of places you would travel to anyway. It's like a bunch of vacations in one: hanging out on the ultimate party boat and exploring a ton of cities you've always wanted to see.
Turn your brain off
The beauty of booking a cruise is that you're in insta-vacay mode as soon as it's booked. Because you don't have to think about anything. Really. Stop. Someone will help you with your bags. Someone will whisk you from boat to beach. Someone will plan all the activities for you. You just have to decide if you feel like doing anything more than sitting by the pool with a constant flow of Mai Tais.
Pro tip: You need this, it's good for your health. Enjoy the fact that your hardest choice all day will be whether you'll have crispy crab legs or pork belly for dinner.