Next time you're planning a water-bound vacay, instead of loading cash into some lame pontoon rental, check out Boatbound: your one-stop shop to finding & renting a local vessel directly from an online community of trusty owners anywhere in the US.
So how's it work? Simple. To browse the fleet of rentables, just punch in your location, then refine by price range, boat length, T-Pain approved, dates desired, and number of passengers.
Each of the water skimmers has their own profile with description, specs, and pictures. Shown here is a $600-a-day ski boat (or how you would describe one of Charlie Sheen's habits, if you dropped the words "ski boat").
You'll also find more eclectic numbers, like this "Red Admiral" electric boat that's been retired to just harbor cruising, but won't shut up about how it used to battle white caps.
For the more high-end, Boatbound also offers up luxury yachts, like the 50ft Prestige above.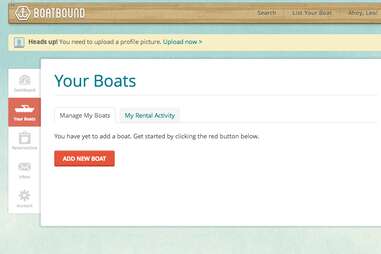 If you want to go ahead and actually rent something, you'll need to complete your profile by filling out a background verification using your driver's license (which, if you don't already have, you shouldn't be renting a boat anyway).
The site works pretty much the same way for those looking to rent out their boats too, and always reserves the right for the owner to deny any request, no matter how well someone floats the idea.