Ask any rich person: Chartering a plane is exhausting. Between contacting the private jet company and having to count all those $100 bills, there's just so much work involved. It's way more fun to just lie reclined in your seat and sip champagne.
Well now, there's an app that does all the legwork and connects people of means with their preferred mode of transport. And it even does it at cut-rate prices.
JetSmarter, a recently released app, lists private jets from a multitude of companies in an easy-to-digest calendar format. Set your most frequented cities, pick a day, and see what charters are out there for you.
JetSmarter CEO Sergey Petrossov sat down with Bloomberg last week and described the vetting process each charter company endures to appear on the app.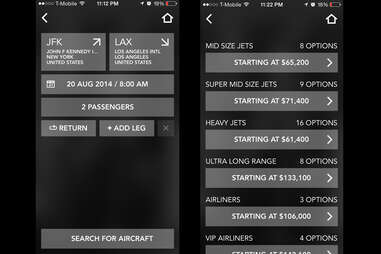 "Those 3,000 aircraft on our app are controlled by vendors. We connect with these certified air carriers directly through their scheduling system, so when you are going through our app, you are looking at real-time inventory", he said.
As an additional feature, JetSmarter indexes empty-leg flights -- meaning private jets on their way back from a charter, which list at a fraction of the price of a normal private charter.
"Often times, carriers are willing to give them [empty seats] for the cost of fuel", Petrossov explained.
The "golden triangle" of private flights, as Fox Business points out, runs between Los Angeles, New York City, and Florida. But the company hopes to expand its reach -- with China as the main focus -- and already offers flights to and from destinations around the United States.
Example empty leg deals include Cancun, Mexico to Tampa, Florida, for $3,400, or the more exotic Cleveland, Ohio to Chesterfield, Missouri for the same price.
Check out JetSmarter's website here and download the app on iTunes here.

Ryan Craggs is Thrillist's Travel Editor. Sadly, he has never been on a private plane, but he's totally down if you wanna hook him up. Follow him @ryanrcraggs.