Some time in the near future, as you're perusing Airbnb for your next rental in the SF area, you might be struck by one listing in particular: the Bay Bridge House. No, it's not a house on the the Bay Bridge, because that'd be crazy. Rather, it's a house lovingly built out of repurposed scrap from the old overpass, the Eastern span of which near Oakland is currently under demolition after being replaced in the Fall. Wondering what a house made out of bridge looks like? We've got the early renderings here...

Recommended Video
This Boozy Hot Cocoa Is 20 Pounds
The brainchild of entrepreneur David Grieshaber, the three-story Bay Bridge House will be built out of the bridge's steel beams, girders, and plates, while recycled pavement (from whole road sections) will be used for the floors. The unused discarded materials are slated to be hauled to Asia at the end of the three-year demolition project.

The proposed house should provide ample room for three separate spaces: a loft apartment for Greishaber and his special lady friend, a public area/ museum, and an Airbnb rental complete with master bed, bath, kitchen, living room, and even a laundry room.
Prefer to rent only Airbnbs with a green streak? Good, 'cause the house is also environmentally friendly and will rock both rainwater recycling and solar power.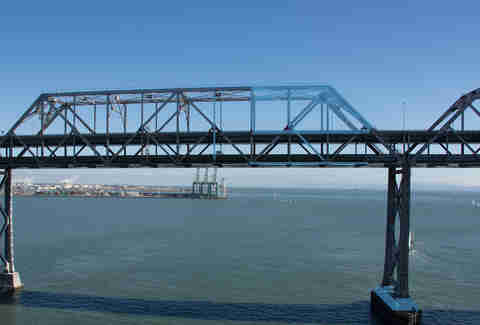 Just to provide some context, this is the portion of the bridge to be used in the house's construction. For now, the location of the domicile remains top secret -- though we've been assured it will offer a sexy view of the new bridge.
Chloe Pantazi is an editorial assistant on Thrillist's travel team. Yes, that's a British accent. No, she doesn't watch Doctor Who. Follow her on Twitter at @ChloePantazi.