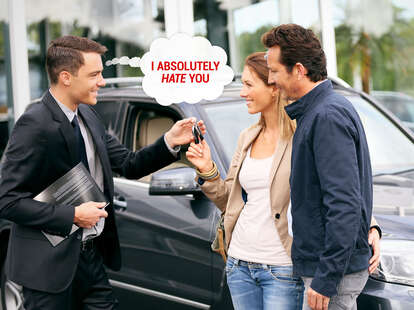 There's no shortage of miserable-looking people at the airport. From flight attendants -- who have a perfectly understandable reason for looking less than thrilled (people who fly are horrible) -- to passengers sleeping in the terminal because their flights were cancelled. Actually, they have a good reason too.
But why exactly do the people behind the rental car counter always look like they're one bad rental away from going full-on Michael Douglas in Falling Down? We asked a bunch of them what we're doing to make them so ornery, and this is what they told us.
1. Complaining about a $200 security hold
The agent met you three minutes ago, and is giving you a CAR. For TWO HUNDRED DOLLARS! The only place you're getting a better deal that quickly is on the Price is Right. Which, by the way, you could totally be on if you just follow this foolproof guide.

2. Showing up three hours late and launching into a Seinfeld-worthy tirade about car rental reservations
Do you show up for an 8pm dinner reservation at 11pm and berate the hostess because she gave away your table? If so, congratulations, you may be the worst person on the planet. If not, then go ahead and apply that same logic to your rental car.
3. Coming in to test drive your car. A week early.
Unless the rental car company just hired James Van Praagh to sit in the back and tell them which four-door midsize you'll be driving next week, they have no way of knowing what car you'll get. Also, test driving a rental car? Really?
4. Complaining that they don't have the EXACT car you asked for
Weird, because when you reserved it six months ago, they pulled a bright red Mustang convertible with under 20,000 miles, power windows, and Sirius radio off to the side and affixed a giant sign that read "DO NOT RENT ON NOVEMBER 8". Wonder what went wrong.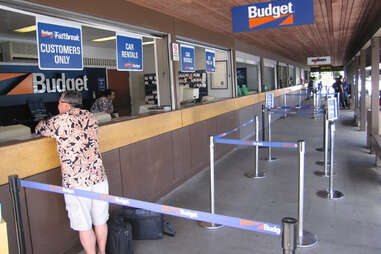 5. Not bringing your drivers license or credit card with you
This actually happens. These are probably the same people who show up to a big group dinner and "forget" their wallet.

6. Refusing to drive a car with over 20,000 miles on it
Your car at home has 120,000. It's still a vacation for you.

7. Complaining about prices around the holidays
If 10 million people want a rental car on the Wednesday before Thanksgiving, the law of supply and demand dictates it's probably gonna be expensive. You understand capitalism, right? Also, the price you're griping about is determined by a logarithmic formula that was built by analysts in a corporate office -- the agent typing in your drivers license number had nothing to do with it.
8. Requesting a free upgrade
Airlines give free upgrades because planes have empty space that they can't make money off of. Rental car companies CAN rent that convertible to someone who's not getting a one-time $12/day weekend special.

9. Not being ready to go when they pick you up
Because waiting outside your house in a neighborhood that's no doubt appeared on multiple episodes of Cops is EXACTLY how they want to spend their Sunday afternoon. You wouldn't leave a cab with the meter running waiting out front for 30 minutes, would you? Pack your f*&k#ng bag already.
10. Acting appalled when you learn insurance is extra
Sure, it's POSSIBLE your auto insurance policy covers rental cars. It's also much more possible that you have the state minimum, and that your UMASS Five Credit Union card doesn't exactly boast the perks of an Amex Black. So that'll be $9 a day. Also, no, you cannot rent a car without some kind of insurance. Why on Earth would you think that was possible?
11. Walking in five minutes after making an online reservation and being shocked that your car isn't ready
Sorry. The "Bill just reserved a car!!!" alarm in the office is on the fritz. Won't happen again.

12. Trying not to pay because you only drove 10 miles
Rental cars are kinda like escorts. Actually, back in the day, they WERE Escorts… you know, Ford Escorts. Whatever, the point is you're paying for time, not for how far you drive.
13. Giving the car a 10-point inspection before you drive it off
The last thing agents want to do is spend three hours documenting a hairline scratch on the fender. You're not going to get charged for a smudge mark on the right rear passenger side panel, so let's move this along. And, yes, the wiper fluid's been filled so wash away.

14. Treating them like children
Working the counter at a rental car agency is a pretty common first job out of college. At least according to every Enterprise commercial. So while they might be young, there's no need to speak to them like they're six years old.