As a kid, I knew we were nearing my family's lakeside Québec cottage when I saw the sign emblazoned with the word "arrêt"—that's "stop" in French. We traveled to visit my cousins in the lakeside community of Mont-Laurier most summers, and my memories of these childhood vacations include learning very simple words in French, including "arrêt." While we are all grown and scattered across various cities now, the sight of a French stop sign will always transport me back to a sandy lake shore, the laughter of family members reunited, and the knotty pine ceiling in the tiny bedroom tucked into the eaves of a lakeside cottage. And there's a very good reason for that.
When we learn or experience something new, our brain creates a synapse, or neural connection. The word synapse comes from Greek words that mean "to clasp together," and refers to the way each new experience or piece of knowledge actually rewires our brains. Learning someone's name, watching a play, or reading a simple sign changes our neural connections daily. It's why the sight of a stop sign evokes a flood of positive memories for me that have very little to do with stop signs themselves. The synapses and connections we form while traveling are a big part of why so many of us love to return to the same vacation spot time after time.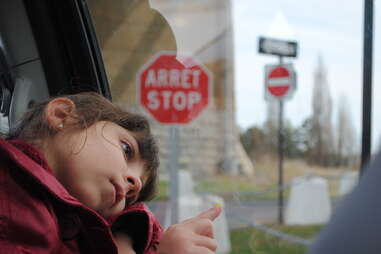 As a parent myself now, I find myself longing to establish travel traditions with my own kids. Yes, we often take big adventures to new places. We also have a few familiar places we love to return to over and over. My kids get excited when we pass the welcome sign in a local lake town we've visited for almost a decade, a reaction reminiscent of my own childhood warmth for the arrêt sign.
We aren't alone in our desire to repeatedly visit the same vacation spots. A survey of 2,000 people by OnePoll for the West Virginia Department of Tourism found that nearly three in four Americans love to return to familiar destinations. According to clinical psychologist and travel writer Irene Levine, it all comes down to the fact that people love what they know. "Repeat travel offers the reward of fewer unknowns, which can make it feel more relaxing," she says. "It helps dispel many of the anxieties associated with not knowing what to expect at a destination."
Repeat travel is also practical, she explains, requiring less planning. In particular, she points to the trend of extended families returning to the same vacation home year after year—sometimes for generations. "This type of vacation creates shared experiences that strengthen family bonds," Levine says. "Returning to the same place each year makes it easy for everyone to fall into familiar roles when they're together."
Those shared experiences and strengthened bonds are why April Swiger and her family have been going to the same Cape Cod beach for over 30 years. As soon as her car exits the interstate, she rolls her windows down to take in the sea air. As she breathes in the scent and her neurons associate that scent with pleasure, her brain gets a cue that it's okay to unwind."For the last 15 minutes of our drive or so, we are just breathing it in. It's just a total sigh of relief and excitement" she says. This feeling intensifies as they turn onto the street where they rent their home. "I can physically feel my entire body just relax," Swiger says. "I feel a physical sigh of relief in my body."
Swiger has been visiting the Cape Cod house since she was a kid, but the trip has changed now that she's grown with a husband and son of her own. Her sister also has a spouse and child now. A growing family, as well as changing tides, has meant their trip doesn't look exactly as it once did. At one point the 100-year-old cottage the family rents had to be picked up and moved further inland due to erosion. For five years, Swiger and her husband rented a nearby house to gain a bit more space. Once the owner of that second home decided not to rent it out any longer, the Swigers had to squeeze back into the original rental they'd been at for three decades. The tenuous relationship with a precious location owned by someone else is tough—Swiger doesn't know if they will always be able to vacation in their usual spot.
She says she's had to choose the perspective that their summers at the Cape are a gift.
"We hold that gift very loosely because we don't know what could happen. We don't know what could change if somebody decides to sell or ownership changes." The uncertainty is hard but necessary for most families that don't own their treasured vacation spots. "We just soak it in and are so grateful at the moment. And we are hoping and praying that we'll get to come back the next year." If someday they can't return to their usual spot, Swiger says they will likely choose a new location to return to year after year, rather than hop around. "We would just do something completely different and start new memories somewhere else."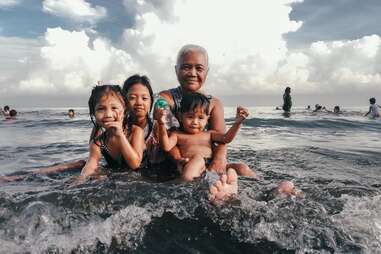 Emily King, a psychologist in Raleigh, North Carolina, understands Swiger's sentimentality. Not everyone likes to return to the same spot, but she does. "My husband never wants to go to the same beach twice. I always want to go to the same place twice," she says. "There's something comforting and familiar that I think is related to our level of anxiety. Maybe it's just our temperament, but when it's predictable, it's kind of a sure thing we can think through. We can expect this vacation to be great." She's also talked about why repeat vacation spots are often an excellent choice for neurodivergent individuals on The Family Vacationer Podcast. Fewer surprises usually mean a higher level of enjoyment, she explains.
King is careful to offer the reassurance that choosing to return to the same place because it feels easier is completely valid. It's not a flaw or a lack of adventurousness. Our brains receive so much pleasurable feedback when we have positive experiences that it's no surprise folks will chase that same feeling over choosing the unknown. "Some people love the thrill of a new thing, and some people feel scared about that," says King.
It's also possible to find a balance between the two. Take Rochele Anderson of Pittsburgh, who has made room for both comfort and adventure in her travel plans, returning to the familiar and seeking out the new as well. For over a decade, she's been returning to the exact same condo in St. Pete Beach, Florida. She tried another condo in the area once, but says everything felt "off" about it. So, she sticks with her usual rental. It's where she had a treasured beach day with her grandmother before she passed away, where she spends time reconnecting with the water, and where she feels the most at ease.
"I'll choose it over and over because when I'm there, all is well with my soul," she explains. "It's my quiet place, my peace—my home away from home."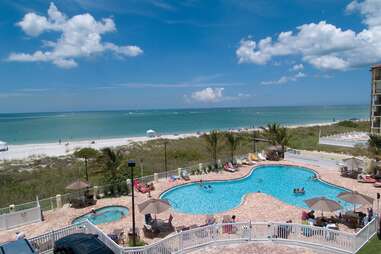 But this doesn't mean Anderson isn't up for new things. As a frequent traveler, she is always chasing adventure. She doesn't see why the two types of travel must be mutually exclusive. Last year, she tried a new condo in Ocean City, Maryland, and loved it so much that she says she'll stay in the same hotel next time she's in the area—even the same room, if she can. "It was a beautiful oceanfront view. It was so relaxing and comfortable I couldn't stand it," she jokes. "I was so in love. It was reminiscent of how I feel about my condo in St. Pete Beach." Even when she's somewhere new and building new memories and associations, she's still reminded of how she feels about her familiar vacation spot.
And no matter how many new adventures she has, Anderson always manages to squeeze in a few days at "her condo," as she's come to think of it. "I hope to return this year sometime. I have so many trips planned already, so I have to make sure I have the money to go—even if only for a few days." The familiarity, she says, offers balance.