Why travel all the way to England to see Stonehenge when you can save a few bucks and admire it in Virginia, or Texas, or Missouri, or... you get the idea. Areas without famous natural wonders or man-made marvels have somehow reasoned over the years that if 6.9 million people visit the Eiffel Tower annually, wouldn't at least 6.9 pay to visit our fake version of it?
The result: Scads of the world's most popular tourist attractions, perfectly replicated in some very strange locales. Here are 15 of the best.
The Statue of Liberty -- Birmingham, Alabama
Where to find the original: New York, New York
Cast in the same French foundry as the original (but made out of bronze), Alabama's Lady Liberty -- a fifth of the size of the actual monument -- is perched on a 60ft pedestal in Liberty Park. It first stood atop the Liberty National Life Insurance Company building in downtown Birmingham, though.
St Peter's Basilica -- Nikko, Japan
Where to find the original: Vatican City, Italy
Tobu World Square theme park in Nikko, Japan features 102 famous architectural and historic sites, all replicated at a 1/25 scale and complete with 140,000 fake people. In addition to Versailles, the Colosseum, and even the World Trade Center towers, you'll find this Pope-less duplicate of St. Peter's.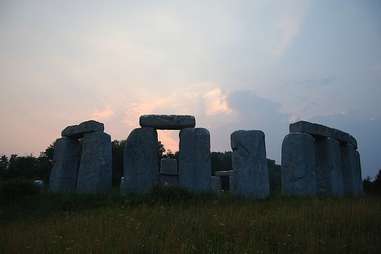 Foamhenge -- Natural Bridge, Virginia
Where to find the original: Wiltshire, United Kingdom
Yes, it's foam. No, it's not biodegradable. Apparently, the sculptor painstakingly ensured that every stone looked exactly like the original, and even consulted a psychic on how to arrange them in an astronomically correct manner.
The Taj Mahal -- Sonargaon, Bangladesh
Where to find the original: Agra, India
This $56 million replica was built by a local filmmaker so that the country's poor would get the chance to see the famous site.
Mount Rushmore -- Tochigi, Japan
Where to find the original: Keystone, South Dakota
Decaying in an abandoned Wild West-themed amusement park, this 82ft, 1/3-scale replica of Mount Rushmore was apparently carved by a guy from South Dakota; for extra authenticity, of course. It was reportedly carved using satellite-plotted topographical maps for accuracy at a cost of $29 million.
Parthenon -- Nashville, Tennessee
Where to find the original: Athens, Greece
Aiming to cement the city's reputation as the "Athens of the South", or something, this full-scale replica of the Parthenon was built in 1897 -- today it's an art museum.
Trevi Fountain -- Las Vegas, Nevada
Where to find the original: Rome, Italy
Legend has it that throwing one coin into Trevi fountain means you'll return to Rome; a second leads to a new romance; a third ensures marriage. What happens when you throw your hard-won money into this Las Vegas replica is anyone's guess, but hopefully it doesn't involve getting married by an Elvis impersonator.
Christ the King -- Lisbon, Portugal
Were to find the original: Rio de Janeiro, Brazil
This 90ft ripoff was built in 1959 to thank God for sparing Portugal in WWII. Unlike Rio's Christ the Redeemer statue, however, nobody's been reported to have climbed CTK for a selfie.
Hallstatt -- Guangdong, China
Where to find the original: Hallstatt, Austria
Forget a simple landmark or monument -- China raised the ante by knocking off an entire Austrian town. The UNESCO World Heritage-listed Alpine village sits in the southern Chinese province of Guangdong, and cost $940 million to build.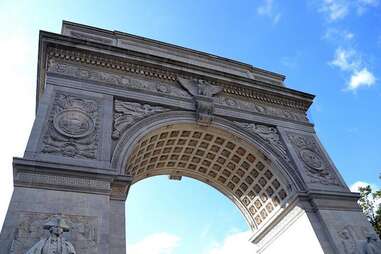 Washington Square Arch -- New York, New York
Where to find the original: Paris, France
While the Washington Square Arch isn't exactly a replica, it was modeled after the Arc de Triomphe (86 years after it was built). You gotta admit, it's pretty damn similar.
Leaning Tower of Niles -- Niles, Illinois
Where to find the original: Pisa, Italy
Half the size of the Leaning Tower of Pisa but with the same trademark tilt, this 94ft replica was built in 1934 to hide water tanks. As you can imagine, it later led to Niles establishing a sister city pact with Pisa in 1991.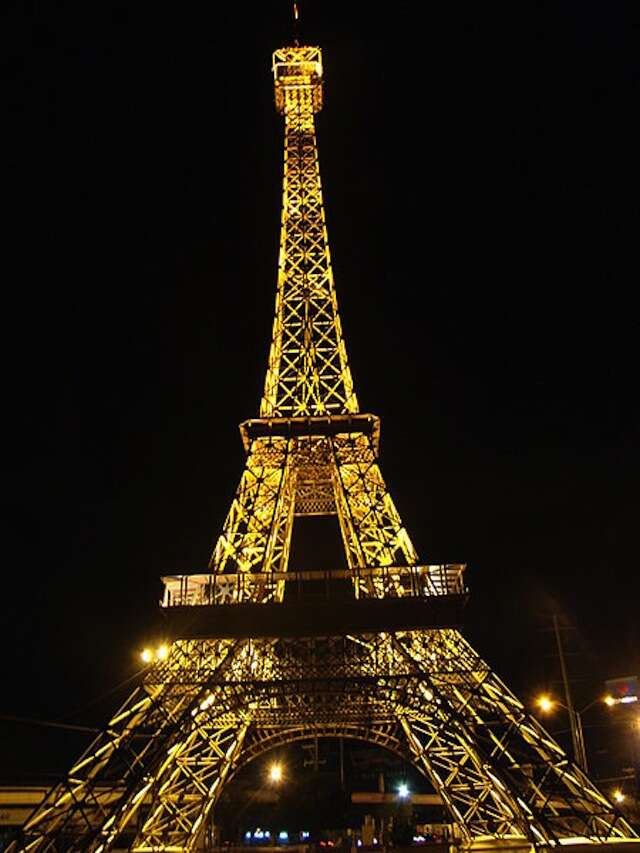 Torre Eiffel -- Durango, Mexico
Where to find the original: Paris, France
There are over 30 Eiffel Tower copycats around the world, but this one's the most realistic. The 1/6-scale replica was apparently donated by some, no doubt, homesick Frenchies from the local town.
London's Tower Bridge -- Suzhou, China
Where to find the original: London, United Kingdom
Suzhou boasts 56 pseudo Western landmarks, including the Sydney Harbor Bridge, the Pont Alexandre III Bridge in Paris, and London's Tower Bridge (pictured), which isn't an exact copy as it features four towers and no raising mechanism.
King Tut's Tomb -- Las Vegas, Nevada
Where to find the original: Valley of the Kings, Egypt
Officially sanctioned by the Egyptian Ministry of Antiquities, this ancient burial chamber was originally built inside the Luxor hotel before being donated to the Las Vegas Natural History Museum. features four perfectly replicated rooms filled with around 500 recreated artifacts. No mummy, though.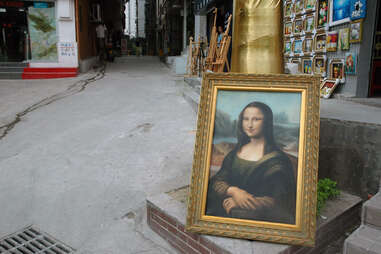 Mona Lisa -- Shenzhen, China
Where to find the original: Paris, France
Forget the crowds, protective plastic, and red velvet ropes: in China's Dafen oil painting village, almost any famous work of art can be viewed up close and personal, before being purchased. Since the 1990s, this town has featured artists who specialize in creating (some might say, forging) incredibly accurate replicas of famous oil paintings.
Sophie-Claire Hoeller is Thrillist's über-efficient German associate travel editor, and has had frequent flyer status since she was born in a Lufthansa terminal. Follow her @Sohostyle.