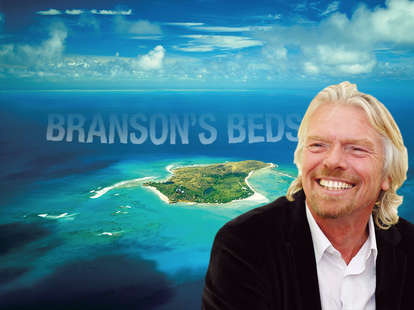 Sir Richard Branson -- billionaire, business magnate, buccaneer, and all-around baller -- has more swag than Blue Ivy's nursery. So when he opens a hotel, you know it's not only dripping in decadence but located in one of the most picturesque places on the planet; one that the globetrotter extraordinaire vetted himself. With the recent opening of Mahali Mzuri, his newest outpost in Kenya, we've rounded up deets on his rad resorts.
Mahali Mzuri -- Kenya
Branson hearts Kenya so much that, in 2007, he was made a tribal Maasai elder.
Where: 150mi west of Nairobi, within the Motorogi Conservancy. Combined with neighboring Olare Orok conservancy, you're talking about 33,000 acres loaded with wild game.
Rooms: 12 glamping tents decked out with four-poster beds, clawfoot baths, and African art.
WWBD: He'd probably wrestle a lion, but don't let him pressure you into doing something that makes you uncomfortable. Perhaps just watch those beasts from the safety of a vehicle on one of the twice-daily game drives.
How much: Rooms start at $580pp in low season, going up to $975pp.
Fun fact: In Swahili, Mahali Mzuri means 'beautiful place'.
The Lodge -- Switzerland
Aprés shi-shi in one of Europe's most upscale resorts.
Where: Verbier, Switzerland
Rooms: Nine bedrooms with fireplaces, as well as a fully-equipped gym, steam room, indoor and outdoor Jacuzzis, an indoor pool, spa, and mini-ice rink for guests from Ontario curling.
WWBD: Why share your fresh tracks with the plebs, when you can drop in from a helicopter? Assuming your chopper is in the shop, heli-skiing tours are available.
Rate: Unless you want to rent the whole chalet (between $96,645 to $179,825 a week), the cheapest room -- available between Dec. 6th and 22nd, minimum three nights -- is $4,423.
Fun fact: Thanks to Verbier's high altitude, you can go glacier skiing here in the summer.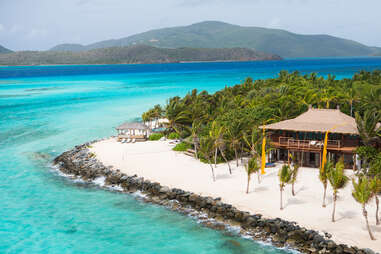 Necker Island -- British Virgin Islands
Once Branson's private holiday home, now open to guests.
Where: In the British Virgin Islands, surrounded by water so clear it looks like Evian.
Rooms: The 74-acre island can accommodate 28 lucky souls spread across the main Temple House, the Love Temple (we can only imagine what goes on here), or one of six Bali Houses, as well as on board the Necker Belle, his 105ft catamaran.
WWBD: Branson would probably take it easy in the Temple House's freshwater pool, since he designed it himself.
Rate: Rates vary by season, but the cheapest you'll get away with is three nights in the Love Temple for $11,490.
Fun fact: Normally, guests rent out the entire island, which comes staffed with a paltry 70 employees.
Necker Belle -- British Virgin Islands
Staying still is for the poor. Magnates need to move.
Where: Wherever you damn well please (as long as it's in the Caribbean).
Rooms: 12 guests can fit comfortably in four cabins, each with an en-suite bathroom.
WWBD: Take the Necker Nymph, a three-person submarine, for a spin.
Rate: Bring your friends! A bargain at only $110,000 a week.
Fun fact: She's received a Judges' Special Commendation at the 2010 World Superyacht Awards.

Ulusaba -- South Africa
Just like camping, but without any of the tents, dirt, or sleeping on the ground.
Where: The Ulusaba Private Game Reserve is in the western sector of the Sabi Sand Reserve in South Africa -- a 1hr20min flight from Jo-Burg.
Rooms: There are two lodges with 10 and 11 rooms respectively. Make like Indiana Jones on the swing bridges connecting tree house rooms.
WWBD: Romantic Branson would probably sweep his lady friend off her feet by taking her stargazing at the Bush observatory.
Rate: A Safari Room at the Safari Lodge costs $491pp. The Rock Lodge's Makwela Suite (with plunge pool), on the other hand, runs double that.
Fun fact: Ulusaba is in a malaria endemic area, so get yo meds on.

Kasbah Tamadot -- Morocco
With palace walls hiding secret gardens and courtyards, this place is like a Moroccan Disneyland.
Where: Near the village of Asni, 4,330 feet above sea level at the foothills of the Atlas Mountains, an hour from Marrakech.
Rooms: 27 bedrooms, suites, and Berber Tents, many with private plunge pools.
WWBD: He'd haggle the crap out of some poor soul at the village market. That's how you become a billionaire, after all.
Rate: The most basic room starts at $570 a night.
Fun fact: Branson bought this property in 1998 during one of his famous ballooning missions.