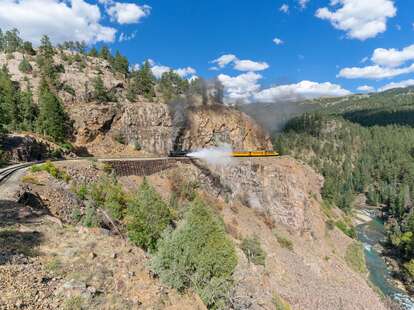 All aboard, y'all! It's
Trains Week
at Thrillist, which means we're celebrating our obsession with trains—fast trains, slow trains, wine trains, even snow trains. Throughout the week, you'll find off-the-rails stories and handy locomotive guides to help you plan your next great adventure. In the meantime, we'll see you in the bar car!
You can take the Hogwarts Express through Scotland, or the Orient Express from Paris to Istanbul, but only in the Rocky Mountains of Southwestern Colorado can you board a vintage train that's been chugging its way through the San Juan National Forest—hauling both passengers and mine ore—since the 19th century. The appeal of the historic Durango and Silverton Narrow Gauge Railroad, one of very few trains in the nation to consistently use steam locomotives, isn't magic or murder mysteries. It's the memories you'll make while enjoying killer views of the roaring Animas River, dense forest as far as the eye can see, and picture-perfect mountain towns seemingly preserved in time from a bygone Gold Rush era.
Now a National Historic Landmark, and operating out of the same train depot since July of 1882, a ride on this timeworn train feels like a blast from the gilded past, in which miners would use it to transport gold and silver from the mountains into the burgeoning town of Durango, Colorado. Said town, now an endearingly frontiersy mountain hub lined with saloons and western wear shops, was founded by the Denver and Rio Grande Railway in 1880, fueled by more than $300 million worth of mountain metals that have traversed its tracks. Today, while the Gold Rush has ceased, that same railroad still reigns as a foremost attraction in Durango. It's anchored by the same classic depot since day one, whisking wistful passengers through the high-elevation forest for day trips and special events.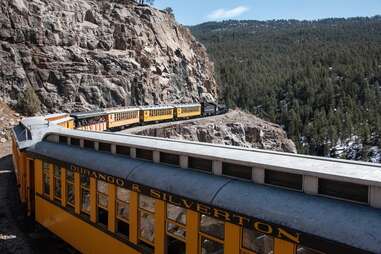 In case you were wondering, the "Narrow Gauge" part of the railroad's name refers to the three-foot width of its tracks, which make it easier to take sharper curves in mountainous terrain. The train operates year-round, offering abbreviated outings to Cascade Canyon during the winter months (due to natural limitations from snow and ice out in the wilderness), an adorable Polar Express option—complete with hot cocoa and Santa sightings—during the holidays, and round-trip excursions to Silverton (some 45 miles away) during the peak summer season. All routes and train cars have their own vibe and flavor, with attendants on duty to talk about history, point out geographic highlights, and make dad jokes.
If you decide to ride, there are four different classes of service to choose from. Presidential Class offers glamorous Victorian-style decor, gratis morning pastries, and an outdoor viewing platform from the Cinco Animas car, while First Class options include riding in the Yankee Girl with its polished mahogany woodwork and tin ceiling panels, the glass-domed Silver Vista car for optimal views, or the Alamosa Parlor Car, which serves as the caboose of the train with elegant lounge-style seating and its own private viewing platform off the rear. Both Presidential and First Class cars offer bar service, with options for wine, mimosas, beer, boozy coffee, and seasonal specials. For more economical options, Deluxe Class features stately cars outfitted with large windows and face-to-face plush seating, and Standard Class options include bus-style coach seats and open-air gondola cars. Pricing ranges from $279 for Presidential Class to $84 for Standard.
Most Durango and Silverton rides start early in the morning (usually around 9 am in the winter months and 8 am in the summer), as crowds descend upon the original train depot in downtown Durango, behind the equally historic Strater Hotel. They're greeted by clouds of steam and the sounds of conductors shouting, "Allllll aboard!" like something from Platform Nine and Three-Quarters. Once passengers check in at their designated cars and everyone is snugly on board, the train slowly chugs its way out of town and up into the Rocky Mountains, criss-crossing the Animas River over bridges and into Cascade Canyon, past cliffs where Butch Cassidy and the Sundance Kid filmed, around the dramatic Horseshoe Curve (get your cameras ready and open your windows for some of the most iconic photos along the route).
Along the way, each car's attendant chimes in on historical facts, like the fact that most of the engines have long since shifted from coal fire to oil-fired, how the steam locomotives all date back to the early 1920s, and how additional trains have been added to the tracks to accommodate increased tourism. Passengers are free to mosey within their cars and step outside onto fenced viewing platforms if they have one. Cascade Canyon trips typically last around five and a half hours, with a stop in the canyon where passengers can get outside to snap photos of the raging river and the oft-snowy forest, or bundle up for a picnic; all cars have concessions available for purchase, and customers can also pre-order boxed lunches with basics like turkey sandwiches, cookies, and chips.
Peak season, though, is all about the scenic round-trip adventure that goes all the way to Silverton, a town lined with old inns and vintage saloons that looks right out of a John Wayne movie, where passengers can explore, dine, and shop on a two-hour layover. It's a route that's been in continuous operation since 1882, and while the mining of mountain ore has long ebbed, it's an experience that truly whisks guests away to a bygone era. The trip is an all-day affair—about three and a half hours each way, plus the additional layover.
No matter the route, the time of year, or the class of car you choose, there's something singularly special about a journey aboard the Durango and Silverton Narrow Gauge Railroad, a steam-powered slice of Americana that feels more like a nostalgic time machine than a typical train. You won't want to miss your chance to chuga-chug back into the past, if only for a day.