The red and white train winds its way across the snow-covered Alps. It snakes through deep valleys and rocky gorges, tunnels into mountains and emerges on bridges and viaducts, where it traverses the sky above alpine slopes. In gentler moments, it passes serene mountain villages and—depending on the season—a green landscape abloom with wildflowers.
This is the Glacier Express, the self-dubbed "world's slowest express train," which takes its sweet time during a scenic eight-hour journey between the popular Swiss resort towns of Zermatt and St. Moritz. The train's other nickname, "window to the Swiss Alps," explains the train's leisurely pace—as does the panoramic glass along the sides and tops of the train cars, where passengers can gaze at a full range of sweeping, postcard-perfect vistas.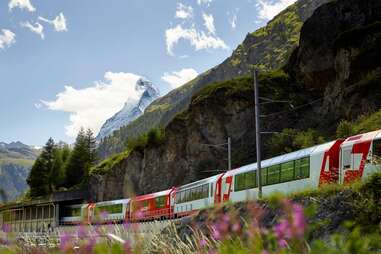 Like many Swiss trains, the Glacier Express travels smoothly, despite its rocky mountainous route. It crosses 291 bridges and glides through 91 tunnels, eventually scaling the heights of Oberalp Pass at 6,670 feet above sea level—and it does so year-round, even when there's snow. The journey is an engineering marvel to be sure, where manmade transit meets unrelenting natural splendor—but equally impressive is the fact that this ride is not only comfortable but luxurious, a far cry from any rickety, rustic affair one might expect from such a remote alpine wilderness. Passengers can opt for multi-course meals or tea service, a dedicated concierge or audio guide. The seats are comfortable, the wine service delightful. If you haven't sipped a crisp white from a tilted glass while traversing the Alps, this is your chance.
Ready to climb aboard one of the most scenic train rides in the world? Here's what you need to know to make the most of the experience.
How to book your trip on the Glacier Express
First thing's first: You're going to need to buy a ticket and reserve your seat before you can ride the Glacier Express. Tickets can only be booked up to two months in advance (or even at the station on the day of travel), while seat reservations can be made up to 92 days in advance (shrug). The important thing to note is that both tickets and seat reservations will cost money—and no, the seat reservation isn't optional.
An individual ticket ranges from 73 Swiss francs to 268 Swiss francs depending on how far you go and whether you're cool with second class or want to get fancy in first class. The seat reservation fee ranges from 29 Swiss francs to 420 Swiss francs. The cheaper end is for a first or second-class seat during the low season (December-May) going a shorter distance, while the more expensive fees are for those living it up in the so-called "excellence class" during the high season (May-October)—for the full eight-hour trip, of course.
If you're having a little sticker shock right now, just know that the excellence class reservation comes with snacks and champagne, a five-course menu plus wine pairing, and an afternoon tea, among other perks. Passengers in any class can order food in advance or along the route, but the cost isn't included in a classic second class ticket.
Whatever type of ticket you choose, the journey is mostly about the view, and you can get that in any class. It should go without saying that snagging a window seat is the way to go, so you don't have to lean over a stranger to snap your pics. Don't worry too much about what side of the train you're on. You'll be able to see plenty on both sides thanks to those giant windows, and if you're going the full route, the train actually reverses directions going into and out of Chur, so you won't be facing the same way throughout. It is wise, however, to go for a spot in the middle of the coach, so you'll be guaranteed a wider view traveling any direction.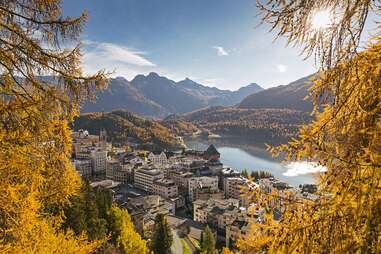 Where to start and stop on the Glacier Express
Riding the Glacier Express is an adventure in and of itself, and it's not the kind of train where you can hop on and off at a whim. That said, it's worth spending some time exploring the start and end points of your journey—and if you have an extra day or two, it could be worth making a stop somewhere in the middle. Here's where to focus your attention.
St. Moritz
One of the Glacier Express' start/end points, St. Moritz is pure paradise for anyone into winter sports (the city has played host to two Winter Olympics). But if you're not into skiing or snowboarding, you can opt instead to hike, mountain bike, or even slide down a famous bobsled run at 80 mph. For those who aren't really into sweat or adrenaline, St. Moritz has a range of swanky shops, grand hotels, and really everything you need to relax in style.
Chur
While the Glacier Express runs between St. Moritz and Zermatt, you're not required to start your journey at those specific stops. For many passengers, the town of Chur makes a great starting point. It's often called the oldest town in Switzerland, with millennia-old archeological finds. The quaint, car-free Old Town is well-preserved and a great place for a stroll. More of Chur's claims to fame include having the highest concentration of restaurants and bars in the country and "the largest shopping centre between Zurich and Milan."
Zermatt
Zermatt, the other of the Glacier Express' main start/end points, ranks high among Switzerland's top resort towns. Aside from all the excellent skiing, hiking, and climbing, a highlight here is seeing the Matterhorn—you know, the real-life version of that pyramidal mountain decorating your Toblerone package. Keep your train adventures going with a ride up the Gornergrat Railway, which offers choice views of the Matterhorn for the entire trip.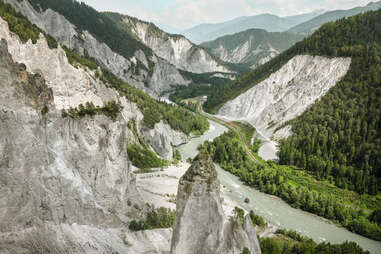 Notable sights along the way
The views are stunning pretty much all the way, but here are some sections of the route you won't want to miss.
Rhine Gorge
They call it the "Grand Canyon of Switzerland," and it's a beaut. In this section between Disentis and Chur, you can see the Rhine River winding through massive geological formations, resulting in a picturesque ravine.
Albula Line
The Albula Line, a twisting section of the railway located between Filisur and St. Moritz, is where you'll traverse many of those viaducts and tunnels that make the Glacier Express so incredible—including the famous Landwasser Viaduct. Anyone interested in railway engineering—or stunning scenery—is sure to be impressed. It is, after all, a UNESCO World Heritage Site.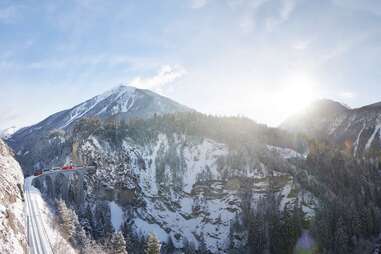 Landwasser Viaduct
Did someone say viaducts? The Landwasser Viaduct is the most famous along the Glacier Express route, standing at 65 meters (or a little over 213 feet high) and stretching 142 meters (or around 466 feet long) before disappearing into a tunnel. Since it comes up just outside of the village of Filisur, it's a good reason to make sure your chosen itinerary includes the railway's eastern section.
Oberalp Pass
The train reaches its highest altitude at Oberalp Pass, near Andermatt on the section of the railway between Andermatt and Chur. You might find that the views out of the windows here make it feel more like you're flying among the mountaintops rather than chugging along a railway track.