11 More Ridiculous Travel Accessories That You'll Absolutely Never Need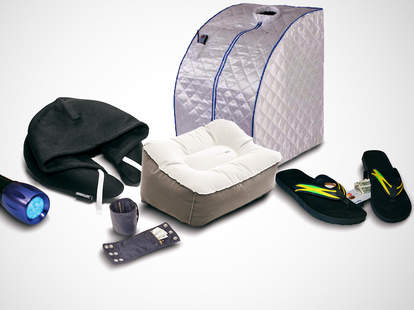 We all go to great lengths to make long flights comfortable, but let's face it: beyond ear buds and a blanket, some travel accessories are pretty worthless.
Not only do you end up looking completely ridiculous putting up a removable privacy partition to keep your neighbor out of your business, but you end up looking completely ridiculous putting up a removable privacy partition to keep your neighbor out of your business. It's kinda that simple.
But which travel products are the absolute dumbest? We showed you eight here. And then another 10 here. Turns out, though, that inventing useless new travel accessories is a booming market -- so we've got 11 more that fit the bill.
HoodiePillow (edited)
Travel HoodiePillow
Seriously, what's wrong with a normal pillow? This edgy, hoodie-meets-pillow hybrid with adjustable drawstrings is designed to be the ultimate cocoon of comfort. But not a cocoon of cool, this is obvious. Unfortunately, they also make a HoodiePillow Hooded Pillowcase.
 
Jaktogo wearable luggage
Avoid extra baggage fees by wearing your bags. Pure genius -- until you look at yourself in the mirror. The tagline may read "Only fools pay for extra luggage," but really, isn't your dignity worth $25?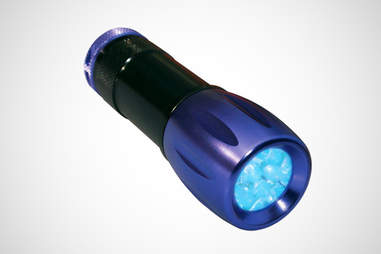 Shawshank Scorpion (edited)
Hotel room black light
If you think you might actually need this device on your vacation, perhaps you'd like to reconsider the hotel you booked? Just a thought.
 
Body-laptop interface
Okay, so this one has to be joke, right? Thankfully just another bad idea (rather than actual product), this full-sized privacy sock is similar to the B-Tourist, except instead of your chatty seatmate thinking you're a huge jerk, she'll just assume you're insane.
TravelSmith (edited)
Inflatable travel footrest
With the very little room you have underneath the seat if front of you, naturally, you'll also want to jam in this inflatable pillow.
Jamin' Leather (edited)
Leather wrist wallet
We get the whole the idea of keeping your money concealed, but unless you're driving a Harley or hitting one of these kinky festivals, adding a stylish leather cuff to your classic khaki-and-oxford look may not be as clever as you first thought.
 
Seatback travel organizer
Apparently designed by somebody who never noticed that airplane seatbacks ALREADY HAVE A STORAGE POCKET, this elaborate airplane dopp kit mounts to the back of your tray table and provides seemingly infinite storage space for all of your many in-flight "essentials."
Portable infrared sauna
Because none of the hostels in which you're staying has a spa... 
 
Nubrella
More like something Mark Cuban would make fun of on Shark Tank, the Nubrella ensures you're sporting the coolest in weatherproof headgear.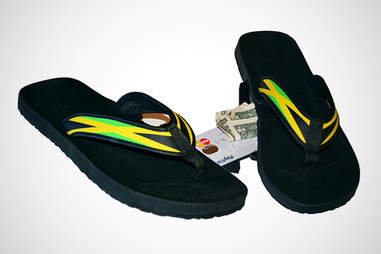 SlotFlop (edited)
SlotFlop sandals
If James Bond were big into open-toe footwear (or a bro), these would be his sandals of choice. That is what the company that makes these flip-flops with a secret compartment for money, keys, and credit cards would like you to believe.
 
Pillowig
Because when was the last time you thought, "If only I could combine a pillow AND a wig into one sexy travel accessory that I can wear on my flight to San Antonio"? Never. The answer will always be never.