If you've ever watched your favorite football team take a severe beating on the pitch, and then walked out into an angry horde of people who clearly aim to continue said beating, you should either A) find a new team to root for, or B) get the Riot Training Experience, where you're taught the basics of riot management & crowd control by real police and military experts.
Here's the quick video rundown of what you'll get for your money. Of course, if you and your fellow trainees feel hard done-by, it'll be difficult for you to show it.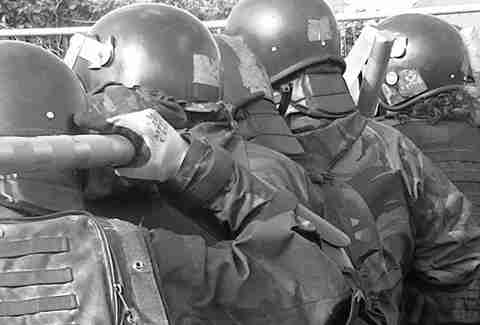 The adventure starts off with a full briefing on modern riot control techniques, and then a profile of historic riots and riot police to learn the appropriate tactics and formations to use (that don't just involve tons of kicking and screaming).
You'll be trained with equipment such as ballistic helmets, visors, batons, and 4ft riot shields.
Other techniques taught during the session are base lines, snatch squads, and the proper use of batons. And if that's not hard-hitting enough, they even blow up a petrol bomb (for learning purposes, of course).
After all the training comes the real fun, as everyone is divided into two groups: one to play the rioters, and the other to keep them under control. Each team is then "fully kitted out" in body armor, and a simulated battle will ensue.
This is no joke, as a barrage of debris will be thrown at you while you advance through smoke swirls and petrol bombs going off. But don't worry, you'll be fully supervised by ex-police/military experts throughout.
After all is said and done, everyone switches sides and goes through the experience again on the opposing squad, which, if you played your cards right, will mean you finally found a winning team.