Eight top river surfing spots in the world
First, river surfing -- riding waves on a surfboard in a river -- is an actual thing. Second, very few rivers qualify. Third, because of the aforementioned second, we've gone ahead and compiled a list of the eight best. Now go, surf upon rivers.
#8: South America's Amazon River may not always be good for surfing, but in Brazil, where the mouth meets the Atlantic Ocean, there's a tidal bore called the Pororoca which, in February and March, creates swells as high as 13ft. Ride 'em, vaquero!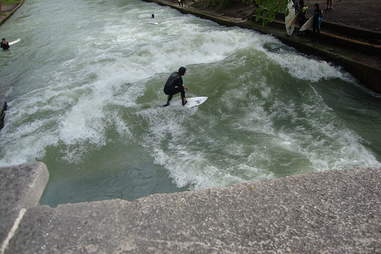 Wikimedia Commons
#7: Proving that Munich's got more to offer than just beer halls and lederhosen-sporting fraulein, the Eisbach River has a standing wave in town that's ridden by up to 100 peeps each day.
You know who ranks among those hundreds of peeps carving the Eisbach's curl? Jack Johnson. Yes, the Jack Johnson, the one who did the soundtrack to Curious George.
#6: Believe it or not, that dude isn't surfing in the year 2096; he's riding China's Qiantang River, AKA the "Silver Dragon". This badass waterway sees waves of nearly 30ft that travel 25mph along the skyscraper-lined shores of Hangzhou.
#5: The River Mur in Graz, Austria, has two waves -- both are built by hand, using precisely-placed underground rock formations to constrict the flowing water. Prepare to look way more badass on it than those silly kayakers.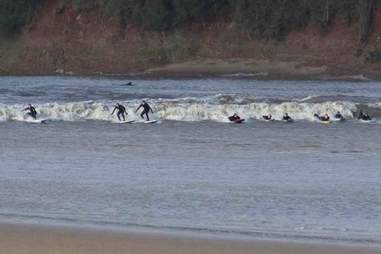 Wikimedia Commons
#4: A tubular tidal bore at the mouth of the River Severn in England near Gloucester, the Severn Bore was first surfed by Jack Churchill, the only Allied soldier in WWII to kill an enemy using a FREAKING LONG BOW. This bore has 7ft waves that have been known to carry boarders more than five miles downstream.
#3: Add "surfing" to the list of shredding options at Jackson Hole, as the Lunch Counter rapids in the Snake River manage to create wave-machine-perfect conditions.
#2: A similar setup to the narrow, urban Eisbach, the River Thun in, you guessed it, Thun (Switzerland) lets you surf so close to your buddy on shore that you can hilariously spray him with your icy Swiss Alps wake and make him wish he were wearing a cool wetsuit hoodie like you.
#1: The rapids of the Zambezi River near Livingstone, Zambia, are known to be man-eaters... even from the relative safety of a raft. But come July and January, the rapid forms a perfect, static tube that hopefully won't kill you.