Finding yourself stressed by day and plagued with dreams about work at night? It's time to unplug, son. Pull a Dave Chappelle and go M.I.A. for a while. We suggest heading south. Past Nashville. Beyond NOLA. Further down than Honduras. We're talking all the way south. These epic, remote, South American road trips will put you back in the driver's seat of life; just keep an eye out for potholes and packs of llamas.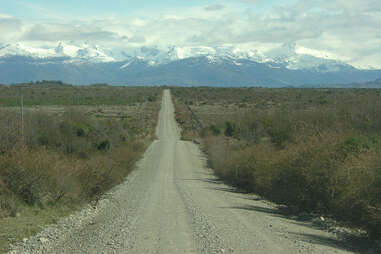 Carretera Austral, Chile
For those looking to get way off the beaten path, the Carretera Austral is perhaps one of the last parts of the world where the scenery is breathtaking, the people are completely unplugged (there's no cell service, save for big towns), and you're absolutely guaranteed to not hear a word about Miley Cyrus.
Sound like heaven? It is. Almost entirely composed of gravel roads, the highway winds through 770mi of fiords, glaciers, volcanoes, and forests in south Chile, and every turn offers another drool-worthy Instagram opp.
Don't miss: White water rafting in Futaleufú; this sleepy border town straddles Chile and Argentina, and is home to the Futaleufú River, named one of the best spots on the planet to nearly drown.
Ruta 40, Patagonia, Argentina
Don't be grumpy when the road gets bumpy; Ruta 40 runs the length of Argentina from north to south, but the route gets especially fun just past San Carlos de Bariloche and El Bolsón, when the pavement disappears. The mostly-gravel road from here to Rio Gallegos is a surefire way to put your butt cheeks to sleep.
There are some pretty stellar things to see and do as you wind your way down through one of the most southern regions of the world, including Cueva de las Manos (Cave of the Hands), which boasts cave art dating back some 10,000 years that's super creepy and interesting.
Don't miss: Ruta 40 is a destination in and of itself, and every town along it is well worth a stop, but you've really gotta hit Los Glaciares National Park, home of the Perito Moreno glacier.
La Paz to Coroico, Bolivia
Feeling lucky, punk? Try barreling down one of Bolivia's most notorious pathways, the North Yunga Road -- affectionately nicknamed "Death Road". The 38mi stretch that connects La Paz to Coroico is a 10'-wide, two-way gravel driveway which only accommodates one car at a time, and winds along the edge of a cliff that drops over 1,800ft -- sans guardrails. The scenery is lush and tropical with low-hanging clouds and gorgeous views, but most passengers are too busy staring at their feet and praying to appreciate said vistas.
Don't miss: Your chance to bike the road. The "Death Road" is a pretty popular tourist destination for cyclists, and there are a ton of tour companies that will sell you packages. Alternatively, you can bring your own two wheels and ride -- or die. Have fun!



Need a little more inspiration to ditch cubicle life for awhile? Check out this video, made by three 31yr-old dudes from Munich who packed it all in, got a Land Rover, and tore up some paths less traveled. From the salt flats of Bolivia to the waterfalls at Iguazu, past the glaciers of Argentinean Patagonia, to Tierra del Fuego -- the end of the earth. It's called Untamed Winds, produced by Peru for Less. So, yeah … when are we leaving?