Photo by Karthika Gupta
Photo by Karthika Gupta
Joyride Some of the Highest Roads in the World at the Top of India
Let your car do the climbing in the Himalayas.
Travelers, start your engines: You are now entering The [Scenic] Route, a rip-roaring exploration of the world's most incredible international road trips, from lush Rwandan jungles and ancient Peruvian mountains to seaside Irish villages, dreamy Japanese forests, and twisty Romanian hillsides. For more reasons to hit the pavement—plus tips, interviews, and a custom road-ready playlist—cruise over to the rest of our coverage here.
The Himalayas have long been legendized as the epitome of feats to conquer. India's side of the Himalayas is just as epic, with scarcely populated villages, beautiful monasteries, high-altitude dry deserts, and roads cutting across the highest mountains in the world. But here's the thing—you don't have to embark on a several month quest hiking in the most difficult conditions to test your physical and mental strength until you either break or crown yourself champion. Not if you don't want to. Instead, you could choose to drive through the scenery, so your car does the climbing for you over just a couple days.
Driving in this northern part of India makes for one adventurous road trip. The mountain ranges around Ladakh—which include the Kunlun, Karakoram, and the Himalayas—have created a region affectionately called the "Land of Passes" thanks to the many mountain passes stretching from town to town. Each pass entails a long stretch of winding roads that get you past the hulking stone beasts, with stops in between passes that make it easy to break the trip into manageable sections.
The road from Manali to Leh, the capital of Ladakh, is made of five mountain passes spanning 305 miles (490 kilometers) through the Himalayas and into the Karakoram mountain range, which is also often called the roof of the world. At this section's highest point, Taglang La Pass, the elevation soars to an astounding 17,480 feet, making it one of the highest motorable roads in the world. And Khardung La is another, at 17,560 feet, that's just past Leh and many people add on to their road trip in this northern part of India.
Driving non-stop, the distance from Manali to Leh could technically be covered in 18 hours. However, due to the 14,000-17,500 foot elevation gain, the recommended journey time is two or three days to acclimatize. This high-altitude road is only open from late-May to mid-October, so now is the time to start plotting. Here's what to know about the most elevated of road trips through Ladakh.
How to rent a car in India
To drive in India, you must be a legal resident with an Indian driver's license or have an International Driving Permit, which translates your current driver's license into Hindi. An IDP can be attained by filling out a form and paying about $20, done in advance with enough time to get it in the mail (which can be expedited for an extra fee). Driving is on the left-hand side, so you might want to spend a few days getting used to the difference from the US.
You can easily rent a car from companies like Avis or Hertz. Car insurance, especially overseas, is a good idea, either with your credit card company (collision coverage) or by paying at the rental shop. If you plan to drive to Leh, expect to pay a deposit of $500 to $8,000 depending on the car you rent, which will be returned to you after drop off. While car rentals are available in Manali, more options are available in Delhi.
Keep in mind that driving in India is not for the faint of heart. Cars don't rule the roads here, and you'll often find streets shared by animals, lots of people, and all kinds of other vehicles, many of the two-wheel variety. If all that potential distraction makes you uncomfortable, rent a private or shared taxi to Leh. While a private taxi ($125 to $180 one-way) will complete the journey at your leisure, a shared taxi ($25-$30 per person) doesn't make unscheduled stops—not optimal for first timers who aren't used to higher altitudes.
This region is a union territory that maintains strategic importance to India due to the shared border with Pakistan and China and hence has a strong military presence, making travel relatively safe here. The roads are built and maintained by the Border Roads Organization (BRO) of the Indian army. Carry proper identification like a passport and/or driver's license, as there are many checkpoints along this military-operated highway.
A key thing to be aware of in these parts is Acute Mountain Sickness (AMS). It can occur to some people due to lower levels of oxygen at high altitudes. Best to take it slow and let the body adapt to the low oxygen rather than breeze through the journey as fast as possible. While symptoms of AMS are different for everyone, the most common are elevated body temperatures, headache, body aches, nausea, and nose bleeds. Carry plenty of water and keep yourself hydrated. Medications to help with AMS are also recommended, and remember, you can even stop at any of the army medical clinics along the way if your symptoms are really debilitating.
No matter what mode of transportation you choose, here's how to enjoy one of the most thrilling drives of your life.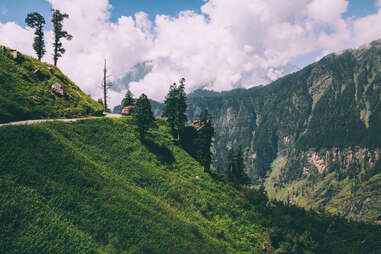 First pass: Traverse the world's longest tunnel to get from Manali to Jispa
Until 2022, the only way to get from Manali to Leh along National Highway 3 (NH3) was via Rohtang Pass. At 13,051-foot elevation, this pass offers stunning views of snow-capped Himalayas, stupendous waterfalls, and lush green valleys. However, the road traverses rough terrain and unpredictable weather, with traffic from public buses, private cars, and throngs of motorcycles crowding NH3. In 2022, the world's longest tunnel, Atal Tunnel, was completed. Built to bypass Rohtang Pass to reduce congestion, it connects Manali to Sissu. The tunnel is a great option to reduce travel time and avoid traffic at the pass.
If you do decide to travel via Rohtang Pass, a permit is required by the BRO. Only 1,300 permits ($8-$10 per vehicle) are issued daily, so plan in advance to acquire one online or via the Subdivision Office of Transportation in Manali.
Jispa is a great place to spend your first night on the road. It has a hotel, guesthouses (rooms in homes), and campsites to choose from. Jispa also has a small, 11th-century monastery and a folk museum along the banks of the river Bhaga, which you really shouldn't miss. The lack of light pollution and the high altitude also makes this a great place to stargaze, so go for a night stroll and be prepared to be enthralled by the night sky.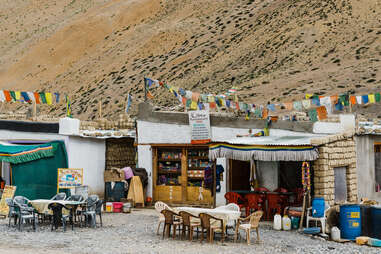 Second pass: Take in peaceful views from Jispa to Sarchu
Once you leave Jispa, you'll notice the landscape turning barren. The road gets smoother, and some stretches traverse valleys that seem to disappear into the mountains. There are a lot of scenic pullouts, so take advantage of the scenery and solitude. Deepak Tal is a beautiful lake to visit, before ascending to Baralacha La (15,910 feet), the second altitude pass.
After the pass, you will continue to Sarchu, a military base on the border between Himachal Pradesh and Ladakh. As the town is a central point on NH3, you must register at a checkpoint here before entering Ladakh.
Accommodations in Sarchu are available in the form of luxury tents like Dorje Camp and chadars (blankets) inside dhabas which are restaurants literally by the side of the road. The luxury campsites range from $25-$35 per night, whereas the chadars are around $2-$5. The chadars are simple—just a heavy blanket in a communal tent that's shared with other travelers. Toilets are outhouses, so this option is for people who are into roughing it. You can also pitch your own tent if you prefer a private camp.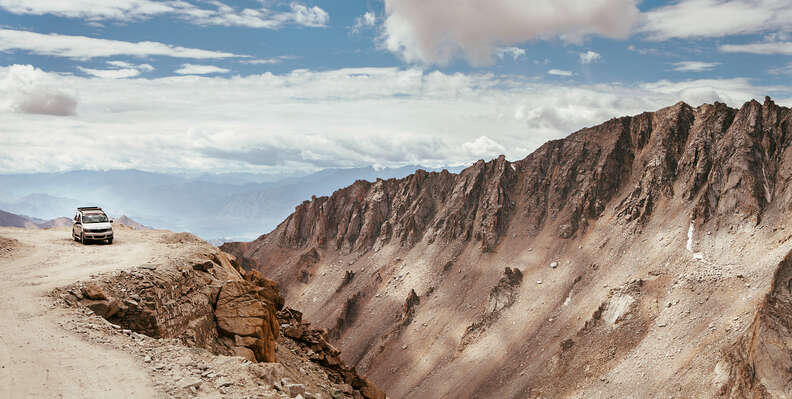 Third, fourth, and fifth passes: Stay focused on twisty roads from Sarchu to Leh
The last few passess happen in quick succession, so it's convenient to do them all together—however, these are the trickiest, so best to keep your driving wits about you. Just past Sarchu is the Gata Loop ascent, a series of 21 hairpin bends leading to Nakee La (15,547 feet), the third mountain pass on this route and one of the most dangerous. You may notice the loose gravel and lack of guard rails, so go slow and don't be tempted to try off-roading, because help really is a long way off—hence the hundreds of prayer flags that drape these passes and rudimentary temples that pay homage to the mountain gods. So take a break, breathe that fresh mountain air, click pictures, thank the gods for an uneventful journey thus far, and be on your way. If you're lucky, you may even see wildlife like yaks and marmots in this region.
After descending for a few miles past Nakee La, you'll start climbing up the fourth mountain pass, Lāchālūng La (16,600 feet). The descent from Lāchālūng La takes you to Pang, an army establishment and transit camp. There are a lot of dhabas and chadar tents here to indulge in hot momos (Nepalese dumplings) and warming ginger honey tea—a treat in these cooler northern parts.
You'll start noticing unique soil formations like sand pillars, as the vegetation entirely disappears in the face of the fifth and most challenging climb to the highest pass, Taglang La (17,480 feet). The narrow roads and high altitude make this crossing difficult, but the view of rows of ashen mountains and scenic plains in the distance is well worth the trip. And once you start descending, Leh is just an hour's drive away.
Bonus pass: Cruise on top of the world on the Khardung La Pass from Leh to Nubra Valley
Some people choose to end their trip in Leh, which is an ancient city worth exploring. But there's one more pass beyond, if you were to keep going north, that some do as its own trip from Leh. It's a long journey, but worth it for the pristine natural beauty, stunning lakes, and ancient monasteries you get to see along the way. This final pass is called Khardung La, and it's the highest mountain road in this region at 17,560 feet.
It lies along the way to Nubra Valley—another incredible spot to pause and take in the views—and is well-maintained by heavy military presence, as it's much closer to the borders with China and Pakistan. Consider adding this to your road trip itinerary if you want bragging rights among your friends for driving along some of the highest roads in the world.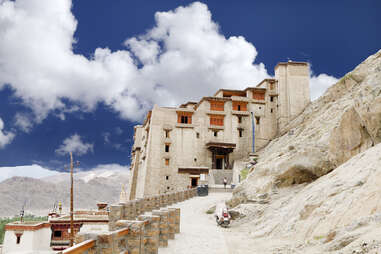 End your journey on the Silk Road in the city of Leh
The northernmost part of India is steeped in culture, history, and tradition dating back to the 1st century, as Leh was a stopover point along the Silk Road. While the journey may seem arduous at times, it's worth the trip to feel the tranquility of entering Leh valley.
The barren landscape gives way to whitewashed stone homes and Buddhist stupas, all decorated with colorful prayer flags that flutter in the wind. If you stand still, it can seem as if the wind is carrying the chants across the valley for the wilderness to hear—an homage to its past and a promise to its future.