The overland cross-country journey is ingrained in the American spirit. It's something that everyone should do at least once in their life -- preferably in the summer, when the days are long and warm and you can roll down your car windows at top speed without risking pneumonia. Well, as the song says, summer's here, and the time is right. It's time to start planning a good old-fashioned coast-to-coast road trip.
I've assembled three ideal itineraries for three separate road trips from New York to California, clocking in at three-and-a-half, seven, and 14 days, respectively. I am a frequent traveler and driving enthusiast who spends a good portion of each year on the road. I can personally vouch for most of the routes, sights, and destinations I recommend below. While I like to think there's something here for most everyone, I readily admit that I devised these as the sorts of road trips that I'd like to take. I like to drink cheap beer at dive bars and then pass out in hotels. I prefer road food to haute cuisine, national parks to museums, the Southwest to the Deep South. I like to walk through nature every three or four days and then see the rest of the country through a car window. I make no apologies for my biases.
Some ground rules to start: The classic cross-country road trip route, established in the 1970s during the legendary Cannonball Run races, starts at New York City's Red Ball Garage and ends at the Portofino Hotel and Marina in Redondo Beach, California, about 7 miles south of Los Angeles International Airport. We'll use those cities as our starting and stopping points for each itinerary. I'm going to try to not repeat segments or destinations, so that you could conceivably drive all three routes and be delighted anew on each trip. Before you leave, you should get a car (duh), a national park pass, a toll pass, a Rand McNally road atlas, a tent, and, if you are a sociopath, a tin whistle with which to drive your companions insane. Let's get to it!
Recommended Video
Nashville Absinthe Cocktails & the Hottest Chicken (Literally)
Three-and-a-half days (also known as the "Cannonball Jog")
Day one -- New York, New York to Indianapolis, Indiana via I-78/I-76/I-70 (709 miles): You'll be spending a lot of today's drive in Pennsylvania, and my advice for you is to drive through it as fast as you can, making as few stops as possible. This task becomes easier once you hit the Pennsylvania Turnpike, America's first long-distance superhighway. To celebrate (almost) making it through this very long state, take a brief detour to Pittsburgh and head to the solid, unpretentious Grant Bar and Lounge in the Millvale neighborhood, specializing in fried shrimp, coconut cream pie and, on Fridays and Saturdays, turtle soup. By the time you pull into Indianapolis, it will be very late, which is as it should be. Check into The Alexander near the state capitol and head down the street for a drink at the pleasant, undemanding Brass Ring Lounge. Don't stay out too late: You've got a big day ahead tomorrow. Or do stay out too late, I'm not your mother.
Day two – Indianapolis, IN to Burlington, CO via I-70 (918 miles): Get breakfast at Milktooth -- or at local treasure John's Famous Stew, if you are fond of stew for breakfast -- and then get your butt in the car, because this is a big drive day. I sort of like the hypnotic flatness of Indiana and Illinois, but there's not much to stop for until right before St. Louis, when you might want to detour slightly off I-70 toward Breese, Illinois, home of the Excel Bottling Company, one of the country's last independent soda bottlers. Pick up a case of Ski, Rummy, or Million Dollar Grape soda -- the locals prefer Ski, but you do you -- and then get back on the highway and tear ass through Missouri. Kansas City would be a good place to stop for food -- I like Hayes Hamburgers & Chili, though steer clear if your stomach is sensitive -- but don't eat too much, because you've still got to drive all the way through Kansas, a state best experienced in the dark. Grit it out until you hit the Colorado border, and then crash in Burlington, Colorado, home to an antique carousel that spins at about 12 miles per hour. I don't think you can sleep on the carousel, but feel free to try.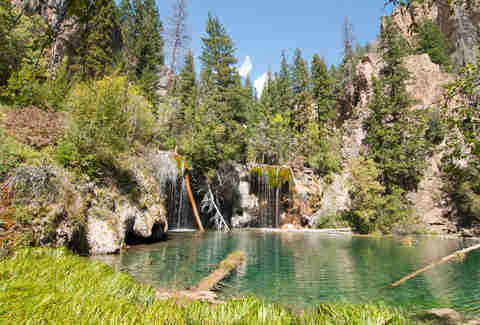 Day three -- Burlington, Colorado to Cedar City, Utah via I-70/I-15 (745 miles): "I-70, for those who have not driven it, is a must-do," says Carl Reese, who holds multiple cross-country driving records. "Once you get west of Hays, Kansas, the Rockies are phenomenal, the sections of Utah are phenomenal." So get yourself set for a phenomenal day! If you start early enough you can hike Hanging Lake near Glenwood Springs, a beautiful and manageable ascent that ends at a pristine and picturesque green lake. If you sleep in, well, no hiking for you. Either way, the Rockies and Utah are gorgeous, and you'll be delighted even if you never get out of the car. If you time the drive right, you should be finishing up with Utah right around nightfall. At that point, stop for the night in Cedar City, home to Southern Utah University and a bunch of interesting shops and attractions. If it happens to be Friday night, go see a show at OTC Comedy; otherwise, the Cedar Bowling Center is open late and has surprisingly decent food. This is America! Sometimes it's OK to dine in a bowling alley!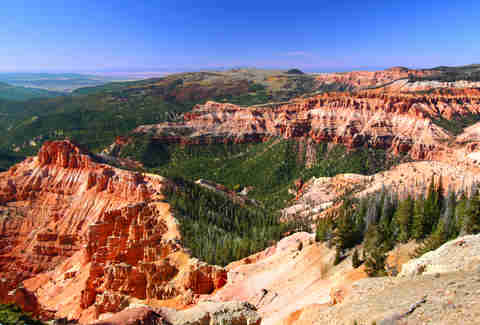 Day four -- Cedar City, Utah to Redondo Beach, California via I-15, CA-210, I-605, and I-405 (457 miles miles): If you wake early enough, you should drive up to the nearby Cedar Breaks National Monument for a good-morning hike. (Depending on the weather, it might be a bad-morning hike, I suppose.) On your way back to Cedar City, grab coffee and pastries from The French Spot, an unassuming hut run by an honest-to-God Michelin-starred chef, and then get back on the road. Las Vegas is about three hours away, and you'll probably end up stopping. If so, make the unexpected choice and avoid the Strip; Downtown Vegas is just as gaudy and a lot more charming. Lose some money at the historic El Cortez. If you're hungry, grab some food at locally owned Naked City Pizza. Then hit the highway and follow it all the way to the ocean. Hooray, you made it to Redondo Beach!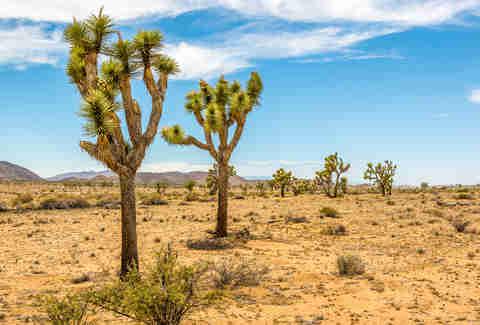 Seven days (also known as "Taste the Old Southwest")
Day one -- New York, New York to Columbus, Ohio via I-78/I-76/I-70 (535 miles): Sorry to send you through Pennsylvania again, but it really lives up to its motto: "The Unavoidable State." Columbus, however, is one of America's most underrated cities. Even so, I admit that I am really just sending you Columbus because of the beer and the pizza. When you arrive, head directly to Rubino's, in nearby Bexley, for a perfect cracker-thin-crust pizza served in a room that has barely changed since the 1950s. Afterwards go into Columbus proper for drinks at the extraordinary St. James Tavern, which, trust me, is the place you've been looking for all these years.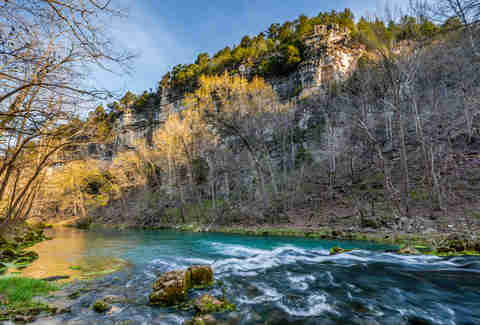 Day two – Columbus, Ohio to Branson, Missouri via I-70/I-44 (669 miles): There is something inherently ridiculous about a cross-country road trip, and so it's good if your trip takes you to a couple of ridiculous places. This is why I'm routing you to Branson, Missouri, which is, as The Simpsons put it, "like Vegas if it were run by Ned Flanders." Which show will you see? Andy Williams? Nope, he's dead. Yakov Smirnoff? Sorry, he left Branson years ago and now apparently tours the country trying to spice up couples' sex lives. Anyway, the decision will make for lively conversation as you cruise through the beautiful Ozarks.
Day three – Branson, Missouri to Dallas, Texas via I-49/I-40/US-69/US-75 (445 miles): Branson is very close to one of the best American art museums in the world: Crystal Bridges, in Bentonville, Arkansas. You should visit! There is probably also a woman named Crystal Bridges living in the Bentonville region, so make sure your GPS doesn't mistakenly route you to her house. Anyway, you're going to Texas today, which is a long drive, but one that you can definitely handle, especially if you know there's a worthwhile destination at the end. I'm not entirely sure whether Dallas qualifies, but it does have a revolving restaurant. If you can't get in -- the restaurant is sometimes busy and also has a dress code -- head instead to Chicken Scratch and The Foundry, a bar/restaurant featuring good fried chicken, a beer garden carved out of old shipping containers, occasional live music, and cheap cans of Goldmine, which is a beer.
Day four -- Dallas, Texas to Marathon, Texas via I-20 (493 miles): Texas is a great state to drive in, and you'll be driving through basically all of it today. But why, though, you ask? It'll all make sense once you hit the big skies of West Texas and land in the funky small towns out near Big Bend. This drive goes faster than the mileage might imply, so if you leave Dallas early enough you should arrive in the afternoon. What you do when you get there is up to you: Check out Donald Judd's sui generis art installation in Marfa, visit Big Bend National Park -- highly, highly recommended -- or tour the Big Bend Brewing Co. in Alpine. Regardless, end your day with a swim in the pool at the beautiful Gage Hotel, in tiny Marathon, and then maybe consider heading up to the McDonald Observatory in Fort Davis, where on Tuesday, Friday, and Saturday nights the astronomers hold "star parties" that make the constellations come alive. The gift shop there also sells astronaut ice cream, so there's that. (A cautionary note: Do not in any case stop in San Angelo, Texas, where I was gratuitously punched in the head by an aggressive tweaker in 2015.)
Day five -- Marathon, Texas to Flagstaff, Arizona via I-10/I-25/I-40 (821 miles): This is a meandering drive, but the scenery is righteous and Flagstaff is cool. Stop in at the Museum Club, an old log-cabin honky-tonk which has been around since the 1930s and which may or may not be haunted. Side note: Right before Flagstaff is Winslow, Arizona, immortalized in the Eagles song "Take it Easy," in which Glenn Frey brags about being ogled there by a woman in a truck. Well, the Winslow city fathers decided to capitalize on this passing reference by building "Standin' on the Corner Park," which features a Ford truck and a statue of Glenn Frey. I'm not saying you should stop and see it, but you should definitely be aware that it exists, because it is the most American thing ever.
Day six -- Flagstaff, Arizona to Palm Springs, California via Grand Canyon National Park (503 miles): The Grand Canyon, also known as "America's Big Crack," is nearby and breathtaking and you're a fool if you skip it. So don't be foolish! Take AZ-64 up to the crack and spend as much time as you'd like there. Afterwards, get back on I-40 and drive to Needles, California, where you should detour south onto US-95 until it meets up with CA-62. Follow that gorgeous, desolate road through Twentynine Palms and over the top of Joshua Tree National Park -- which is no Grand Canyon, but which is nonetheless worth a stop -- and then land in the midcentury modern paradise of Palm Springs. Stay at the restorative Ace Hotel and Swim Club. Take some time to just lay out by the pool. If you feel like venturing out, there's a nice cocktail crawl to be had, with stops at Bootlegger Tiki, the bar at Mr. Lyons, and then the Amigo Room at the Ace.
Day seven -- Palm Springs, California to Redondo Beach, California via I-10/I-15/I-5 (259 miles): Stay at the Ace until they literally force you out, then grab a milkshake at the aptly named Great Shakes in Palm Springs and head to the coast. If you like, you can detour first down to San Diego; it's never a mistake to spend time in San Diego. Hooray, you made it to Redondo Beach!
Fourteen days (also known as "The Fabulous Fortnight")
Congratulations! You have 14 days to spend on the road, which means either that you have a lot of vacation days stored up or that you are unemployed. This itinerary will take full advantage of your wide-open schedule by taking you through most every landscape that America has to offer.
Day one -- New York, New York to Ithaca, New York via I-80/I-81 (223 miles): Upstate New York is really pretty, and Ithaca is less depressing than many of its neighboring cities. Hike Buttermilk Falls State Park, visit the Ithaca Beer Co., and get a late-night sandwich at the Hot Truck, which has been parking on Stewart Avenue on the campus of Cornell University for decades, and which is best experienced after slamming half a dozen cans of Milwaukee's Best Light.
Day two -- Ithaca, New York to Sandusky, Ohio via I-86/I-90 (394 miles): Get breakfast at Collegetown Bagels and an espresso at Gimme! Coffee and then get in the car. You'll be driving much of the way today on I-86, a very pretty road on which I almost killed myself in 2001 when I spun out after driving way too fast in the middle of a blizzard. So if it starts snowing, go real slow! Otherwise, cruise to Sandusky, Ohio, home of the country's best amusement park, Cedar Point. If roller coasters aren't your thing, well, then you probably won't like Sandusky. In that case, feel free to either stop in Cleveland or push on to Detroit.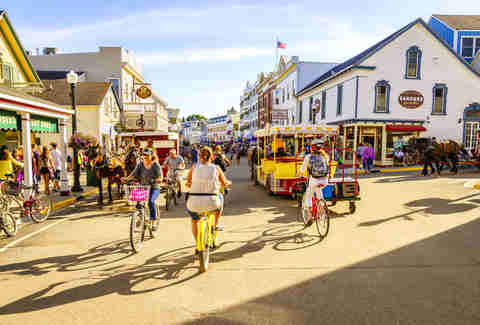 Day three -- Sandusky, Ohio to Mackinaw City, Michigan via I-90/I-75 (387 miles): Michigan is really beautiful, and I think you'll enjoy today's relatively short drive, especially if you stop in Detroit for lunch at Mike's Famous Ham Place, which is exactly what it sounds like. Take I-75 through the North Woods all the way up to Mackinaw City, where you can catch a ferry to Mackinac Island, a car-free island retreat filled with fudge shops, horseshit, and loud families from Chicago. I am making it sound terrible, but it is actually really nice.
Day four -- Mackinaw City, Michigan to Eau Claire, Wisconsin via US-2/WI-64 (426 miles): Ferry back to Mackinaw City and traverse the Straits of Mackinac to the Upper Peninsula. Yes, that's right, I'm taking you... (pauses to put on sunglasses) over the top. Follow the shoreline roads hugging Lake Michigan until you reach Marinette, Wisconsin, where you can pick up some locally famous coal-grilled burgers at Mickey-Lu Bar-B-Q. Then head west on WI-64 through the Chequamegon-Nicolet National Forest and you'll eventually reach Eau Claire, the region's cultural hub, where you should stop for the night. Stay at the Oxbow Hotel -- co-owned by Bon Iver's Justin Vernon -- or the clean and inexpensive Antlers Motel, where Bob Seger may have written the song "Turn the Page," but either way make sure to end your night at The Joynt, on Water Street, where a glass of Grain Belt costs $1 and light beer is forbidden.
Day five -- Eau Claire, Wisconsin to Omaha, Nebraska via I-90/I-35/I-80 (440 miles): You'll be seeing a lot of Iowa today, and you should be glad, because Iowa is great. Go out of your way to see Trainland USA, in Colfax, a delightful and massive model-train setup inside an old barn, and afterwards grab a pork tenderloin sandwich at Goldie's Ice Cream Shoppe, in Prairie City; both the restaurant and the town are straight out of some lost Norman Rockwell painting. From there, proceed to Omaha, birthplace of the Reuben sandwich and home to the Henry Doorly Zoo. (As you soon will learn, Omahans are very, very proud of their zoo.) Book a room at the Magnolia Hotel downtown, then go see a comedy show at the nearby Backline and tell them that Justin Peters sent you. My name won't get you a discount or anything, but I'm trying to raise brand awareness.
Day six -- Omaha, Nebraska to Moab, Utah via I-80/I-76/I-70 (886 miles): This is the first really long drive day thus far, but I promise it'll go fast. Start with coffee and breakfast at the excellent Culprit Café and Bakery in downtown Omaha, then head across Nebraska into Colorado. I sent you across the Rockies on I-70 in the 3.5-day trip, but I'm sure you won't mind that I'm sending you down that road again. It's the Rockies, for Pete's sake! You'll end up in Moab, which specializes in mountain bikes, rock formations, and near beer. If I remember correctly, there is also a snake museum. I might be misremembering this. Anyway, Moab rules.
Day seven -- Moab, Utah to Escalante, Utah via Capitol Reef National Park (219 miles): This will be the best day of your trip, if not of your year. Meander around Moab and Arches National Park for a bit before working your way toward UT-24. Follow it to the spooky, transfixing Goblin Valley State Park and through the less-creepy Capitol Reef National Park. The most exhilarating drive in the contiguous United States is the stretch of UT-12 between Boulder and Escalante. Time it so you go right before sunset, and then pull into historic Escalante, where you can get a clean cabin and excellent food at Escalante Outfitters.
Day eight -- Escalante, Utah to Great Basin National Park, Nevada via Bryce Canyon National Park (235 miles): Bryce Canyon is one of America's most popular national parks, for good reason: It is the sort of place that makes you feel like God must exist. The comparatively unpopular Great Basin National Park, for its part, will make you feel wholly alone in the universe. Don't let that stop you from visiting, though, because it's still beautiful, especially at night, when it boasts some of the best star-watching on the planet. Camp out.
Day nine -- Great Basin National Park, Nevada to Reno, Nevada via US-50 (395 miles): I was initially going to send you to Jackson, Wyoming, to put you in striking distance of Grand Teton and Yellowstone National Parks. But instead I'm sending you to Reno, because Reno is funny, and also because after three nights out in nature you will probably start to get hungry for liquor and porno and neon lights. You can still head up to Jackson if you like, but I stand by my choice.
Day 10 -- Reno, Nevada to Missoula, Montana via I-80/US-95/US-12 (762 miles): This is a very long drive, so, sorry about that; I probably shouldn't have sent you to Reno in the first place. Still, the drive is doable, if long, the terrain is certainly gorgeous, and Missoula is a worthy destination. Stop in at the Old Post Pub for a presumably much-needed drink once you finally arrive.
Day 11 -- Missoula, MT to Seattle, WA via I-90 (475 miles): All roads lead to Seattle, especially this one.
Day 12 -- Seattle, WA to Redwood National and State Parks, California via Portland, Oregon (493 miles): Spend the better part of your day in Portland doing Portland stuff: Visit Powell's City of Books, go to a food truck, protest heteronormativity or something. A childhood baseball teammate of mine runs the well-reviewed Pastrami Zombie truck; tell her Justin Peters sent you (brand awareness). Then head out and down the Oregon coast to Redwood National and State Parks and camp at the feet of the biggest damn trees you've ever seen.
Day 13 -- Redwood National and State Parks, California to San Francisco, California via US-101/CA-1 (355 miles): We're going to hug the coast to San Francisco today, though if you'd prefer a faster drive you can head east just before Arcata on the beautiful CA-299 and then connect with I-5 at Redding. But the coast will take you through Humboldt, Mendocino, Sonoma, and Marin Counties -- wine and weed country, so to speak. Do what you need to do there and then end up in San Francisco, the place where Tony Bennett left his heart back in 1893. I've always liked the Summer Place Cocktail Lounge -- partially because it reminds me of the scene from that Simpsons episode where Jasper auditions for the barbershop quartet by singing "Theme from a Summer Place" -- but keep your own counsel; it's San Francisco and you don't need me to give you ideas about what to do.
Day 14 -- San Francisco, California to Redondo Beach, California via CA-1/US-101: It's the last day of your trip, can you believe it? Remember all of the things you saw and did? Remember when I gratuitously sent you to Reno? Good times, good times. Anyway, end this trip on a slow-moving, sidewinding high note by taking CA-1 down the coast, through Monterey and Big Sur and such, until NoCal becomes SoCal and you eventually reach your destination. Hooray, you made it to Redondo Beach! Now go collapse for a couple days. The return journey awaits.
Sign up here for our daily Thrillist email and subscribe here for our YouTube channel to get your fix of the best in food/drink/fun.