10 Road Trip Tips From Professional Race Car Drivers
Travis Allen/Shutterstock
The stars of the Verizon IndyCar series can't drive 65... because they'd lose. But that doesn't mean the best racers in the business don't know how to take a proper road trip. We talked to some of the best new names in the sport to see what rules they follow when setting out for the open, less circle-y and more speed limit-y road.
<a href="https://www.flickr.com/photos/calliope/4417125121/" rel="nofollow" target="_blank">Liz West/Flickr</a>
1. Eat local
A cool road trip tip is to impress your riders with brain-blowing chain restaurant facts. Such as, the furthest you can possibly be from a McDonalds in the lower 48 is on Highway 20 between Meadow and Glad Valley, South Dakota, 145 road miles from the nearest golden arches. But you shouldn't rely on chains to feed your face every meal. "You can grab fast food anytime. When you're on a road trip, grab a bite at a local joint," says Josef Newgarden, a 24-year old racer with two Verizon IndyCar wins thus far this season.
<a href="https://www.flickr.com/photos/septim/16418392084/" rel="nofollow" target="_blank">Eric Demarcq/Flickr</a>
2. Use apps to stay away from storms and traffic
The average American burns 38 hours sitting in traffic every year. Don't be a bonehead and add to your total while not actually commuting. "One of my favorites is Waze, for checking traffic jams ahead," says Graham Rahal, who's scored two wins for the Rahal Letterman Lanigan team.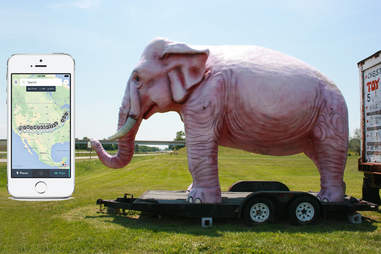 <a href="https://www.flickr.com/photos/sillyamerica/11555873243/" rel="nofollow" target="_blank">Silly America-Flickr</a>/Courtesy of Roadtrippers
3. Stay off the interstate -- at least part of the time
"I try and look for alternate routes," says Newgarden. "The Roadtrippers app helps you plan a route with cool spots to hop out and take pictures." There are nearly 50,000 miles of interstate in the U.S. Most of them are boring. Your GPS is going to give you the fastest route between A and B but not necessarily the most interesting. And, hey man, it's a journey not a race, right?
<a href="https://www.flickr.com/photos/yto/8192332718/" rel="nofollow" target="_blank">Tatsuo Yamashita/Flickr</a>
4. Don't let your phone go dead
As the youngest driver in the Verizon IndyCar series, at 20, Sage Karam is a power-user of his phone during road trips and relies on gadgetry for an assist. "I keep a Mophie juicepack on hand to charge it," he says. One hidden plus about those huge "phablet" phones? Their batteries go long (the iPhone 6 Plus can browse for 12 hours over the LTE network.) Still, highway miles are hard on a phone's battery life.
<a href="https://www.flickr.com/photos/dougbelshaw/8609065753/" rel="nofollow" target="_blank">Doug Belshaw/Flickr</a>
5. Use your navigator as a DJ
Unless you are one of those tyrants who believes that only a driver should select road trip tunes, everybody's better off if his eyes are on the road (and not on Willie Nelson's back catalog on Rdio.) "Create a Spotify playlist before you go, and trust whoever's riding shotgun to not only navigate the route, but navigate the playlist also," says Newgarden. "When the music gets old, check out a podcast series, like Serial." Let the soothing sounds of a murder investigation soundtrack your ride to Fresno.
<a href="https://www.flickr.com/photos/fordapa/5835737230/" rel="nofollow" target="_blank">Ford Asia Pacific/Flickr</a>
6. Check the fundamentals before you leave
The "penny" test is the classic method of making sure you've got enough tread remaining on your wheels: place a Lincoln penny head-side down. If part of his head is concealed, you're still good. If you can see his whole dome, you need to get that rubber replaced. "I always take a look at oil, tires, and brakes on my own to be safe before I head out," says Newgarden. 
Konstantin Sutyagin/Shutterstock
7. Gas in -- pee out!
Though gas prices are down, experts forecast that July and August will have some of the highest fuel prices of 2015. "There's an app to find stations with cheap gas called GasBuddy," says Newgarden. And always take advantage of the ability to use a real restroom, even if your bladder is currently cozy, because you never know when that next opportunity will be, as Newgarden insists: "When I make a stop, everyone is required to take a pit stop for the restroom."
Ernest R. Prim/Shutterstock
8. Beat the Fuzz
According to one recent study, 78 people get a speeding ticket every minute, and paid tickets total over $6 billion per year. You're going to be putting a lot of time on highway and your odds of being one of those 78 exponentially increase every minute. So listen to the pros: "I always bring a radar detector," says Rahal. "Just because."
funkyfrogstock/Shutterstock
9. Don't forget toys
Newgarden throws a longboard in his trunk: "I love using it to get around in a new city," he says. Karam packs a drone: "I fly it whenever and wherever I get a chance." Rahal brings golf clubs -- "You never know when you're going to find a perfect course," he says. Regardless of your pet passion, bring something along that's fun outside the vehicle.
<a href="https://www.facebook.com/tacobell/photos/pb.18595834696.-2207520000.1436296378./10152583508794697/" rel="nofollow" target="_blank">Taco Bell/Facebook</a>
10. Hit the Bell
Even calorie-counting race drivers allow for dietary exceptions. "All road trips require a stop at Taco Bell for a Baja Blast," says Karam. So if a race car driver can get away with this, so can you. Get your Blast on guilt-free, friend.