Iceland's Lesser-Known Route Is Bursting with Waterfalls, Fjords, and Hot Springs
Fantastic drives await beyond the Golden Circle.
Travelers, start your engines: You are now entering The [Scenic] Route, a rip-roaring exploration of the world's most incredible international road trips, from lush Rwandan jungles and ancient Peruvian mountains to seaside Irish villages, dreamy Japanese forests, and twisty Romanian hillsides. For more reasons to hit the pavement—plus tips, interviews, and a custom road-ready playlist—cruise over to the rest of our coverage here.
My fingers were prunes. It was a small price to pay for a leisurely soak in steamy thermal pools, while swooning over the snow-capped mountains in the distance. There are few places in the world where you can find yourself unwinding in a natural hot spring, surrounded by otherworldly scenery within hours of landing, and Iceland is one of them. And if you rent yourself a car, an abundance of steamy options unfurl across the roads of this hot and cold land.
Iceland is certainly no secret, but getting off-the-beaten-path is still possible, if you know where to go. That's where the Westfjords region comes in. West Iceland and the Westfjords have a Viking-steeped treasure trove of adventurous excursions. The 'Westfjords Way' is a 590-mile loop through one of the more remote areas of Iceland. Driving it in its entirety would require about a week, but this particular curated route can be done in three or four days. This stretch features the southern portion, as well as a lesser-traversed course to get you there.
This road will take you to four natural hot springs, all wildly different but big on scenery, as well as accommodations nestled into nature, waterfalls, stunning fjords, and an unassuming eatery with the best fish and chips in the country. You'll have the chance to wave at Icelandic horses and stop for random picnics, all just another casual day on the road in Iceland. Prepare to stop every five minutes; the views are stupidly pretty and the photos aren't going to take themselves.
Best time to road trip in Iceland
Iceland is one of those destinations that's great year-round. You'll need warm layers regardless, so it all depends if you'd rather see the northern lights or the midnight sun
This western-centric route is best explored between May and September, when the weather is typically more favorable… emphasis on typically. Winter isn't as feasible in this area, since a cocktail of paved and gravel roads means that impromptu snowstorms and icy conditions can make driving treacherous, especially on the unplowed roads that are closed during harsh weather. And yes, it can even snow in May. Plus, many businesses are also closed in the coldest months, making it harder for eating and drinking during your trip, aside from gas station hot dogs. Consider the sweet spot towards the end of May or beginning of June, or the first couple weeks of September in order to avoid peak season and steep prices.
How to drive in Iceland
If there were ever a place to rent a 4x4 vehicle, it's Iceland. Not all roads are paved, in fact, many are gravel or dirt, particularly in the more rural areas. To get really off the beaten path, you may decide to venture on some of the F roads, which are unpaved dirt and gravel tracks that require 4x4 strength. They're generally only open during the summer months as well. Certain F roads are so hairy that they're deemed forbidden by some car rental companies, so it's wise to check on this beforehand.
Renting a vehicle in Iceland isn't cheap and it's not the type of place where you want to skimp on the insurance, either. In addition to regular coverage for collision, additional coverage options for things like sand, ash, gravel, and water damage provide peace of mind while exploring Iceland's unpredictable and sometimes unreasonable weather conditions. A hefty gust of wind could whip up out of nowhere and send gravel right into your windshield, leaving a burden of repairs up to you. Both automatic and manual transmission cars are available through many companies, but booking an automatic will be pricier.
The main highway is the Ring Road (Route 1) which is paved and circles the entire country. Thankfully, driving is on the right side, same as the US, and everything is very well marked. Keep an eye out for signs that show a square with 4 loops, which indicates a point of interest. Following one of these signs on the fly is part of the spontaneous fun an Icelandic self-drive tour offers. You can expect winding roads, random sheep, and ever-changing weather conditions when road tripping in Iceland.
Keflavik to Dalir
Once you've landed at the Keflavik International Airport and picked up your snazzy rental car, you'll want to hit the road north towards the Snaefellsnes Peninsula. The first stop is a hot spring, at Landbrotalaug Hot Pot. Situated on the southern edge of the peninsula off of Route 54, this itty-bitty natural thermal pool has a very secluded, intimate feel. All of which is ideal after a two hour drive fueled by jet lag and the promise of soothing waters. How romantic of you, Iceland.
Post soak, you'll start to get a real taste of the striking landscape where each bend in the road reveals a new mountain or gorge, and there are so many waterfalls that it's difficult to keep count. The three or more hours will fly by in a whir of extreme beauty as you cut across the peninsula via Route 56. This is a great time to spot Icelandic horses and walk behind the relatively unknown Selvallafoss waterfall.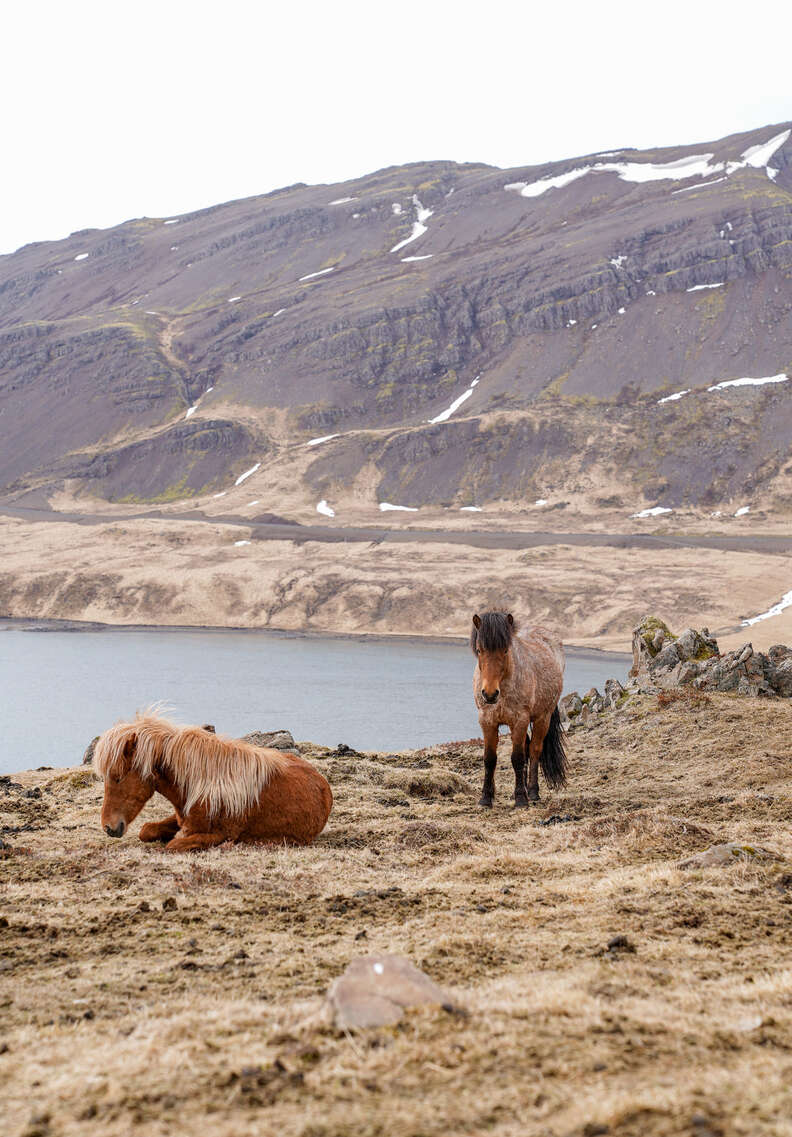 Never heard of Dalir? Perfect.
This region sits where the more popular Snaefellsnes Peninsula meets the Westfjords region, right in the armpit of the little-known peninsula of Fellsströnd and Skarðsströnd. Driving the gravel Route 590 that skirts the coast will be bumpy, but look at you, getting very much off-the-beaten-path on your first day.
You'll end up at the Vogur Country Lodge, an ideal spot to rest up with its own waterfall and a friendly dog. Here, views of the bay and the nearby islands are mesmerizing. Do yourself a favor and reserve a table for dinner, where you can tuck into local fare like freshly caught trout, homemade rye bread, lamb, and more. Relax in the onsite hot tub and don't miss the quick 15-minute hike to the "backyard" cascades.
This is where you pinch yourself and realize this was well worth the detour.
Dalir to Hagi
It's time for the main event: a meandering drive along the fjord-ridden southern coast of the Westfjords that will repeatedly take your breath away. But first, you'll get to drive through Klofningur, a natural split where the road travels between two rocks.
Stop at the Staðarhólskirkja church, one of the oldest manors in the country as you make your way along the last 30 miles of Route 590. Your introduction to the Westfjords begins as soon as you make that left turn onto Route 60 and cross the bridge. Prep your drool-bucket for the next 80 miles as you navigate the southern portion of the Westfjords Way—it's just that gorgeous.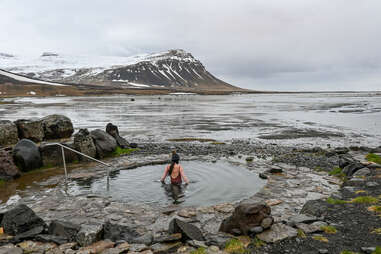 Stretch your legs with an easy five minute walk to the Þingmannaá waterfall, a stunner that's been featured in several Icelandic films yet remains relatively unknown to tourists. Then, drive a bit further to the other side of the fjord to warm up, hot spring style. Hellulaug is a little more well-known, so you might encounter fellow hot spring enthusiasts, but once you see it, you won't care. The geothermal pool sits oceanside in the Vatnsfjörður nature reserve, with plenty of room to accommodate a group, and there's even a small area where you can set your belongings.
Once you've had your fill, hop in the car for another 15-minute drive up the Westfjords Way to check into Móra Guesthouse, an apartment-style accommodation right off the road with the absolute best feature across from it. The Krosslaug hot spring and pool is so close that you can essentially dart across the street in your bathing suit and towel. Staying here gives you the best chance of snagging a soak all to yourself if you watch the parking area like a hawk from the window of your stay. The seaside concrete hot pool flaunts epic mountain views, as it should.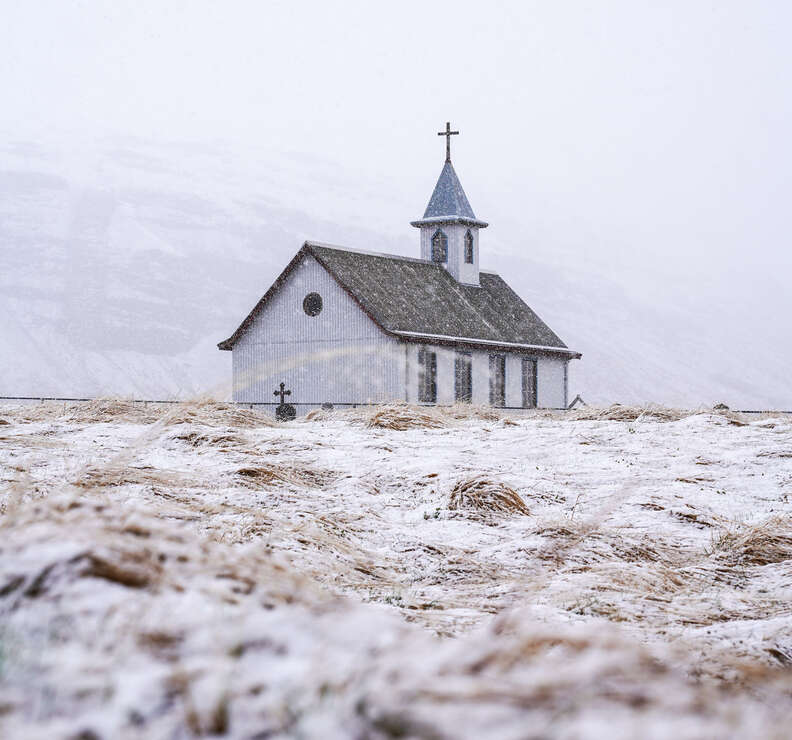 Hagi to Dynjandi
Set your alarm for early, cause there's a lot of ground to cover on this stretch. After your morning soak (you know you will), it's time to be dazzled by more Westfjords magic. This leg covers 105 miles and lands you centerstage in front of the region's biggest waterfall as the grand finale. From the guesthouse, a 15-minute drive along the coast brings you to the scenic Kleifaheidi Pass, a section of mountain road that might make you grip the steering wheel a little tighter. Make sure to get your waving arm ready as you pass the Kleifabui Statue, a 16 and a half foot stone man with his own Facebook page. He's said to watch over travelers on the route, and it's customary to wave to him.
Ten more minutes up the road and onto Route 612, Garðar BA 64, the oldest steel ship in Iceland sits beached, tired from its whaling days. This unique site in Patreksfjörðurmakes for great photo opportunities and is en route to your next stop, Rauðisandur Beach. This red sand beach is accessible via half an hour's drive along a winding gravel road, where the secluded shoreline awaits, and most likely some vocal seabirds and unbothered seals.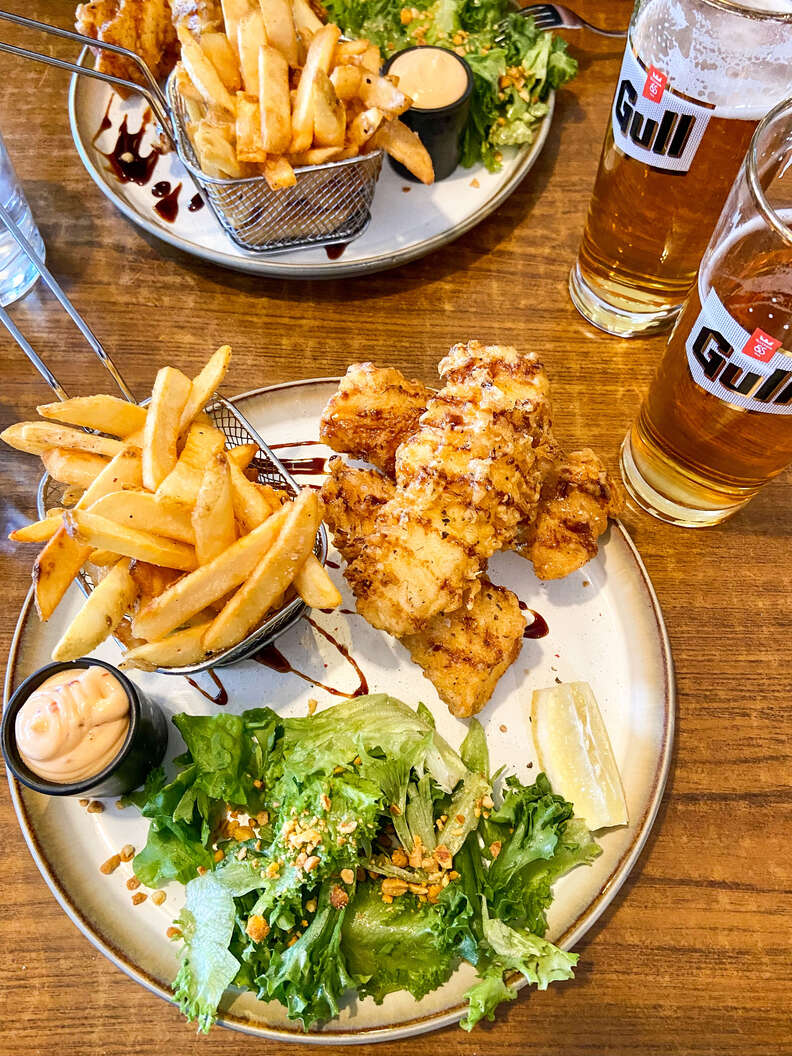 After your sandy stroll, you'll have to backtrack to reach the main drag again, but don't fret, because there's food in your imminent future. In the next hour or so on the road, your task is to work up an appetite, if you haven't already.
You can't go to Iceland without eating some fish and chips. Lucky for you, this portion of your trip includes a stop at Vegamot Bildudal, a grocery store with a small restaurant in the back that dishes up what is said to be "the best fish and chips in Iceland." Paired with a Gull beer, it's an icy paradise.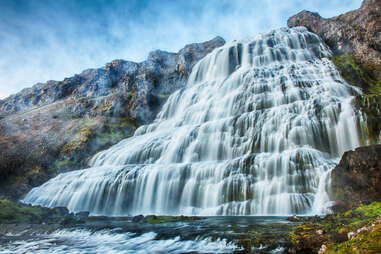 Refueled and ready to tackle the last hour, Dynjandi Waterfall is a little over an hour away. Admittedly not a hidden gem, the famous cascade is still worth a gander—there's a reason it's so well-known. Crowned the "Jewel of the Westfjords," this cascade is almost 330 feet tall with six smaller falls that flow beneath the main thundering behemoth. Hike the rocky path to get up close and personal. After a 15-minute jaunt, relish in the Icelandic mist.
Pop back on Route 60 to cut back down to the southern coastline in about 40-minutes. This will put you in a solid position for your trek back towards Reykjavik or Keflavik the following day. You'll sleep well tonight; post up at Hótel Flókalundur, which, by chance, positions you practically next to Hellulaug, so you should probably enjoy a repeat oceanside soak.
Dynjandi to Reykjavik
There are a couple of fun surprises saved for the route back south, including one more hot spring and some historical turf houses. Take in the Westfjords scenery for the last time along Route 60 as you head south for about two hours.
Less than a couple miles off the main road, in the Sælingsdalur Valley, is the Guðrúnarlaug hot pool. A dip in the thermal waters here feels like a portal back in time—Viking-time, to be exact. A waterfall and small hut for changing add to the allure of the natural hot tub, with a water temperature as close to perfect as you can get. This hot pool comes with a side of folklore, tied to the famous Laxdæla Saga and its tragic love story, detailed on the informational sign.

Half an hour's drive to Stora Vatnshorn brings you to the Eiriksstadir Viking Longhouse, a living museum with a replica turfhouse. Tours are available in the peak season or you can walk around the area and see the exterior of the turfhouse on your own. If you have time, it's worth the short detour.
From here, spend a night in the capital city of Reykjavik before heading back to the airport. Once out of the car, you can start to wrap your head around the utter beauty you've just witnessed while exploring some of Iceland's unheard-of nooks and crannies. You'll quickly realize the detour is always worth it in Iceland.
Lauren Breedlove
is a freelance writer, travel photographer, and the girl behind
girlwanderlist.com
, a list-based travel blog where she keeps it real on the regular. She thrives on random adventures, offbeat destinations, and grilled cheese. Follow all her travel exploits on Instagram,
@girlwanderlist
.