Sponsored By
Tourism Ireland
8 Road Trips You Need to Take in Ireland
Sponsored By
Tourism Ireland
The Emerald Isle is packed with friendly people, gorgeous nature, ancient history, and architecture. And considering Ireland is about the size of Indiana, it's easy to explore a huge chunk of the island on four wheels. To make planning the trip easy for you, we've rounded up eight essential road trips that will take you from the Atlantic Ocean to the Irish Sea, with a few stops in between. You can do each one by its lonesome or mix and match to create the best combo. Let us know if you clock the full mileage below: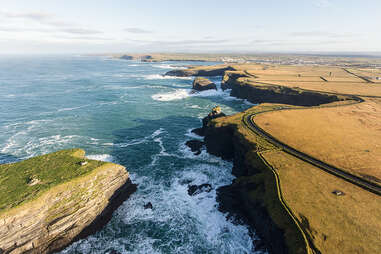 Wild Atlantic Way
The Wild Atlantic Way hugs 1,500 miles of rugged coastline, from Inishowen in County Donegal to Kinsale in County Cork, and passes through dozens of charming towns and villages, plus rich cultural hubs and rugged coastlines. Consider making this one a week-long adventure, as there are plenty of worthy pit-stops.
Must-See Stop: The Cliffs of Moher. They are Ireland's most-visited natural attraction, and for good reason: take in postcard-worthy views of the Aran Islands, an entire puffin colony, and (of course) the sight of the Atlantic ocean crashing around the cliffs. Also, you'll get in touch with your inner fangirl/boy: this is where Harry Potter and Dumbledore destroyed a Horcrux in Half Blood Prince.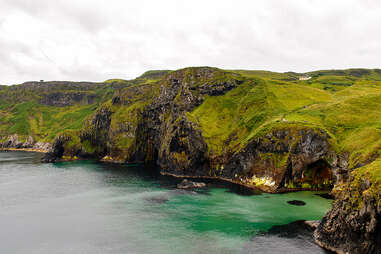 Causeway Coastal Route in Northern Ireland
You came to Ireland for the scenic route, and here you've found it: a stretch of roadway winding along Northern Ireland's coast that links the cities of Belfast and Londonderry. Its 195 miles compile a staggering amount of beauty. You'll take in views of the Northern Atlantic AND mountain tops as you drive through 14 towns and cities, including sleepy fishing villages like Portbradden and historic fortresses like Glenarm Castle -- a 600-year-old structure with one of Ireland's oldest walled gardens.
You can also visit the Old Bushmills Distillery if you want to see where the magic is made. Be sure to stretch your legs on the 40,000 interlocking basalt columns that make up the eponymous Giant's Causeway, a UNESCO world heritage site in County Antrim.
Must-See Stop: The Carrick-a-Rede rope bridge was constructed by salmon fishermen in 1755, and it connects two cliffs 100 feet above the Atlantic Ocean. You'll get a serious adrenaline rush if you look down, too: there's ancient caves and caverns far below. If you prefer to keep your eyes squarely on the horizon, there's plenty of birdwatching, and you can see Scotland from up here.
Ireland's Ancient East
Are you feeling extra ambitious? Then fill up your gas tank and take on Ireland's Ancient East: a giant portion of Ireland that consists of 17 counties and covers about 5,000 years of Ireland's history. While that much history may be too much to cover at once (unless you're on a month-long sabbatical) there are three different sections through the region. Travel the Land of 5,000 Dawns (which isn't the setting of a D&D campaign, but is just as epic) and see Newgrange, a 5,000-year-old tomb that's older than the pyramids and Stonehenge.
Or you can hit up the Historic Heartlands, which is full of medieval castles, including the Rock of Cashel: one of Ireland's most iconic castles that was sacked in 1647 in a scene straight out of Game of Thrones. It's also where Irish kings were blessed by saints. Last, you can head to the Celtic Coast to take in the spots rich in Viking Heritage, including counties Waterford, Wexford, and Wicklow.
Must-See Stop: Birr Castle, a medieval castle in County Offaly that's known for its seriously 'grammable gardens and a giant telescope nicknamed Leviathan. The Great Telescope -- to use its formal name -- was built in 1845 by the Third Earl of Rosse, was the largest in the world for decades, and helped discover the spiral form of galaxies. Not a terrible resume.
The Ring of Kerry
The loop through Ireland's County Kerry is one of the island's most visited routes, and because it's so rich in ancient Celtic history -- and of course, natural beauty -- it's literally called "The Kingdom" by locals. Start in the town of Killarney, within the 25,000-acre Killarney National Park. From there, travel a 111-mile counterclockwise circle to fill up on locally-caught seafood in Waterville, then use up 5GBs on your camera's memory card shooting the glacial valleys of Moll's Gap before heading back to Killarney's shops, restaurants, and historic sites like Muckross House -- a Victorian mansion and traditional Irish farm. (Trust us, it's a town worth exploring twice.)
Must-See Stop: Take a boat ride to Skellig Michael: it's a UNESCO World Heritage site and one of two small islands off Valencia Island. Climb the 600 ancient steps to the top to check out 7th century monastic ruins, plus 360-views of the Atlantic Ocean and the jagged rock formations of its sister island, Little Skellig. Be sure to take a moment to snap your Luke/Rey cosplay photo; they filmed the last scene of The Force Awakens here.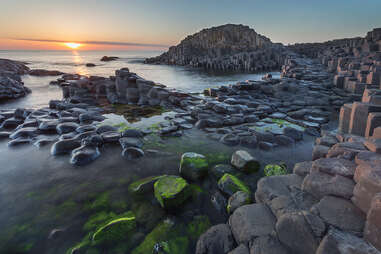 The Game Of Thrones Itinerary
Waiting for the final season of Game of Thrones to air is as torturous as Ramsay flaying Theon. But you can get your fill of Westeros by taking this Northern Ireland route through Game of Thrones territory, where much of the show is filmed. Start in the Mourne Mountains, where Sansa and Littlefinger rode to the Eyrie, then head to Tollymore Forest Park's gothic bridges and caves -- where Bran first encountered the Three Eyed Raven. You'll also recognize parts of the Kings Road, Stannis Baratheon's Dragonstone, and the Iron Islands.
Must See Stop: You'll want to sit down for this: the farmyard at Castle Ward in County Down is the set of Winterfell. That's right, you can explore where Bran was pushed out of the window and the castle courtyard, try your hand at archery, and even meet two of the Direwolves from the show -- Northern Inuit dogs Odin and Thor, who play Bran and Robb's Summer and Grey Wind. Yes, you can pet them. Odin even rolls over for belly rubs.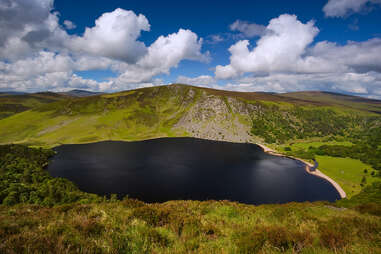 Dublin and Dublin's Doorstep
If you wanted to, you could easily spend an entire trip in Dublin, visiting museums, ordering up a pint at an endless number of historic pubs, and eating your way through town. But do squeeze in a trek to some of it's neighboring towns. Glendalough, a town between two lakes that's charmed visitors for more than a century, boasts a 6th century monastic site in the middle of town. Plus, it's perched in the Wicklow Mountains, where there are 80 miles of hiking trails.
If you want to be stunned by the powers of the sea, County Dublin is particularly rich in coastal charm. The allure of Killiney stretches so far back this place was a beach resort back when people didn't even get days off from work. Come for the hikes, but stay for the view; photographers, bring your wide-angled lenses. Nearby Dalkey, at the southern crescent of Dublin Bay, has become a seaside retreat for celebrities, with lots of walkable tours whether you're into nature or history. On the other side the bay lies the northern peninsula of Howth Head, where the titular suburb of Howth hosts over a thousand years of history (much of it nautical) in the still-wild hillsides that characterize it.
Must See Stop: About 12 miles from Dublin as the crow flies, lies the Powerscourt House, a Palladian estate that also is home to Ireland's largest waterfall. You can roam through the garden's winding walkways and see statues from Rome, Parisian fountains, plus hundreds of different plants and flowers.
Southwest Food Tour of Ireland
Towns and cities along this route are teeming with food halls, serving up goodies like artisanal cheese, charcuterie, and the freshest seafood. Start with Cork city's English Market, a Victorian marketplace that's been open for over a century, where you can sample award-winning pâtés from On the Pig's Back or tripe and dishreen (aka classic Cork dishes) from Farmgate Café. Then take a quick side quest to the fishing port of Youghal (where seafood dishes like steamed Glenbeigh mussels pop up on local menus) before heading back on the main route to Clonakilty for black pudding. It's an Irish breakfast staple that local chefs are using at all times of day and in all kinds of ways, like pairing with fresh scallops. The loop covers 15 towns and takes about six days, so make sure you bring stretchy pants.
Must See Stop: Limerick's Milk Market has been open since 1852, and hosts dozens of creameries, bakeries, and the "Mushroom Man," aka Peter McDonald. He grows a bunch of varieties at a nearby facility, which you can try in every possible form, from barbecued to soups. Also be sure to pick up a salmon and haddock pie (or any of the other five savory pie varieties) from Piog Pies.
Northern Ireland's Lakeland Region
Fermanagh Lakelands are known for scenic lakes and abundant wildlife. Its main attraction is Lough Erne, a two-lake system that covers most of Fermanagh, and is perfect for wakeboarding. Next, travel about 60 miles east to the fishing village of Portaferry on Strangford Lough -- an officially designated "Area of Outstanding Natural Beauty."
Must See Stop: The Mount Stewart Gardens are among the top 10 gardens on the planet per the United Nations Educational, Scientific and Cultural Organization and thanks to Strangford Lough's subtropical microclimate, they are incredibly diverse. Some have an Italian vibe, while others feel like enchanted forests. The Mount Stewart castle just reopened after a three-year project, so take a peek inside to rate the renovation.