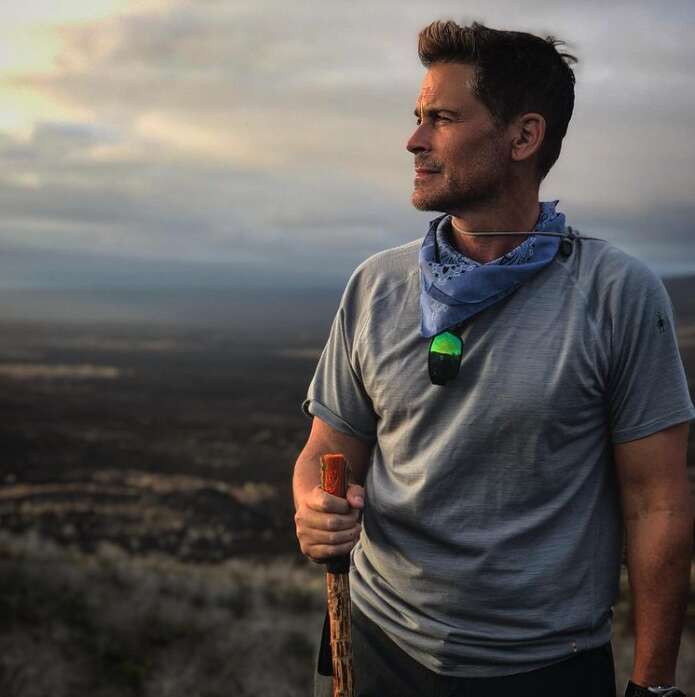 Photo courtesy of Rob Lowe
Photo courtesy of Rob Lowe
Rob Lowe has had a fantastically recognizable career, from starring in the likes of
The West Wing
and
Parks and Recreation
to hosting his own podcast
Literally!
, where he chats with A-listers like Katie Couric, William Shatner, and Drew Barrymore on a weekly basis. His latest flick,
Dog Gone
, soared to number one on
Netflix
, tracking a father and son's hiking journey along the Appalachian Trail to find a lost pup. And as it turns out—off the big-screen—Rob is a big-time hiker himself, part of an incredibly active lifestyle fueled by a sense of adventure, love for quiet moments and, oh yes, his absolute favorite,
Atkins protein-loaded Chocolate Peanut Butter Bars
. As for his top hikes, a few—including bobcats and maybe a giraffe or two—stick out. In his own words, here are his favorite hiking memories. As told to
Jesse Scott
.
I love being outdoors—I'm outdoors any chance I can be, for as long as I can be, every day. There's the physical training element of it, and there's a meditative element to it that is so important. Really, it boils down to being alone in nature. And I cannot live a life without that.
I don't understand the earbud/headset thing when people are out hiking, skiing, or anything like it. I get that people want to listen to music. But to me, that's missing the whole point. You can listen to music in your car. You can listen to music in your kitchen. You can listen to music any time. But the sound or lack of it—it's not even really a lack, there's plenty to listen to out in nature—is something that I think a lot of people are missing out on in today's world.
Being here in Santa Barbara, the thing I love most is that there are so many good hikes and trail heads that are so easily accessible and they all connect. It's not necessarily that one is any better than the other. I recently came upon Franklin Canyon in LA, which is up in Beverly Hills, and it's the best. I hate being in the city and, immediately, you can be surrounded by bobcats and bears and everything. It's good for my soul.
I'm an avid skier. That's probably the thing I do the best. Hiking up somewhere to ski down is the ultimate goal for me. You haven't fully hiked until you've done it in ski boots, carrying your skis at altitude.
But my favorite hike is the trek to Machu Picchu. You can take the Inca Trail, which I believe is multiple days—I did not do that version. I did the eight-hour version, and it's just spectacular. It was the perfect amount of challenging, not necessarily technically, but challenging in terms of fitness.
Arriving at Machu Picchu is one of those things where it's so famous, you've seen the pictures, but the images can't prepare you at all for the majesty of it. Also, you realize you're looking at something that there's no close second to. It's truly one of a kind. You feel the history and the energy. There is really something inexplicable about it. And then of course, there's the payoff of having traveled so far for so long. It's not an easy trip.
I kind of felt that way with Yosemite, too. It's a place, conversely, that is easy to get to. You go to Yosemite, and you realize, 'I would travel for days to go to a place like this,' yet it's right in our backyard in California.
To me, it's one of the other wonders of the world, and it took me forever to get there—I don't think I got there until I was in my forties. It just absolutely blew my mind.
There's one other hike I did in the Masai Mara in Kenya that was unbelievable. I went for a run and it was like a dream. I'm running, thinking, 'I'm going to avoid that tree line. I don't know what's in there, it could be bad.' Then I look over and see giraffes. And as I'm running toward the herd of giraffes, I think, 'Oh, look at the wildebeest.' And then I'm like, 'That grass is a little tall. I'm going to make sure I stay away.' Then I ran into a watering hole and just threw myself in it and hoped there wasn't a crocodile. These are thoughts you're not going to think anywhere else on Earth.
Looking ahead, I'm going to be hiking in Jordan, Israel, and the Valley of Kings in Egypt. That promises to be an epic trip.