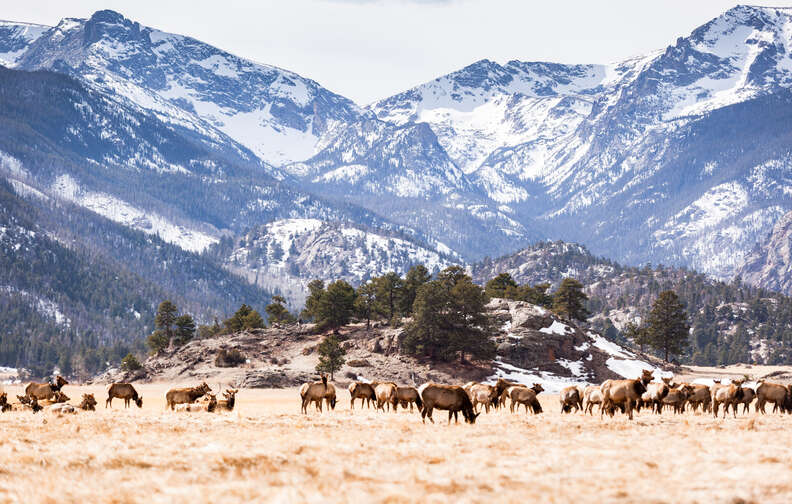 Admire the elks...from a distance of course

| Brandyn Murray / 500px/Getty Images
Admire the elks...from a distance of course

| Brandyn Murray / 500px/Getty Images
Everything You Need to See and Do in Rocky Mountain National Park
Rocky Mountain National Park was once one of America's most underrated national parks. This is most certainly no longer the case. Visitation has surged a whopping 42% since 2012, and 2018 set a new record with more than 4.5 million folks. Leapfrogging into bronze-medal positioning as America's third-most popular national park, Rocky Mountain now takes in more annual visitors than either Yellowstone or Yosemite.

Fueled by Colorado's recent population explosion, the park's close proximity to many of the state's largest metro areas is certainly a factor (it's 90 minutes from Denver, and an hour from either Boulder or Fort Collins). The secret is clearly out, but you should absolutely still visit -- you just might want to do a little planning first.
With 124 named peaks and 147 lakes sprawled out across a vast expanse spanning 415 square miles of stunning alpine vistas, there's a ton to see and do at Rocky Mountain National Park. There are 355 miles of hiking trails, not to mention opportunities for camping, fishing, horseback riding, and wildlife spotting. It's basically one big playground for outdoor enthusiasts of any experience level. Here's how to best experience it.
MORE: The most popular national parks, ranked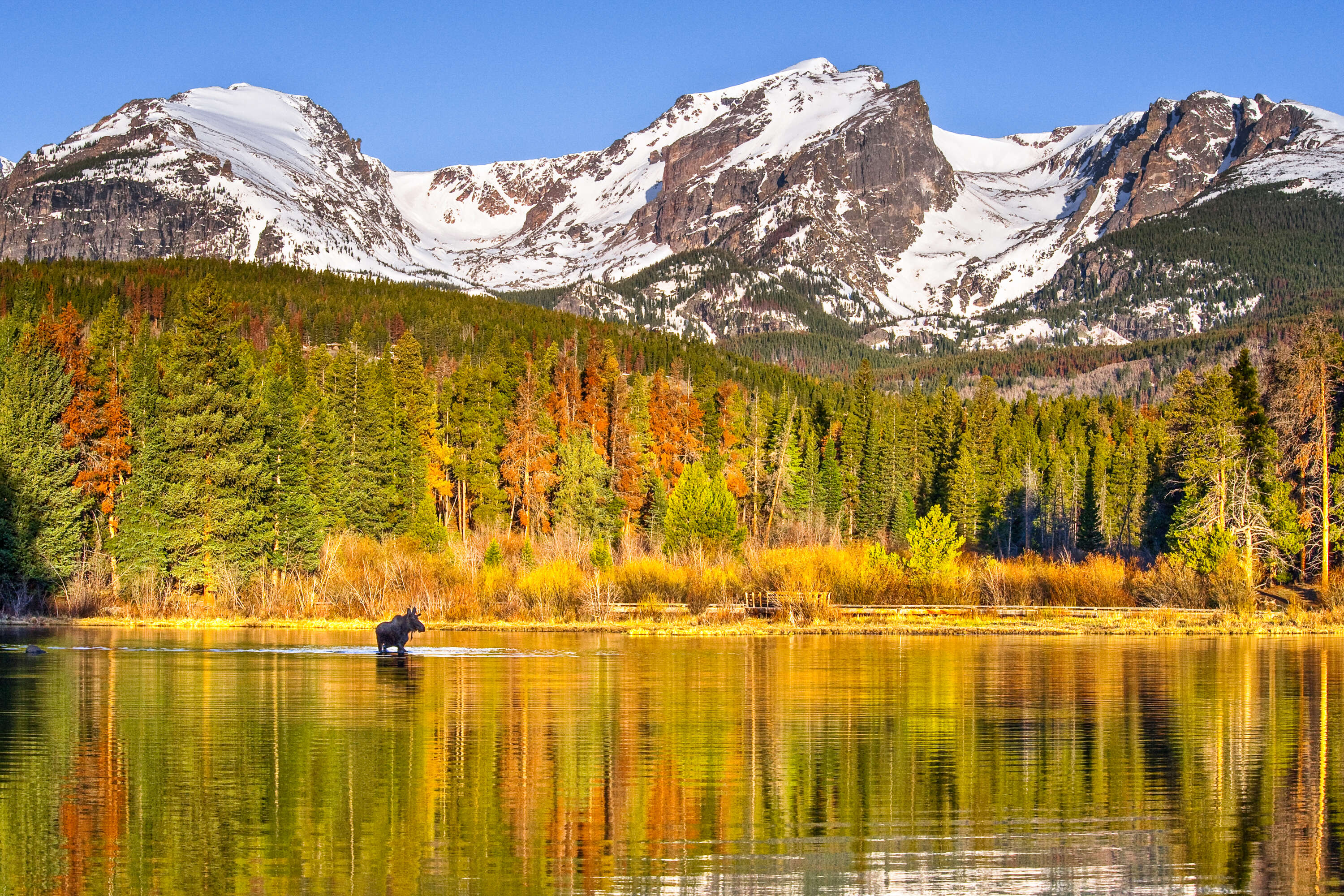 When to visit Rocky Mountain National Park
For me, fall has always been my favorite time to visit the park. Combining color-packed fall foliage with glorious blue skies and crisp mountain air, autumn also happens to be mating season for elk -- which means you will see (and hear) large numbers of these mammoth antlered beasts wandering throughout the national park and the town of Estes Park (although the area's large elk populations are clearly visible year-round.) Yet in recent years, more people have started visiting in fall to the point where it now rivals summer peak season when it comes to crowd levels, so you'd be wise to get to the park early or visit during the week (visitation on weekends is 50 percent higher than on weekdays in September) to avoid long lines and jam-packed parking lots. Summer has the best weather, but also the most people, especially between peak hours of 10am-3pm, so plan around those times if possible.

The weather in spring is notoriously unpredictable, with snow possible as late as June, but the season does allow for fewer crowds and the chance to spot some of the park's first wildflowers (which are most brilliant in summer) along with road crews clearing the way for the summer opening of Trail Ridge Road. Hearty visitors and deal-seekers will enjoy a winter visit when the warm Colorado sunshine helps deflect some of the cold as a quiet natural landscape unfolds, offering uninterrupted opportunities for wildlife viewing in addition to snowshoeing and cross-country skiing paired with the gentle sound of crunching snow beneath your feet.
Step one: Spot you some wildlife
In addition to the aforementioned elk, who will most likely be the most impressive animal you are likely to encounter on your trip, the park is home to large populations of mule deer and bighorn sheep in addition to a small number of black bears and moose. Elk can be easily spotted grazing in open meadows at lower elevations much of the year (they move to higher elevations in summer) along with mule deer, while bighorn sheep can be found on higher-elevation cliff sides and canyons. The more elusive moose are most common on the less-trafficked west side of the park around streambeds and meadows (although moose sightings have become more common on the east side of the park as well in recent years), while bear sightings are quite rare.
The park is also home to a very small number of almost-never-seen mountain lions, in addition to more frequently spotted smaller rodents like marmots and pikas at higher elevations, plus 280 species of birds and 142 types of butterfly. Coyotes also inhabit the park.
Hiking in Rocky Mountain National Park is basically required
Park elevations range from 7,700 feet in the valleys to more than 14,200 feet at the highest pea. Around one-third of Rocky Mountain National Park exists above tree line (for those flatlanders out there, that means the altitude above which trees no longer grow: around 11,500 feet.)
Popular easy hikes: If you're an out-of-towner not yet acclimated to the altitude, start out with a flat, easy hike to get used to the environment. Rocky offers several excellent options; two of the most popular are the 0.5-mile packed gravel trails that encircle Bear Lake and Sprague Lake. You also discover easy hikes around the beautiful Lily Lake south of Estes Park, and along the relatively unknown Upper Beaver Meadows Trail not far from the park's main entrance, which offers wide open views of Longs Peak (the park's highest summit) and open meadows with trees that glisten with color in the autumn sunshine.
For a few slightly more challenging options, pull over at Bierstadt Lake along the often busy road to Bear Lake for a more steep yet still gently rising 3.2-mile hike, or try the 3.1-mile Gem Lake trail in the (somewhat) lesser visited Lumpy Ridge area north of Estes Park.
Trail Ridge Road: The park is most famous for its iconic 48-mile Trail Ridge Road, the highest continuous paved road in the US, which connects the more populated east side of the park near the main gateway community of Estes Park with the less-visited west side near the town of Grand Lake. Just as you're not gonna visit Yellowstone without seeing Old Faithful, you would be foolish to visit Rocky Mountain National Park without at least spending some of your time freaking out at the eye-popping mountain vistas that await you at every turn along the popular road. You're usually out of luck in the winter, when it is mostly blanketed with snow, typically opening for the season around late May and closing around mid-late October. The road reaches 12,183 at its highest point, crossing the Continental Divide near the Alpine Visitor Center (one of five visitor centers in the park) and offering a number of pullouts to enjoy the views along the way at scenic overlooks like Many Parks Curve and Forest Canyon. Driving the full section of Trail Ridge Road from Estes Park to Grand Lake takes about two hours.

Longs Peak: Thrill junkies will also get plenty of kicks at Rocky Mountain National Park, including the chance to scale the park's highest peak. Topping out at 14,259 feet, Longs Peak dominates the landscape as the only mountain above 14,000 feet in the park and one of the highest peaks in the Lower 48 (California's Mount Whitney, the highest peak in the contiguous US, is 14,505 feet by comparison.) Although thousands attempt to climb Longs Peak every year when the route is passable from around late July to mid-September, the 15-mile round-trip trek is extremely strenuous in several parts, with an elevation gain of 4,850 feet and takes around 10-15 hours to complete. If you do attempt the climb, it is advised that you start out early (like 3 am early, with a headlamp) to get to the summit by midday in order to avoid frequent summer storms and possible lightning strikes in the afternoon. If you've never climbed such a massive peak before, I recommend that you train on a smaller mountain before attempting to summit Longs (I climbed the 12,777-foot Buffalo Mountain in Summit County before my Longs ascent.) And never be afraid to turn back if you get tired or if the weather turns dodgy.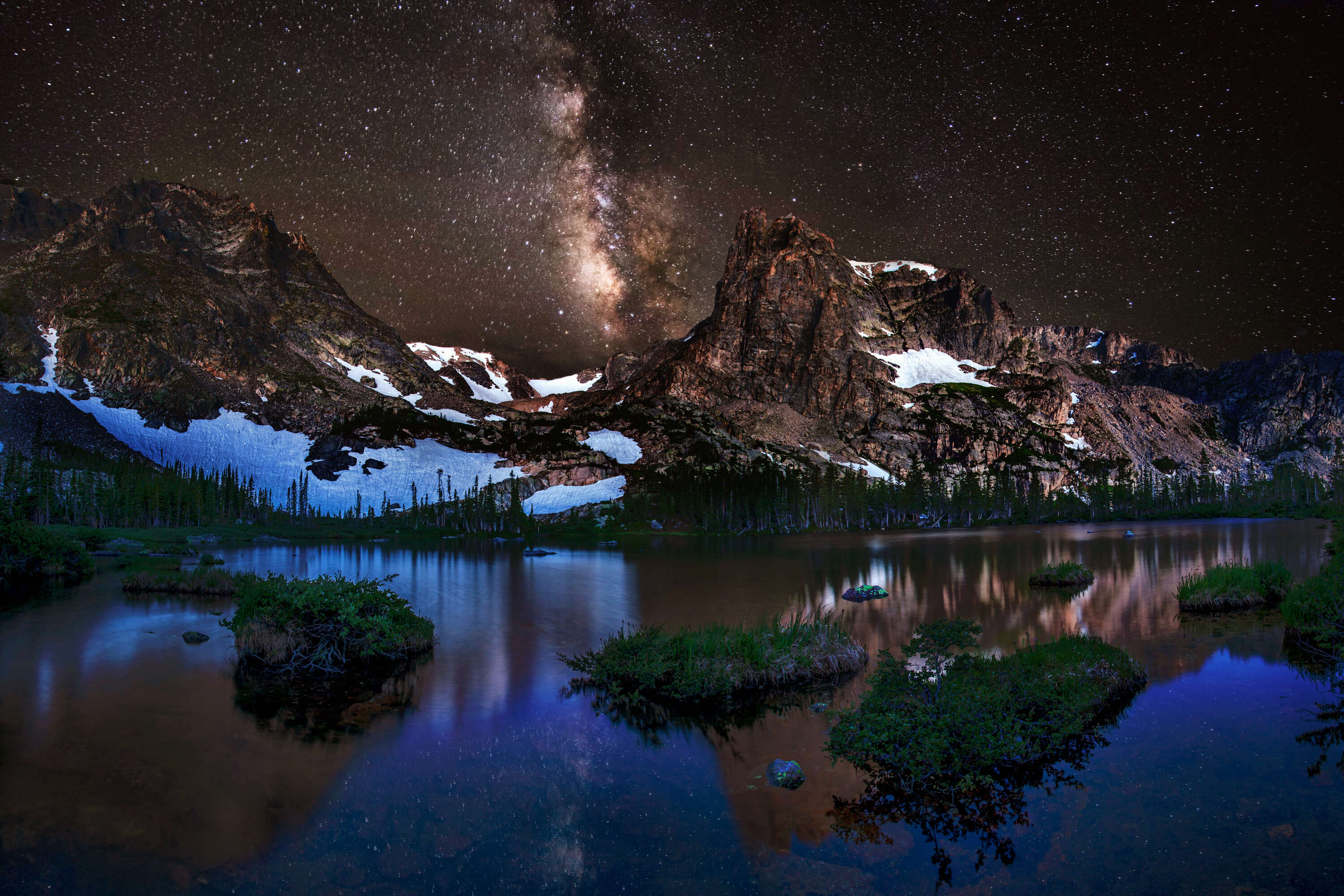 Where to camp in Rocky Mountain
Unlike some national parks, there are no hotel accommodations within park boundaries. Yet campers will find plenty of options at five designated campgrounds, in addition to 260+ wilderness sites for the more adventurous (the park is 95% designated wilderness).
Permits are necessary for overnight stays in the wilderness, and reservations are required for three of the five campsites. The largest, Moraine Park Campground, sits in an ideal location from which to enjoy the open meadows of Moraine Park brimming with plentiful elk life beneath Longs Peak, but with such accessibility comes serious crowds. Reservations for summer and fall (especially on weekends) should be made well in advance -- you can reserve up to six months ahead, and Rocky Mountain National Park spokesperson Kyle Patterson notes that most campsites are often booked six months out during peak seasons -- while last-minute campers can try their luck at the two smaller first-come, first-served options at the Longs Peak and Timber Creek Campgrounds. Both of these sites fill up fast, Patterson notes, but Timber Creek tends to fill up last of the park's five campsites.
The best resorts and cabins near the park
Like any good vacation destination, town of Estes Park offers a wide range of accommodations from rustic cabins to more upscale resorts. While the largely sleepy, traditionally old school town tends to be more affordable than more glitzy locales like Banff or Jackson Hole, prices have ticked up in recent years. As the inspiration for the creepy hotel in the Stephen King classic The Shining and reportedly haunted with frequent ghost sightings, the historic 142-room Stanley Hotel is easily the most famous place in town to kick up your heels for the night (even bears seem to dig the place.) If you want to go the vacation rental route, one of my favorite splurge options is Windcliff, where you can rent out your own slice of Colorado paradise via a number of beautifully appointed vacation homes offering sweeping views of Estes Park's most glorious peaks. For a more affordable alternative, check out the more basic but peaceful Inn on Fall River, where you can listen to the soft babble of the Fall River behind the hotel as you slumber.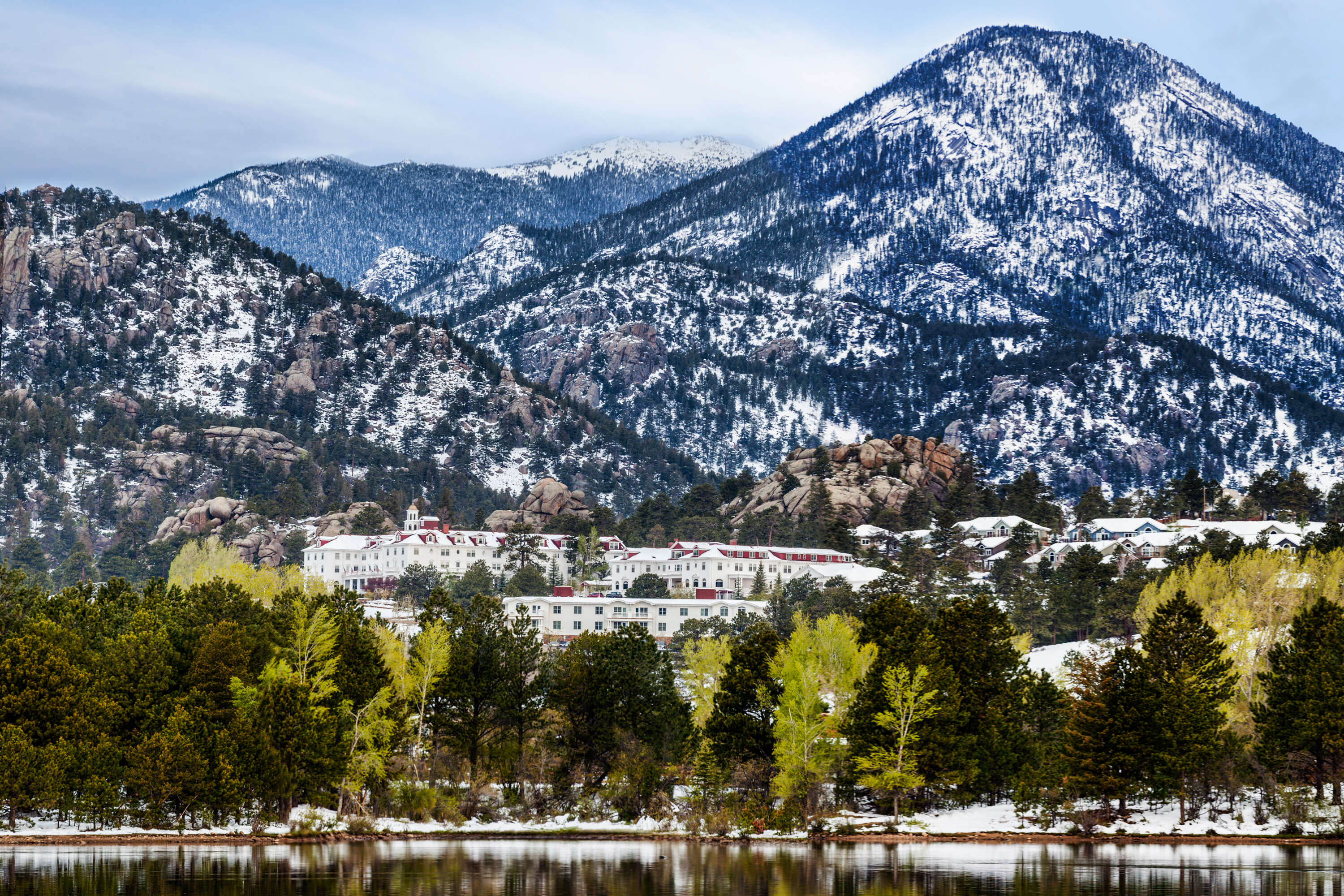 Don't skip the incredible towns to visit around Rocky Mountain National Park
You'd be forgiven for wanting to leave civilization in the rearview immediately upon entering Rocky Mountain, but the wilderness is unique among national parks in that it's surrounded by gorgeous mountain towns that are destinations unto themselves. They're rife with history, great food, and, because it's Colorado, their own share of outside-the-park scenic beauty that are totally worth the detour.

Estes Park: Approachable and down to Earth, Estes Park isn't trying to be anything that it's not. And it's not a playground for the rich and famous. It's a laid-back, family-friendly, pretension-free national park town that does what it does well. That said, tourist overload is always a risk when driving along the main (and often congested) drag of Elkhorn Avenue, where sometimes it seems that tacky t-shirt shops outnumber people. For a break from the tourist masses, step into locals-friendly workingman's dive Wheel Bar for a drink downtown with a diverse cast of characters, or venture over to the cabin-like Rock Inn not far from the park entrance. For dinner, the almost too cute to be believed chalet-style Dunraven Inn is easily my favorite restaurant in town (go for the seven-cheese alfredo pasta if you know what's good for you), while other worthy alternatives include the homey Poppy's Pizza situated alongside the Estes Park Riverwalk or the locals-friendly Notchtop Bakery & Café.

Grand Lake: If you thought Estes Park was chill, wait 'till you get a load of Grand Lake. Nestled on the banks of Colorado's largest natural body of water (also called Grand Lake) with a year-round population of under 500, the wonderfully campy tourist town features a quaint Old West-style downtown with some surprisingly decent food and drink options, including historic Wild West outpost Sagebrush BBQ & Grill and the appropriately named World's End Brewpub. After dinner, take a romantic stroll over to Point Park to watch the sunset over the calm mountain-rimmed lake.

Peak to Peak Highway: While most visitors drive up to the park from Denver or Boulder via the main drag of Highway 36, there is an excellent alternative route that significantly fewer take advantage of. While Highway 36 is quicker and certainly beautiful in many parts, it can be quite crowded on busy weekends. So if you're looking for a slightly longer (about an hour and a half from Boulder) but more scenic and relaxing drive to the park, head west from Boulder to the hippie paradise of Nederland before making your way north to the park via the Peak to Peak Highway (known as the "Freak to Freak" by locals.) Along the way you will pass a glorious assortment of tiny Colorado mountain towns from the eerily deserted Ward to the charming little hamlet of Allenspark as you make your way north through pristine national forest land. If you truly want your mind blown, pull over at the Instagram-crushing St. Malo's Chapel on the Rock before you get to Estes to snap photos of a stunning stone church carved into the landscape beneath show-stopping mountain peaks.
How to get in, pack, and stay alive
Getting in & around the park: From the Estes side of the park, which welcomes in more than 80 percent of visitors, there are two main entry points. Most visitors enter from Highway 36 through park headquarters at the Beaver Meadows Entrance Station, while the Fall River Visitor Center on Highway 34 is another popular access point near town. Visitors from the west side of the park enter through the Kawuneeche Visitor Center near Grand Lake. Free shuttles run inside the park from around late May to late October, and provide an excellent alternative to driving when the lots at popular locations like Bear Lake often fill up quickly on busy summer days and fall weekends. Biking is allowed on all park roads unless otherwise posted.

In recent years as park visitation has surged, officials have begun restricting access to popular park destinations during peak times. Park staff currently restrict vehicle access to the Bear Lake Corridor, Wild Basin area, and Alpine Visitor Center once parking lots fill up (which often begins by 9:30am) on most days in July and August as well as weekends in June and September. If you want to hike the Bear Lake area and arrive after 9:30 am when the lot is typically full, you need to leave the park to access the hiker shuttle at the Estes Park Visitor Center. Wait times to board the shuttle can be as long as two hours on peak visitation days, says Patterson, who recommends buying your park pass online beforehand to cut down on wait times once you reach the park.

What to bring: Weather is notoriously fickle in the higher altitudes of Colorado, so bringing layers of clothing is absolutely essential. Temperatures along Trail Ridge Road can be 20-30 degrees colder than in Estes Park, with high winds common at upper elevations and temperatures dropping at night. Also, as you are closer to the sun where more UV rays seep through thinner air, sunscreen is highly recommended regardless of the cloud cover. Pro tip: Do NOT go out boozing hard the night before if you're not yet acclimated. Trust me: dehydration and altitude sickness (headache, nausea, dizziness) can be a real issue to those not used to the altitude. There is also no reliable cell service in the park outside of the free WiFi offered at the two main visitors centers, so be sure to grab a map from the entrance station or print one out beforehand.
How to stay safe: Exercising common sense is the best way to stay safe in Rocky Mountain National Park. But there are a few unique safety risks to be aware of in Rocky. One is avalanches, which are not uncommon, especially in late spring when the snow is melting from higher elevations. Also refrain from swimming in the lakes or streams, as currents are often much faster than they look. And keeping an eye out for falling trees and branches is always a good idea, especially in areas that have experienced recent wildlife burns or beetle degradation. Now go out there and experience some nature!
Jay Gentile is a Thrillist contributor and freelance journalist who would much rather be in Rocky Mountain National Park right about now. Follow @thejaygentile.