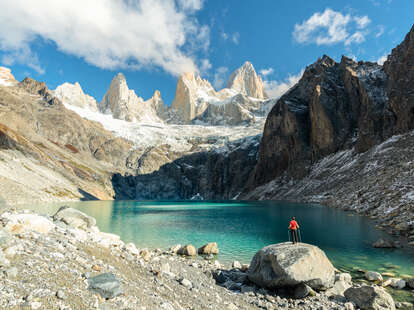 Welcome to a land of towering monoliths and deep blue waters.

| Francesco Vaninetti Photo/Moment/Getty Images
Welcome to a land of towering monoliths and deep blue waters.

| Francesco Vaninetti Photo/Moment/Getty Images
This Legendary Road Trip Might Be the Most Beautiful Drive on Earth
Buckle up for a journey from the highest peaks to the lowest valleys.
Travelers, start your engines: You are now entering The [Scenic] Route, a rip-roaring exploration of the world's most incredible international road trips, from lush Rwandan jungles and ancient Peruvian mountains to seaside Irish villages, dreamy Japanese forests, and twisty Romanian hillsides. For more reasons to hit the pavement—plus tips, interviews, and a custom road-ready playlist—cruise over to the rest of our coverage here.
Some road trips are lazy, meandering weekend jaunts—past scenic overlooks and quirky roadside attractions, through precious small towns and full of spontaneous little pit stops for donuts and antiques and pictures with giant dinosaurs...

Argentina's Route 40 is not that kind of road trip.

"La Cuarenta," as it's known, is a beast—a white whale of a road trip that requires legitimate planning and an insatiable appetite for adventure. The payoff? The satisfaction of conquering one of the most beautiful stretches of road on the planet.

To do the whole thing means tackling 3,227 miles of highway—the equivalent of driving from New York to Los Angeles, then tacking on a trip to Seattle. It runs along the Andes mountains, from the arid town of La Quiaca on the Bolivian border all the way down to icy Cabo Vírgenes at the southern tip of South America.

Along the way, you'll wind through volcanic lava fields, ancient forests, and shimmering salt flats. You'll see sprawling national parks, turquoise lakes, massive glaciers, and multicolored rock formations. Whether you tackle the entire Ruta or opt for a shorter portion, this is an adventure like no other. Here's how to make it happen, and a preview of the beauty that awaits.
When to visit Argentina
The best time to visit Argentina is November and December, when the road is lined with gorgeous, colorful lupine flowers; or in January and February, when temperatures rise (along with prices and crowds).
Where to rent a vehicle
Assuming you flew into Buenos Aires to explore the "Paris of South America," you'll catch a two-hour flight to your launching point of Bariloche. From there, you've got options: Patagonia Austral Rent A Car will deliver your car to you, or if you prefer a 4x4, try booking through Campanada. For a tricked-out camper van situation, the closest Wicked Van company is in Puerto Varas, Chile: It's a few hours away, but worth it if you have your heart set on #vanlife.

Bariloche is by far the biggest city on the route, so gather any needed camping supplies, and stock up on good wine or snacks for the road. One more thing: You're going to see a lot of hitchhikers on this road trip. This is both legal and extremely common here. Don't feel obligated to stop, of course, and always trust your gut. Got it? Time to hit the road.
Bariloche to Siete Lagos
This essential stretch of the Ruta 40 begins and ends in Bariloche—either a 119 mile there-and-back, or a 162-mile loop through Junín de los Andes—and is all about the water. One of the most beautiful places you're likely to see on this adventure, the area's name translates to Seven Lakes. That's actually selling it short, as this landscape is dotted with seemingly endless bodies of water.

From the glaciers of Mount Tronador in Nahuel Huapi National Park, the route runs through the Valdivian Jungle at Puerto Blest. Eventually you'll get tired of pulling over and trying to photograph the incredible turquoise colors and surreal clarity of the lakes. Among them is Lago Correntoso, home to some of the best fly fishing on Earth; Lago Espejo—Mirror Lake— whose calm, transparent waters are impossibly pure; the highly isolated 21-square-mile Licar; and Mirador del Pil Pil, perhaps the most stunning viewpoint in this section of Argentina.

A good place to stop midday for lunch is at Pistach' in Villa La Angostura: It's no exaggeration to say that their wood-fired pizzas are some of the best in Argentina. Then it's back to Bariloche before the roads become increasingly longer.
Bariloche to El Bolson
Pack a little extra patience: This 75-mile section of constantly winding road can be slow-going, but it's worth it for the spectacular mountain views. At no other point on your road trip will you feel so close to the Andes.

Bolson is the anti-Bariloche, ditching sailboats and nightclubs in favor of lazy days at the artist's market and day hikes along the Cajon del Azul, a three-hour (one way) intermediate level hike starting from a river confluence 15 miles from town. Cajon del Azul is both the name of a canyon and of a wildly popular and commercial mountain refuge. For those who appreciate something more quiet and tranquil, keep walking just a bit more until you reach Retamal refuge or Casa de Campo.

Finish the evening out with live music and raspberry beer back in town at the Patio Cervecero. If you aren't careful, this town will suck you in: Suddenly you're building your own tiny adobe house, living off the land, and popping into town every once in a while just to eat gelato from Jauja. (It happened to me. Highly recommended.)

While here, meander over to Lago Puelo, a town whose namesake national park offers prime kayaking and swimming. After whiling the afternoon away, stop into Mavyska for a dinner of the best traditional comfort food (think lamb or trout) in Argentine Patagonia.
El Bolson to Epuyen
While Argentina is known for its malbec from Mendoza, this region's cooler weather helps to put out some nice pinot noir. On your way out of town, stop by Bodega de Bernardi, a quaint, small-scale vineyard. Grab as many bottles as you can, because you sure won't be able to find these in your local supermarket back home.

Ten minutes from Bolson is a town called El Hoyo, where you should stop to check out a waterfall: If you are lucky, you might even spot a condor nest at the top. Ten to 15 minutes from there is Epuyen, home of gorgeous Lago Epuyen. Explore the lake with Epuyen SUP, then camp for the night. Notable in the area is the Laberinto, the largest labyrinth in South America.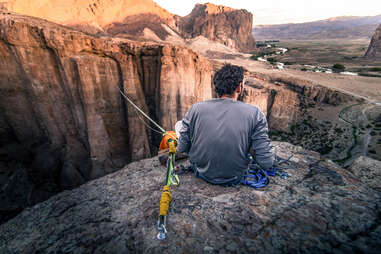 Epuyen to Piedra Parada
When you leave Epuyen, you'll begin your journey into the Patagonian Steppe. A couple of hours in, veer a bit off the 40 to check out Piedra Parada, a desert rock-climbing destination that looks like it belongs in prehistoric times, complete with secret caves, crystals, and fossils. Accommodations are scarce here, so home base will either be a tent at a small campsite by the large rock formation or at Hosteria Mirador Huancache in the nearest village of Gualjaina—their guides are by far the best in the region and can get you to all the cool little-known spots in the area.

For those who come for climbing, there are over 300 routes on walls over 180 feet high that have ongoing bolting. Most of the routes are along high canyon walls and offer a mix between sport, trad, and multi-pitch. Trekking and taking a dip in the very hidden El Saltillo waterfall is a must before heading further south. The experience is a bit like finding your own private waterfall tucked in the Grand Canyon.

Directions to the falls are a bit tricky, as the dirt roads aren't well-marked and you have to pass through the property of a local first—ask the gatekeeper if there are fresh torta fritas available to buy if you want to make a quick friend of the grandma who makes them. It may take a few tries to find the waterfall, but think of it as just part of the adventure.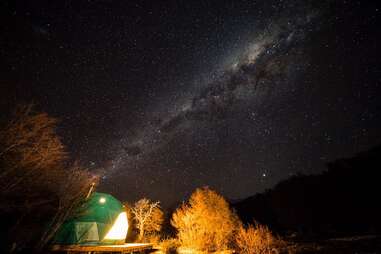 Piedra Parada to Esquel
Just under two hours from Piedra Parada is Esquel, a mid-sized town with a few breweries to check out and the first actual grocery store you'll encounter since Bolson—so if you need to stock up, now's the time.

Here you'll find Los Alerces National Park, which protects more than 15,000 acres of magnificent Alerce trees (relatives of the North American redwood). Some trees in this park are over 2,600 years old. You can camp within the park (with an advance reservation), or maybe opt for a geodesic dome at Los Huemules Reserva de Montana. Here you can ride horses, mountain bike or just throw on a poncho, curl up with some malbec and take in some of the best stargazing on the planet.

If you're into historic stuff, next to Ruta 40 is an old steam engine train known as the Viejo Expreso Patagónico ("Old Patagonian Express") or La Trochita. It makes short, touristy, and very Instagrammable jaunts between Esquel and Maiten.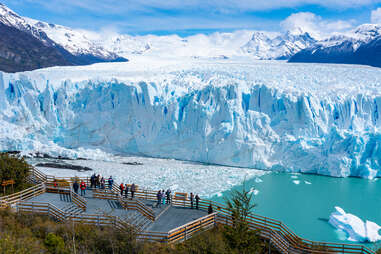 Esquel to El Calafate
Up until this point, you've gotten the Patagonia-lite road trip. After Esquel, Route 40 grows increasingly desolate—think vast, expansive views and whipping winds. The next real stop isn't for another 15 or 16 hours. Understandably, most people turn back north to Bariloche. If your rental car allows drop-off at a different city than pick-up, you can hop on a domestic flight in Calafate to most any major city in the country, too.

But if you don't mind roughing it with a little overnight car camping, it's worth pushing on. And don't worry: If you spot pink flamingos, you are not just overtired and hallucinating— they're partial to roadside lagoons.

The reward is Los Glaciares National Park, a UNESCO World Heritage Site that encompasses the vast glaciers of the Southern Patagonian Ice Field, including the famous Perito Moreno Glacier in Calafate. To see massive chunks of ice calving off and landing like bombs (sound and all) in the water is something you will never forget. Serious hikers and photographers should also plan an extra few days to head over to the jagged, 11,000-foot granite peak of nearby Mount Fitz Roy in Chalten. Pretty much half of the stock photos of Argentine Patagonia you will see are of Fitz Roy—it's classic southern Patagonia, with gnarly gusts, wildflower blooms, glacial lakes, condors flying overhead, and views that make you feel tiny. Nearby is another UNESCO World Heritage Site, Cueva de los Manos, which has rock art painted by Paleoindians, estimated at 9,300 years old.

By the end of this trip, you will be exhausted and exhilarated. You will have seen more beauty in a couple of weeks than you may have previously imagined even still existed on Earth. Humbled by the imposing natural landscapes here, you will not want to leave. And this is just a sliver of what makes this land so spectacular. There are still rivers to raft, penguins to see, whales to watch, sea lions to snorkel with, shipwrecks to explore, the Beagle Channel to scuba, and heli-skiing to do. And that's just on the Argentine side of Patagonia… Chilean Patagionia also awaits. Time to start planning.
Cathy Brown splits her time between traveling the globe writing for
Lonely Planet
and
CNN
, working with Indigenous rights in the Brazilian Amazon, and hanging out at home in her garden and hosting permaculture and medicinal plant retreats.