Royal Caribbean's New Ship Will Blow Your Mind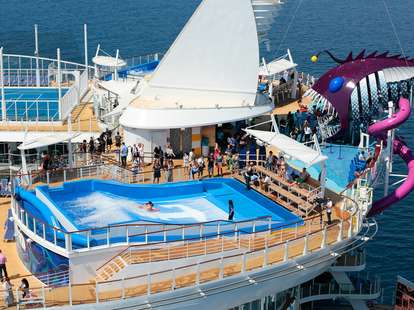 Courtesy of Royal Caribbean
Courtesy of Royal Caribbean
I don't really like cruises. To me, they're typically four or five days on open water with shitty Wi-Fi, mediocre food, cramped rooms, washed-up comics, and over-the-hill showgirls. By the third day my personal highlight is usually happy hour trivia on the lido deck.
But Royal Caribbean's Harmony of the Seas isn't at all like what I associate with cruising. It's now the largest ship on the water, an innovative, technologically advanced cruise liner that's more floating resort city than marine vessel. If you're into cruising -- or even if you're just curious about what kind of crazy stuff they're putting on cruise ships these days -- here are 11 things that will absolutely amaze you about the newest ship on the water.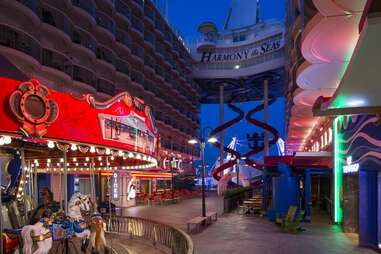 The Boardwalk lets you relive childhood summers
The ship is divided into seven themed "neighborhoods," but the coolest by far are Central Park (which we'll get to later) and the Boardwalk.
The first thing that hits you when you walk out to the Boardwalk on Deck 6 is the smell of the hot dog stand, and the grilled peppers and onions served with its impressive array of sausages. Then you'll hear the music and laughs from the grand carousel, a merry-go-round with as many adults riding as kids. Pass that and you're overwhelmed with the smell of popcorn, the noises of the arcade, and the screams of people sliding down the Ultimate Abyss water slide (more on that later, too). But if you feel like snapping out of your childhood nostalgia and enjoying the perks of being an adult, it's also home to an onboard Starbucks and a margarita bar.
Harmony's Central Park > actual Central Park
Keeping with the theme of "nicer, cleaner New York," Central Park is an outdoor green space in the middle of Deck 8 that smells like fresh flowers and looks like an urban museum. Metal sculptures stretch through the middle, lessening the towering effect of the eight levels of staterooms that surround it. The park is lined with restaurants, all with outdoor seating so you can enjoy the sun. But your best bet is to grab a table at the park's central bar, bring a book, and forget you're in the middle of a cruise ship.
You can eat at a Wonderland-inspired restaurant
The Harmony of the Seas stays true to the great cruising traditions of sprawling buffets and main dining rooms where you can literally say stuff like "I'll have page three." And the ship has no shortage of specialty restaurants either, including Chops steakhouse, Izumi Hibachi & Sushi, and Sabor -- Harmony's Mexican concept with tableside guac and house-made tortillas. All of which are fine if you want something a little fancier than mass-produced dining-room fare.
But the meal you'll remember for the rest of your life is at Wonderland. This Lewis Carroll-inspired restaurant begins with an entrance that's a literal trip through the rabbit hole, leading into a two-level dining room adorned with psychedelic artwork, velvet booths, and a panoramic view over the Boardwalk. Your menu is written in invisible ink, and once you "paint" it with water you'll find offerings of approachable, inventive food like Buffalo chicken eggs that come out smoking and a salt-crusted short rib. Your velvet-robed waiter can also suggest craft cocktails, a deconstructed burrata salad, a "forbidden apple" molecular dessert. And the $45 upcharge is a lot less than a meal like that would cost you on land.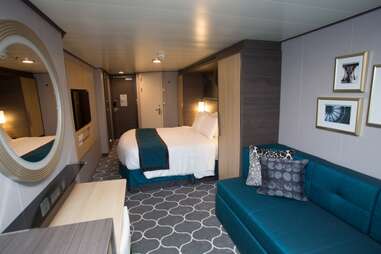 The inside cabins actually aren't terrible
Interior cruise ship cabins usually make you feel like you're sleeping in a mausoleum, and are typically places designed to make sure you spend as much time as possible NOT in your room (where you are NOT spending any money). But Harmony of the Seas makes them a little more bearable.
The interior cabins here have "virtual balconies," a projection from a camera mounted on the side of the ship that plays over an entire wall of the room. So even though you're not getting any of those actual benefits like "fresh air" or "sunshine," you still won't feel completely claustrophobic. And if you want to sleep until 3pm with no concept of time, you can turn it off and get the true inside-cabin experience.
There are three legit water slides
At some age, most people stop going to the waterpark, and the joy of screaming down a piece of hard PVC lined with chlorinated water becomes a distant memory. The only time they look even mildly enticing is after a few fruity drinks on a cruise ship, but when the slides look like they came straight out of the kiddie section, you lose your enthusiasm. Harmony of the Seas' three slides are actually pretty fun and manage to pack a respectable series of twists and drops into an admittedly limited area. The blue and yellow sister slides have surprisingly frenetic speeds for cruise ship slides, with clear sections so you can enjoy the view on the way down. The third slide is the traditional toilet-bowl variety, that circles you around until dumping you out the bottom -- though watching middle-aged people get stuck and crawl their way down is one of the more entertaining things on the ship.
Plus a scientifically engineered adrenaline rush called the Ultimate Abyss slide
Royal Caribbean employs this guy named Brendan Walker, a bespectacled, bald-headed Brit who has spent his life studying the brain chemistry behind excitement. He goes by the name Professor Thrill, and measures brain activity during different phases of an extreme experience: from the decision to take a risk, to the anticipation of doing it, to the ups and downs one encounters while experiencing something dangerous, to the exhilaration after. His research went into creating the Ultimate Abyss, a 45-meter, 10-story slide that sends you hurdling through an angler fish's mouth down a tunnel of neon lights and darkness at speeds approaching 9ft per second.
To enhance anticipation, it requires you to climb to the top deck of the ship, and look down at the water 16 decks below. You then climb ANOTHER set of stairs... and wait. With that nervous energy built up in your brain, the slide starts out with a steep drop, spiking your adrenaline before sending you on a twisty- turny vertical ride. The ride takes about 17 seconds, and every time you think you're getting conformable, it jolts you in a new direction until you finally feel the relief of coming out the bottom. And your brain definitely takes a little while to return back to normal.
The Bionic Bar brings a drink and a show
The ship's Bionic Bar is essentially two robotic arms set under a ceiling of liquor bottles, pre-programmed to mix drinks to exact specifications. Just order on an iPad, watch the screen next to the bar to see when your drink is being made, then sit back and enjoy the show. When it's ready, scan your room key at the front of the bar and the Bionic Bar will slide the drink to you. Though the robots don't make quite as good amateur therapists as the human kind.
The Rising Tide Bar is part ride, part bar
Rotating restaurants are so 1970s. Elevating bars, however? Totally 2016. The Rising Tide Bar starts at the Royal Promenade as a small lounge situated in the middle of the shopping strip. But about every 10 minutes, the side doors close, taking whoever's inside on a three-story trip up to Central Park. Where the bar instantly becomes an outdoor beer garden.
There is art everywhere
From the giant metallic head that greets you in the Royal Promenade to the garden sculptures in the Solarium to the psychedelic stuff on the walls at Wonderland, public art is everywhere on board. And it's not the motel room beach scenes/Britto crap you typically see on ships, either. Some of it is even, dare we say, thought-provoking. Or, at the very least, it gives you something interesting to look at other than the water.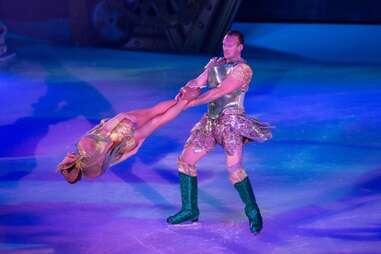 The entertainment? Just former Olympians.
You ever wonder what Olympic divers do once the Olympics are over? Well, we don't really know either, but apparently some of them have gigs on Harmony of the Seas. The nightly shows at the Aqua Theater feature some former Olympic divers performing the same aquatic acrobatics they did in competition, all set to music and a high-tech light show. The ice shows at the indoor ice rink bring more former Olympians, doing stunts in period costumes that lead to multiple mid-performance standing ovations. Definitely beats celebrity boxing.
The Wi-Fi actually works
Once upon a time, I may have warned some people to never, ever use Wi-Fi on a cruise ship. And now I stand corrected. The Voom Wi-Fi on Harmony of the Seas is literally faster than my Wi-Fi at home. The connection speed on this ship is enough that you can take Google Voice or WhatsApp calls without needing an international calling plan. And if you want to spend your entire vacation streaming Unbreakable Kimmy Schmidt, you can do that too. It's not free, though: one device will run you $15 per day, two devices is $22.50. But can you really put a price on being able to Instagram the Ultimate Abyss? No. No you cannot.
The ship comes to the Americas this summer
So now you're probably thinking, "Well, gosh, fast internet, crazy food, water slides? I'm in!" But check you bank account first. Royal Caribbean isn't running a charity, and a seven-day cruise from Barcelona through the Mediterranean will run you anywhere from $1,700 to $2,100 per person this summer. If you want to wait until the ship is stateside, that price drops to $850 - $2,000, depending on your class of cabin. None of that includes drinks either, which can run from $5 for a beer to upwards of $15 for some drinks at Bionic Bar. But none of this is out of line with what new cruise ships cost, and Harmony of the Seas is the coolest new one to come around in a while.
Sign up here for our daily Thrillist email, and get your fix of the best in food/drink/fun.
Matt Meltzer is a staff writer for Thrillist who beat Michael Bailey down the Ultimate Abyss, in case you were wondering. There's proof on his Instagram: @meltrez1.