The World's Biggest Cruise Ship Is Coming, and It Looks Straight-Up Insane
Remember how we told you cruise ships were getting whole lot cooler? Case in point: Royal Caribbean, which just offered us a peek at what's going to be the world's largest cruise ship, Symphony of the Seas. The nearly 1,200-foot-long behemoth has taken all the insane stuff that made our eyes pop on Harmony of the Seas, expanded it, tricked it out, and is set to launch soon perhaps the looniest moving structure in the history of mankind.
What will you get along almost a quarter-mile of cruise liner? In the tightest description, basically a theme park on the high seas, with you and 6,800 of your closest shipmates along for the ride.
All of the greatest hits, all in one place
Let's start with the Royal Caribbean favorites you'll find on Symphony. That bionic bar, where automated robot arms pull from a library of liquors to mix and serve your drink? It's back. So is the 10-story Ultimate Abyss, a dry slide down the mouth of an angler fish that gets you going 9 feet per second at its steepest.
Also included is The Perfect Storm waterpark and its trio of twisting, turning slides with ocean views. So does with the trippy, Lewis Carroll-inspired Wonderland restaurant, where you enter through a rabbit hole then order dishes like Buffalo deviled eggs served under smoke from an invisible ink menu, all handed to you by a guy in a Hogwarts robe. The ice-skating shows and outdoor aqua theater will be on Symphony as well, though no word yet on whether they too will feature former Olympians.
An epic sports bar, and the world's biggest laser tag arena
The bustling Boardwalk area has been extended to include a couple of new restaurants. You won't have to worry about missing a snap in the SEC next fall, as the Symphony of the Seas has added the Playmakers Sports Bar and Arcade, where football and other sports from around the world will show on 30 flat-screens. It'll also have classic arcade and midway games, so if the third quarter of that epic Jags-Colts game gets a little slow, Ms. Pac-Man will be right there.
Joining it in the Boardwalk area is Sugar Beach, a creamery and confectioner that'll ensure your kids don't go to sleep until at least 3am.
The ship will also include a new seafood restaurant called Hooked. And the laid-back solarium on the top decks takes its California theme of sunshine and spas a step further with El Loco Fresh, fast-casual Mexican concept whose name must've barely beat out Del Chipotle.
On the entertainment side, the coolest new option will be what Royal Caribbean giddily claims will be the world's biggest laser tag arena. Even if some abandoned Sears in the Southwest has built one bigger, you'll be able to round up a team to blast your way through Studio B's glow-in-the-dark battlefield, probably with a Bionic Bar tab at stake.
Royal is also bringing Hairspray back after its massive success on the Oasis of the Seas. Co-headlining the Royal Theatre will be Flight, a historical satire on the history of aviation. We're looking forward to Charles Lindbergh's jokes about crying babies in coach.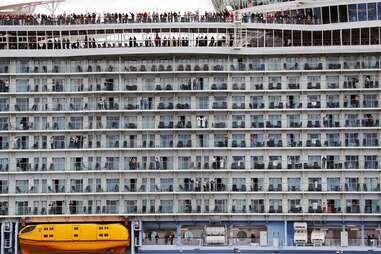 A suite with a slide and your own personal genie
The coup de grace of this 1,188-foot human pinball machine is the Ultimate Family Suite. Though it stops just short of having a train running through the living room, it reps some serious Silver Spoons shit. Imagine Ricky Stratton speeding down a two-story slide from his private, oceanfront bedroom, past a floor-to-ceiling Lego wall, into a brightly colored common area. That's what Royal Caribbean is offering here.
Also included is a 3-D-style TV room with its own popcorn machine, and every video game system you never got for Christmas. The two-bedroom, two-story, 1,346-square-foot suite boasts a 212 square-foot wraparound balcony with a bumper pool table, a climbing wall, and a whirlpool. And it comes with something called a Royal Genie, who probably won't crack frenetic, improvised jokes that are way funnier to the parents than the kids. But will at least make sure you have whatever you need whenever you need it.
Vicki Freed, Royal Caribbean's Senior VP of Sales, summed it up on the conference call announcing the new ship: "You know, Michael," -- that would be CEO Michael Bayley -- "the biggest problem we'll have with this ship is families who don't want to leave!" Reporters rolled their eyes, I'm sure, but, yeah, your kids will probably slump into catatonic stupors when they have to leave this fever dream and return to their regular lives. You may, too.
Barcelona in April, Miami next fall
Symphony of the Seas will be the world's largest cruise ship, with 18 decks, 24 elevators, and capacity for 5,535 guests at double occupancy. It'll cruise at a blistering 22.5 knots powered by four bow thrusts each stuffed with 7,500 horsepower. Yet it will be 25% more fuel-efficient than the Allure of the Seas, the Royal Caribbean behemoth that'll still be the world's third-largest ship once the Symphony launches.
Cruises will start leaving out of Barcelona in April for weeklong Mediterranean itineraries that hit Mallorca, Provence, Rome, and Naples. On November 28, it'll leave on its first journey out of Miami, touring the Western Caribbean. If any of this sounds appetizing, you can get info on bookings here.
The rest of the cruise industry is doing just fine this year -- stock prices are up, bookings are up, boards are happy. But Royal Caribbean has once again expanded the definition of cruise ship cool. It amounts to a big "What you got?" to the competition. And the competition should be optimistic! If anything, the Symphony of the Seas proves that anything you dream up on a peyote bender is possible to put on a ship, so long as you make the size of a floating Chrysler Building.
Sign up here for our daily Thrillist email and subscribe here for our YouTube channel to get your fix of the best in food/drink/fun.

Matt Meltzer is a contributing writer to Thrillist who once raced Michael Bayley down the Ultimate Abyss. And won. Follow him on Instagram @meltrez1.