Rent a Safari Vehicle for an Animal-Filled Rwanda Road Trip
Drive between four national parks to glimpse gorillas and explore lush, bewildering landscapes.
Travelers, start your engines: You are now entering
The [Scenic] Route
, a rip-roaring exploration of the world's most incredible international road trips, from lush Rwandan jungles and ancient Peruvian mountains to seaside Irish villages, dreamy Japanese forests, and twisty Romanian hillsides. For more reasons to hit the pavement—plus tips, interviews, and a custom road-ready playlist—cruise over to the rest of our coverage
here
.
Rwanda is a country of varied landscapes, offering up mountains, savannas, and jungles for eager tourists with an eye for beauty. For many westerners, a mention of the East/Central African country brings to mind its violent past, but it's been 30 years since Rwanda's civil war and the country has since put a lot of effort into recovery, making it a welcoming place to visit.
Rwanda is a true success story for purpose-built redevelopment, and fortunately for travelers, that purpose is tourism—sustainable tourism, to be specific. Over the past decades, the country has focused on infrastructure and the environment, putting huge amounts of funding into developing safe roads, incentivizing local business creation, and protecting and rebuilding national parks. And given that the country is a mere 10,000 square miles (roughly the size of Maryland), it's ripe for bucket-list road trips that include the chance to spot endangered black rhinos and breathe the same clean mountain air as the gorillas made famous by world-famous primatologist Dian Fossey.
Driving in Rwanda is completely doable for anyone who's careful and competent behind the wheel, but road tripping through its cities and countryside requires a hearty sense of adventure. Rwanda's roads are a sometimes-hectic mix of bicycles, cars, and motorbikes, and heavy rain can leave older roads muddy and pitted. Fortunately, you can easily hire drivers or take safari tours through parks if you'd rather not venture off the main drag (or if you just want to keep your eyes free to look for rhinos; Akagera National Park has more than 50).
Ready for a road trip in Rwanda? Take advantage of the country's new and generally smooth roads to hightail it to stunning nature reserves. Our recommended route follows a counter-clockwise loop between the country's four national parks: the savannah-filled Akagera National Park, high-up Volcanoes National Park, biodiverse Gishwati Mukura National Park, and misty Nyungwe National Park. So just rent a car, turn on some tunes, and prepare to be amazed.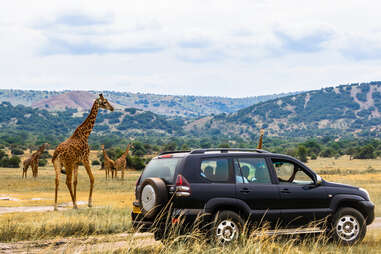 How to rent a car in Rwanda
Renting a car in Rwanda isn't difficult, and most rental companies work with tourism agencies, meaning they can also arrange city tours, drivers, and airport pick-ups.
You'll need to pick your car up at the international airport in Kigali. No matter where you're headed, you should rent an SUV, as many roads through parks are bumpy and only partially paved. But for a unique twist, consider renting a pop-top Land Cruiser, so you can really feel like you're on a safari.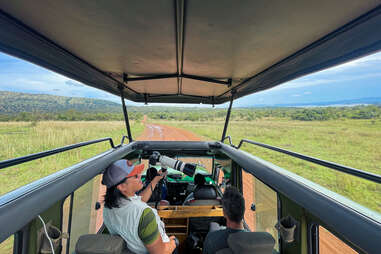 Safari vehicles start at about $90 a day, and standard SUVs are closer to $40 a day. Adding a driver can increase costs by around $40 to $80 per day. Bookings are usually made via email, unless you hire a custom trip company to build your trip. Reliable car rental companies with safari vehicles in Kigali include Car Rental Congo and Hire-A-Car Rwanda. Ask them to meet you at the airport, rather than driving to their lot.
You'll also need insurance, a US driver's license, and an International Driving Permit. Fortunately, you can get the latter via mail for $20. Don't worry if it seems like a lot; rental companies are used to guiding foreigners through the process.
Best time of year to visit Rwanda
Conventional advice says to avoid the rainy seasons (April, May, October, and November). But if you want to see wildlife, ignore that advice. According to the expert guides at Akagera National Park, most animals migrate to watering holes and shady areas in the dry season, making them hard to spot while driving. But there's no shortage of leafy plants everywhere during the rainy season, so you're more likely to see animals along roads and in open areas. Hotels are also less expensive and less crowded during the rainy season, though some dirt roads can be impassable after heavy rain.
For the best balance of cost, weather, and wildlife spotting odds, split the difference and shoot for March or September. And no matter when you go, pack at least one rain jacket.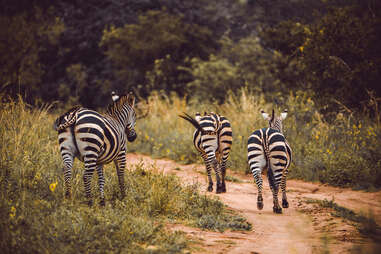 Kigali to Akagera National Park
Located around two and a half hours from Kigali, Akagera National Park is a great place to experience your first safari. It's the largest protected wetland area in Central Africa, and home to all sorts of wildlife, including rhinos, lions, elephants, zebras, giraffes, leopards, hippos, and crocodiles. Enter the park through the south gate and see about getting checked in at your chosen accommodation before getting into any safari activities.
Driving here will be a far cry from the smooth roads you've experienced since landing in Kigali. Most of the roads in Akagera are dirt—perhaps bumpy, but easy enough unless there's been excessively heavy rain. If you've noticed the park has recently experienced heavy rainfall, you'll want to hire a driver or hop out of your own vehicle and into a proper safari vehicle driven by an expert. Fortunately, because the park has relatively few visitors, you can make the decision just a day or two before your arrival.
It takes about three hours on dirt roads to drive through the park from the south gate to the north gate, so if you'd rather not drive yourself through the park, you can stay at Akagera Game Lodge or Ruzizi Tented Lodge, both close to the southern entrance and visitor's center. From these hotels, you can see about arranging a driver and guide. For those who don't mind driving and are looking for a more rugged experience, seek out Karenge Bush Camp near the north gate for off-grid glamping (and savannah-view, open-air bathrooms). Lodging should be booked online in advance of arrival.
If you've rented a pop-top vehicle and are ready to DIY your own safari, you can hire a naturalist guide to hop in your vehicle, help spot wildlife, and advise on the best route based on rainfall and recent animal sightings. Guides are $40 US for the entire day, or $25 for a half day. You don't need to make a reservation in advance for this approach, but it can be helpful to ask your hotel to help arrange the guide when you check in. In a pinch, stand-by guides are usually available in the morning at the park's southern welcome center.
Plan to spend eight to 10 hours in the park—not including sleep time—if you plan on driving an entire loop. And be sure to gas your vehicle up on the way, since there are no gas stations inside Akagera.
Akagera to Volcanoes National Park
The drive from Akagera to Volcanoes National Park is the longest drive you'll make, clocking in at around five hours. But thanks to a 2022 highway project, it's an easy (if windy) trip. However, the drive does gain, lose, then re-gain more than 2,100 feet, so expect some steep and slow sections. Fortunately, that creates a chance to see the wide variety of landscapes in the country, from low-lying rice fields and coffee plantations to pine forests and 200-foot eucalyptus trees. The last 20 miles or so are uphill on a two-lane road with few guardrails, so use caution and drive slowly. The road is paved and well-maintained, but keep an eye out for locals on bicycles bombing down the shoulders.
And just know this: The five hours are absolutely worth it for the once-in-a-lifetime chance to encounter endangered mountain gorillas. The Virunga Mountains are among the few places left to see these animals in the wild. Thanks to dedicated teams of trackers who follow each of the park's 10 gorilla families, sightings are guaranteed—but be aware that you'll pay for the privilege. At Volcanoes, the cost per person is a cool $1,500, which entitles you to one hour spent observing the gorillas. Only 80 passes are available daily, so reserve online when you book your flights. You won't pay any additional fees for the experience, aside from optional tips for guides and trackers.
In the morning, you'll meet your guide at the visitor center and get assigned to a gorilla family. Then, you'll pile into your car and drive to your starting point based on where the family was last spotted. Most gorilla trekking excursions start in farmland before crossing into the park boundary, where views of towering 14,000-foot-tall volcanoes give way to macro views of bamboo thickets and creeping vines stretching toward the sun-dappled forest canopy.
Plan to stay at least two nights near the park, both to avoid the need to rush after your hike and to give your mud-covered shoes a chance to dry. We recommend resting your head at Five Volcanoes Boutique Hotel for a mid-range pick, or Bisate if you'd prefer a honeymoon-worthy splurge.
If you find yourself with the afternoon free during your stay, donate $20 to visit the Dian Fossey Museum or Gorilla Guardians Village. The latter is a bit cheesy, but proceeds go back to local villages and fund efforts to keep poachers out of the parks.
Volcanoes National Park to Lake Kivu
When you're done hanging out with gorillas, drive two and a half hours to Lake Kivu, the biggest lake in Rwanda. The clean, always-shimmering lake has more than 250 islands, and thanks to the surrounding mountain peaks, there's no shortage of nearby waterfalls and rivers to explore, either. Depending on how much beach time you want, you could spend a few days on its shores.
Make the short trip to the city of Gisenyi, where you can hop on the smooth and well-marked "Kivu Belt" road, completed in 2017. From Gisenyi south, you'll find plenty of places to stop for smaller adventures, including a locally-owned coffee cooperative and many public beaches along the lake's eastern shore. Save for the occasional tight turns, the Kivu Belt Road is an especially easy drive.
Near the northern part of the lake, you'll find Gishwati Mukura National Park—but you're only allowed to visit if you spend at least one night at the Forest of Hope Guesthouse. If you do book a stay, you'll be among the few permitted to take a morning trek in search of the park's famous golden monkeys.
But if the park and the guesthouse don't appeal, there are other accommodations and activities in the area. Stay at budget friendly Paradise Malahide bungalows, or take in the views from Cleo Lake Kivu. From these hotels, you can explore the region by cycling on the Congo-Nile Trail (a dirt trail through small jungle villages and past hidden waterfalls), or taking an overnight kayaking trip to one of Lake Kivu's many islands. Local outfitter Kingfisher Journeys offers a full menu of single-day adventure tours and multi-day excursions, and can arrange everything from a single-day driver to support your bike ride to camping equipment for an overnight stay on the beach.
Lake Kivu to Nyungwe Forest National Park
Head out for another two and a half-hour drive to reach your final stop, Nyungwe Forest National Park. Nyungwe isn't as well-known as Volcanoes, but that's a selling point for road trippers who want to see a verdant, undeveloped landscape. The park is a riot of life and color, from the dozens of orchid species growing on the forest floor to the brightly-plumed birds fluttering from branch to branch.
You'll take the Kivu Belt most of the way to the park. The only tricky part of the drive is the last 15 miles to the Uwinka Visitor Center, which climbs about 3,000 feet. However, while the road is steep, it's also paved and has little bike and pedestrian traffic.
Once you're settled, you'll want to strap on your hiking boots and explore the trails. For a relatively short and easy hike, look for Igishigishigi Trail, a roughly three-mile loop leading to a suspension bridge strung up hundreds of feet above a misty valley. As gorgeous as the views are, the bridge is hardly the only thing worth seeing here. Later on, the trail's namesake ferns tower overhead like protective sentinels, casting shadows across the ground and trapping the earthy aroma of the ever-damp rainforest floor.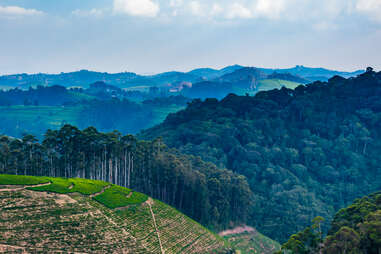 If you have more than a day to spend in the area, take an early-morning chimpanzee trek or book a roughly seven-mile hike to the Nyungwe waterfall. You can even do multi-day backpacking trips in the park, camping at the visitor center or a higher-elevation campsite. Park staff can get your permits, gear, and guide sorted, as long as you arrange it in advance via email.
All activities in Nyungwe require a guide. It's easiest to have your hotel arrange these for you, but you can also email the park to set things up yourself. Rates for guided tours range from $40-$90 per person for foreign citizens. As far as lodging goes, you can stay in a traditional Rwandan hut at Kitabi Eco-Center, or book the stunning One & Only Nyungwe House to end your trip on a high note.
From Nyungwe, it takes about four hours to drive back to Kigali to drop off your rental car and bid farewell to Rwanda. Leave yourself plenty of extra time, as you'll want to be extra careful on the crowded roads when approaching the city. Arrange to return your car at the airport, or book a hotel (such as the Retreat Kigali, where all rooms have outdoor showers) and give yourself a relaxing buffer day before flying home.