Ryanair Wants to Put Your Face on a Plane
With its history of broken promises, budget airline Ryanair's no doubt looking for a bit of good publicity -- the kind a charity swimsuit calendar can't buy, and which can only be obtained via a hare-brained social media scheme. Like, say, one offering to plaster 30 people's faces on the side of 30 Ryanair planes.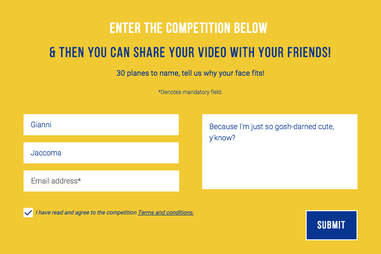 Ryanair
Sound like it'd be right up your alley? You can take part in the "competition" by liking Ryanair's Facebook page, then heading over to its "Get Your Plane Face On" Facebook app, where you'll be prompted to upload a photo of your face, include some pertinent deets, and write a brief (500 character) explanation of why you deserve this most dubious of honors.
And just like that, you'll be entered to win! Provided you enter before August 31st, anyway, since the "winners" are announced in September.
It should be noted that you're not competing for free flights, or air miles, or anything of actual value. It's literally just about putting your face on a plane -- which, how often are you looking at the nose of a plane, anyway? Now, if the promotion was to get your adorable mug on the plane's seat backs, or even the tray tables, maybe. 
Gianni Jaccoma is a staff writer for Thrillist, and he wouldn't trust any plane with his face on it. Follow his tweets from the plane bathroom @gjaccoma, and send your news tips to news@thrillist.com