Ryanair "F**ked Up," Will NOT Fly You to Europe for $15 Like They Promised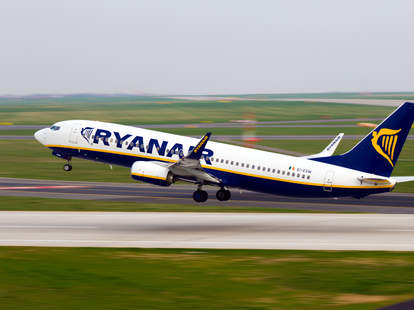 <a href="http://www.shutterstock.com/gallery-927373p1.html?cr=00&amp;pl=edit-00">Senohrabek</a> / <a href="http://www.shutterstock.com/editorial?cr=00&amp;pl=edit-00">Shutterstock.com</a>
Earlier this week, Ryanair got everybody's hopes up when it announced plans for $15 flights between the US and Europe by 2020, an offer that sounded almost too good to be true.
That's because it WAS too good to be true. Last night, the Irish budget airline said its board actually DIDN'T approve transatlantic service, basically leaving everyone's hopes for cheaper vacations stuck on the tarmac.
"In the light of recent press coverage, the board of Ryanair Holdings Plc wishes to clarify that it has not considered or approved any transatlantic project and does not intend to do so," the Thursday statement said.
The airline's bonkers CEO Michael O'Leary told London's Financial Times the company "f****ed up," and pinned its huge PR fail on "a miscommunication." Um, yeah, buddy.
It's unclear how the colossal error came about, but reports indicate things snowballed after a journalist asked a follow-up question of chief marketing officer, Kenny Jacobs -- who might have just ended his days in that role.
O'Leary, known for making bold media proclamation, supposedly didn't realize the news would have "such legs." Actually, it's more like it had wings.
According to the Financial Times, O'Leary said no one at Ryanair retracted the statement on Tuesday because it was St. Paddy's Day. Presumably, they were all too busy drinking Guinness. O'Leary was then traveling Wednesday and Thursday, and only got around to addressing the issue Thursday during a board meeting in Milan. But seeing how 2020 is still five years away, he probably figured he had enough time to nip this thing in the bud.
Unless there's another deal like this, chances are you won't be flying to Europe on the cheap any time soon. And if you do, it won't be with Ryanair.

Chloe Pantazi is an editorial assistant on Thrillist's travel team. Yes, that's a British accent. No, she doesn't watch Doctor Who. Follow her on Twitter at @ChloePantazi.