$15 Transatlantic Flights Are Coming to America, Thanks to Ryanair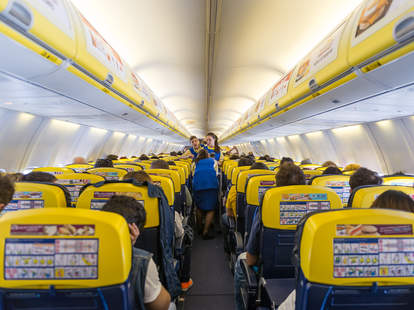 <a href="http://www.shutterstock.com/gallery-438058p1.html?cr=00&amp;pl=edit-00">pio3</a> / <a href="http://www.shutterstock.com/editorial?cr=00&amp;pl=edit-00">Shutterstock.com</a>
The latest news out of Ireland doesn't involve a bunch of drugs being accidentally legalized, but it will let you get high… as in up in the sky, over the Atlantic. And for as cheap as $15.
Irish airline Ryanair has approved plans to offer its cheap flights between Europe and the US, after years of wanting to expand its service across the pond. The low-cost carrier will reportedly operate from 14 locations in Europe and the US, respectively, which means you'll one day be able to fly from cities like New York, Chicago, Boston, and Miami to London, Berlin, and Dublin for as cheap as $14.75(!!) one-way. Of course, the airline's (in)famous for its added fees, and entire lack of frills -- like reclining seats, for example. But hey, cheap is cheap.
"European consumers want lower-cost travel to the USA and the same for Americans coming to Europe," Ryanair said in a statement. "We see it as a logical development in the European market."
It'll be a while before transatlantic service rolls out, though, so don't start Googling pubs in Dublin just yet. The new service is expected to take off in four or five years, once Ryanair has reached a deal with long-haul aircraft manufacturers. So yeah, save your money for cheap transatlantic flights in 2020.
Or then again, don't. You'll probably have $15 to spare in 2020.

Chloe Pantazi is an editorial assistant on Thrillist's travel team. Yes, that's a British accent. No, she doesn't watch Doctor Who. Follow her on Twitter at @ChloePantazi.