The Overlooked California City That's About to Blow Up as a Food Destination
Farm-to-Fork

| Octavio Valencia
Farm-to-Fork

| Octavio Valencia
In the glamorous family that is California's cities, Sacramento is the sister everyone forgets. She's the gritty, grain-fed burden-bearer who still works the family farm while San Francisco and LA get famous launching tech IPOs and making movies. Meanwhile that slacker San Diego just eats fish tacos and surfs all day.
You know the least about Sacramento because it's inland. It's flat. It's smaller. And most people outside California know it best for having a gold-crowned statehouse and because the Kings got screwed that one year in the playoffs.
But Sacramento's on the cusp of making it as a must-visit town for anyone who loves food, and people are beginning to notice. It's the hub of America's most abundant agricultural region, has access to more ingredients than any other city, and for a number of reasons, is finally attracting talent and investment to match its gardens. While the big joke about "farm-to-table" restaurants in bigger destinations is that they all have a Sysco truck parked out front, in Sacramento, they mean it quite literally.
America's stealthy farm-to-fork capital
The food scene in Sacramento is a throwback to the Old World, where chefs go to farmers markets and forge relationships with growers, crafting menus based on what's in season and what fits best.
In some ways, this isn't a huge departure from what your favorite food city does. "Cities that have big-time food culture," says Chris Barnum, who owns Localis in downtown Sacramento, "they all order their produce from Northern California." The difference is, here, you're getting that produce when it's still dripping with dew and flecked with moist soil.
"If you wanna call it farm-to-fork, go ahead," Dave Nelson, a culinary instructor, says as he stands among farmers, restaurateurs, and chefs at a weekly farmers market under Interstate 80. "It's really just following the philosophy of what being a chef really is."
Amid the grandmothers sizing up carrots and the parents pushing strollers, you can see buyers from the Paragary Group, the city's largest restaurant group, chatting up farmers whose ingredients will be in front of diners within mere hours. The Sierra Nevada jack cheese, chilies, cilantro, and avocado they find will be in quesadillas de epazote tonight at Centro, their Mexican concept. Ditto the slow-cooked lamb and sweet pepper ragu for the rigatoni at the flagship Paragary's.
"It's ready for takeoff. It feels like Portland or Seattle did 10 years ago."
"That's the Selland group right over there," Dan Best, the market's coordinator, says as he points to a truck loaded up with boxes of meat and produce. "They own Ella, and a lot of fine-dining nice places. You can see Randall (Selland) over there doing the selecting himself."
By the end of the night, Selland's selections will top the gorgonzola dolce pizza at his casual Italian spot Obo, where prosciutto, caramelized onions, fresh rosemary, local honey, and radicchio all come from the market -- a fresh, locally sourced meal for all of $16.50. Oh, that's the other thing chefs love about Sacramento: Costs run way less than elsewhere in Cali.
The best ingredients (and cheap rent) attract ace chefs
"Chefs are able to do great things in Sac because restaurant spaces are cheaper," says Lauren Ladoceour, the travel editor at Sunset Magazine. Ladoceour recently chose Sacramento for the magazine's annual Best Places to Live issue, based largely on its food innovation. "So there's this move of Bay Area chefs to Sacramento both because of the rent and proximity to great ingredients."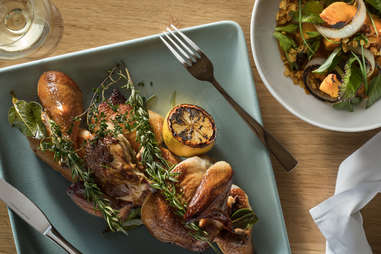 It's no secret that exorbitant rents are a huge factor in fast restaurant turnover in major cities. Barnum says his rent in Sacramento is a third what it would be in San Francisco. A quick perusal of restaurant spaces for lease in both cities backs him up: Sacramento rents come in at between $21-$30 per square foot annually near Downtown, San Francisco getting above $85 is some areas. Los Angeles isn't much better; rents in Santa Monica approach $80. Even Seattle costs more, with rents in the $35 range.
This is why chefs like Brad Cecchi, who earned a Michelin star at Solbar in Calistoga, California, returned to his hometown to helm the kitchen at Canon in East Sac. The unassuming structure in the predominantly residential neighborhood feels like a winery ranch house, and plays with local ingredients in a way one would expect in Napa or San Francisco. It's best expressed by the grilled Mishima Ranch bavette served with smoked onion and cabrales blue cheese. Though the red kuri squash and heirloom tomatoes with avocado and basil are good if you're eating light.
Another example is Sam Marvin, of LA's Bottega Louie and Las Vegas' Echo and Rig, who's opening a spot in Sacramento early in 2018.
"I'm going into Sac for the same reasons I went into downtown LA (in 2009)," Marvin says. "It's ready for takeoff. It feels like Portland or Seattle did 10 years ago. There's a craft culture here, and you see chefs starting to branch out and do their own thing. It's a phenomenal opportunity to be in Sacramento now."
Sacramento is already where the food at your favorite restaurant comes from
"I've had people from here go to Moto in Chicago or (Momofuku) Milk Bar in New York and say 'the produce there was shit,'" says Pat Mulvaney, a New York transplant and proprietor of Mulvaney's B&L in Sacramento's Midtown. "It's not shit. It's the same stuff we use here. It's just picked a week earlier."
Exactly how much food are your favorite restaurants getting from Sacramento? The city sits in the northern end of California's Central Valley, a swath 450 miles long and 60 miles wide packed with the greatest Class 1 soil in the world. Within a few hours drive of the city you'll find 250 different crops, asparagus to zucchini, with a heavy dose of rice (99% of the state's crop).
Also, that "fresh" caviar they serve at Per Se in New York? That comes from Sterling Caviar, one of the producers that helps Sacramento account for 80% of domestic US caviar. Nearly all of America's processed tomatoes -- and a third of the world's supply -- come from Sacramento. Most of those wine grapes they use in your favorite Napa wines? Grown around Sacramento. Venture a little further, and you'll find the Central Valley producing 8% of the country's total agricultural output, including 40% of the fruit and a third of our produce.
"In bigger cities, everything has to go a long distance," says Localis' Barnum. "In Sac, things are close. We're literally surrounded by farms, so we get the best stuff."
Localis captures the essence of what a creative chef can do with the ingredients around him. On a recent trip to his lively indoor/outdoor spot, he served something called a "foicho" – essentially a fresh-made chicharron topped with foie gras and local greens, atop a potato puree. This is typical of the stuff you'll find on his rotating menu, which if you try and research online will only yield vague descriptions like "changing fish inspired by what's fresh" and "homemade pasta made with the season's best."
In San Francisco, dinner for two with wine at a similar spot could top $300. At Localis, you can be out the door for half that.
"We're not as fancy and pretentious as San Francisco and we never will be," says Sacramento Magazine dining editor Marybeth Bizjak, after recounting a story of a visitor who once asked her if it was worth renting a car and driving to the Bay Area for a "decent meal" while he was staying in Sacramento. "But we've got the farms and the chefs and the people interested in food. And if you're here from out of town, you should give us a chance."
So why hasn't the world been beating a path to Sacramento's kitchen door?
Sacramento doesn't have a Michelin-starred restaurant. Its lone James Beard Award was an "American Classics" nod to the venerable Frank Fat's, a sort of lifetime achievement medal for food. So why, if it sits within watermelon-tossing distance of America's produce aisle, has this big time ag town not caught up to its more renowned California neighbors?
"For a lot of us, getting national media attention isn't our focus," says Mulvaney. "Our focus is on feeding people."
If that sounds like a cop-out, well, consider where you'd go if you were trying to be famous: Los Angeles, or Sacramento? The overall lack of self-promotion -- and, if we're being honest, Sacramento's enduring rep as a cow town -- hasn't overturned the presumption that Sacramento has no taste.
"Chefs will go an hour and a half away because there's an audience in San Francisco," says Marvin, the LA and Vegas chef setting up shop in Sac. "But what I'm seeing is that audience is coming to Sac because people who were living in the Bay Area get priced out. And the city is about to blow up. In five years you'll be talking about it just like you do about Portland or Seattle. You watch."
Sunset's Ladoceour concurs with that timeline.
"In terms of ingredients, yes, Sacramento is right up there with San Francisco or any other city," she says. "There just aren't big, newsworthy restaurants causing a scene on a national level yet. There aren't enough fine dining places to nerd out over yet. But in the next five to 10 years, it will solidify itself as a major dining city."
And it's one that's worth a visit as anywhere in the region. It's close to wine country and the mountains. You can bike through orchards and pick your own fruit. There are even farmers who make their own cheese. It's all the same stuff that draws people to Provence, yet only a scant 90 minutes from San Francisco.
It doesn't have the accolades yet of Italy or LA -- or, for that matter, of Napa. What Sac does have are ingredients on par with anywhere on the continent and young creative chefs who are building their own thing. If you're planning a trip to Northern California, make dinner in Sacramento a stop on the way. You can still discover it before it's cool, but not for much longer.
Sign up here for our daily Thrillist email and subscribe here for our YouTube channel to get your fix of the best in food/drink/fun.
Matt Meltzer is a contributing writer to Thrillist who stopped watching the NBA after Game 6 of the 2002 Western Conference Finals. Follow him on Instagram @meltrez1.