Take a you-powered beer cruise down the Salmon River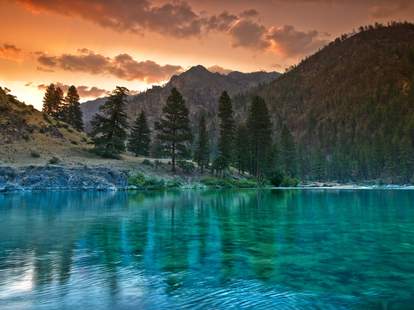 Lewis and Clark called the Salmon River the "river of no return", which's probably because they foresaw that someday, Beer Trips would come along and create a five-day, six-night "Beer Float" down it that would be so glorious, no traveler would ever want to leave
Starting in Missoula and heading southwest into Idaho, the river itself cuts through a canyon deeper than the Grand
By day, Lewis & Clark Trail Adventures will guide you and your fellow beer floaters through "rolling rapids" on your choice of self-bailing rafts or inflatable kayaks, with all rafting and camping gear provided.
But what separates the men from the boys, or, more specifically, a Beer Trips-culled rafting adventure from a typical L&C-led river trek, is that every night you'll set up camp on the Salmon's large, sandy beaches and devour heady beer dinners featuring North American crafts and "classic beers" from Belgium, Germany, Britain, and the Czech Republic
Then again, maybe the reason Lewis & Clark called the Salmon "the river of no return" was because of the man-eating sheep... THEY'RE WATCHING
Cue awesome sunset.