For Sam Mewis and Lynn Williams, a Day Off in Kansas City Is All About Dogs, Dining, and the Driving Range
The pro soccer stars and 'Snacks' podcasters talk food, travel, and getting to know their new Midwestern home.
Published on 7/21/2022 at 10:40 AM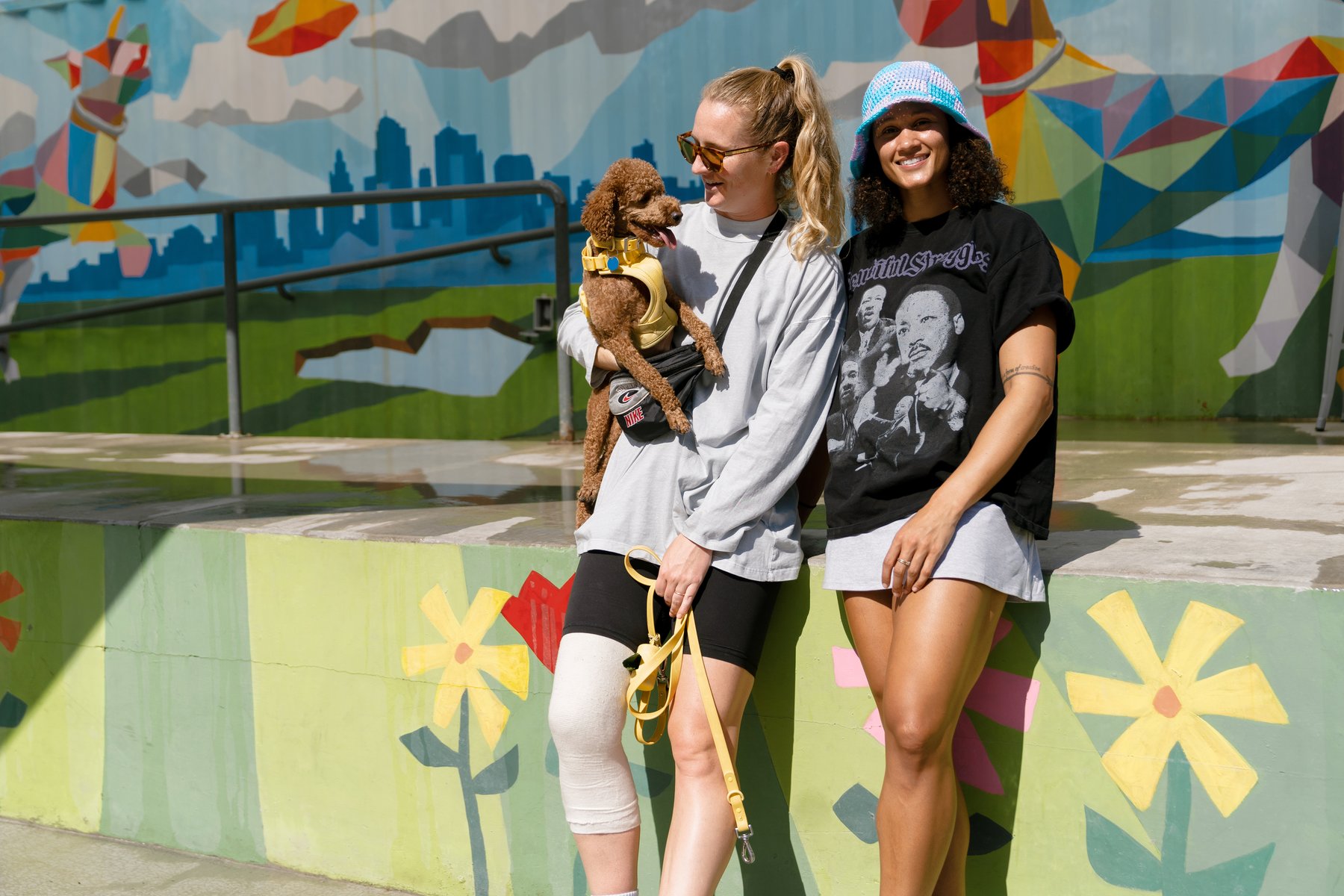 Sam Mewis, Lynn Williams and Finn | Photo by Meghan Savage for Thrillist
Amid all of that, Mewis, a midfielder, and Williams, a forward, recently moved to Kansas City, Missouri, to join the freshly relocated Kansas City Current NWSL team. As luck would have it, however, they've both been sidelined ever since. Mewis underwent arthroscopic surgery on her right knee last August, while Williams sustained a leg injury the following March. You know what they say—friends who rehab together stick together … or something like that.
They also eat together. "The gift soccer has given me has been being able to not only travel the country, but to travel the world and see so many incredible cultures, try so much good food, and meet cool people," Williams says. "The bright side of being injured is that when the team travels, me and Sam really enjoy going out and going to restaurants and trying new foods."
In addition to feasting their way through town, the duo roam unfamiliar streets together, popping into dog-friendly bars, lounging at their apartment's pool, and sipping wine on sunny patios while learning the ins and outs of one of the country's most underrated cities. They're also deep into recording the latest season of Snacks, chit-chatting about, in their words, "some personal stuff, some soccer stuff, some real stuff, and some fun stuff" with guests ranging from explosive Chelsea striker (and girlfriend of Sam's sister and USWNT teammate Kristie Mewis) Sam Kerr to the ever-iconic Megan Rapinoe. Also on the table? Their life-after-soccer potentials—as professional athletes, retirement always looms in the distance.
"My husband and I used to watch all of Anthony Bourdain's shows," Mewis tells Thrillist, detailing her dream to one day host a dining-driven travel show. "I like how the shows are about food, but they're really about people and culture. I'd love to showcase my favorite spots in all the places I've lived—that would be such a dream come true."
In that enterprising spirit, Mewis and Williams sat down with us to move beyond the soccer stuff, personal stuff, and real stuff to talk about the good stuff: everywhere they love to eat, drink, explore, and blow off steam on a perfect day off in Kansas City.
"You know what they say—friends who rehab together stick together … or something like that."
Bar K | Photo by Meghan Savage for Thrillist
Getting to know Kansas City
Mewis: I grew up in Boston, and now I love Kansas City. I feel really lucky that I've gotten to live in so many cool places. I've been very pleasantly surprised with how much there is to do, and how vibrant the city is. The people are so nice, so welcoming.
Williams: Kansas City is just easy living. There are so many different places I can walk to and don't have to always rely on my car to get me somewhere. And the people are so nice. Anywhere you go, you can make it your home, as long as you have good people around you and are willing to explore new things.
Mewis: On a day off, I like to sleep in, have coffee at home, and read or watch TV for the morning. Just have a lazy morning. Then I'd take [my dog] Finn on a walk in Loose Park. It's this big, huge green space—I think one of the biggest parks in Missouri—and it's right down the street.
Kansas City has taken some getting used to for Finn, with the new apartment, and he's still a little bit frazzled when we leave him, but he's good. There are so many dogs on the team that he always has somebody to play with, so that's been really nice.
Williams: I [also] like sleeping in—I'm a huge sleep fan. Then, I'd order First Watch. Sam has put me onto their French toast and million dollar bacon. I like getting coffee from Messenger. The one downtown has a rooftop seating situation, so I'd go there with friends and have a huge cinnamon roll, an oat-milk latte, and maybe a cold-pressed juice. Yes—two breakfasts. Don't be ridiculous.
Mewis: After, I'd go out to lunch, maybe have a little glass of wine at CaVa in the afternoon. It's this little wine bar with an outdoor patio where Finn is allowed. They have really cool different wines—I think a lot of them are sparkling—and I usually sit outside and get French fries and wine. It's the cutest little bar ever.
Coming to Kansas City, I was very quickly told about the barbecue, but I haven't ventured into that as much as I think people would have expected. I've tried a couple places, and I definitely have a few more on the list.
Williams: We don't have a favorite barbecue joint yet, which is terrible, I know. I hear we need to go to Joe's. So, maybe I'll be taking myself to Joe's for lunch. One thing I know for sure is that I'd go to Bar K, which is a dog bar, to watch all the dogs run around and have a good time.
Mewis: Bar K is incredible. Finn loves it just as much as I do—it's the coolest place ever. When I heard about it, I was like, "Okay, sick, a dog park with a bar." And then I got there and I was blown away. It's such an awesome space, and so well thought out.
Williams: I do not have a dog, but you don't need a dog to go, you can just watch everybody else's dogs, and everybody's so nice. I'm an auntie to Finn, and for the moment, I'm going to have to live off of that.
"Anywhere you go, you can make it your home, as long as you have good people around you and are willing to explore new things."
Paradise Garden Club | Courtesy of Paradise Garden Club
Hitting the links, and other post-lunch adventures
Williams: I've been big into crocheting these days, so I try to fit in some "me time" at home most afternoons I'm free. If not, we might go to Topgolf in Overland Park or out to Swope's driving range.
Mewis: I'm trying to get into golf, yes. I'm limiting my time because of my injury, obviously, but we've been to the driving range and Topgolf a few times. That's been really fun.
Williams: Something about smacking golf balls is so satisfying. I want to get good enough to do some holes, maybe a nine-hole course. Somebody's going to get hit if I do that right now—it's definitely unsafe. In the meantime, I'll just continue to practice my swing.
Mewis: Oh, and then there's the Iron District, which we rave about on the podcast literally every week. It's this collection of shipping containers with food, shopping, bars, live music. It's honestly just such a cool space, and both times we've gone, I've had a blast. I would love to meet friends there. And I'm dying to go back to Paradise Garden Club, this very hip plant store. I've only been there once, but it's really cool.
Williams: When my mom was here, her and my nephew went to the Negro Leagues Museum, and I was so upset. I was injured and I couldn't walk that well, so they did stuff without me. That's something I'd really like to check out.
"It's this collection of shipping containers with food, shopping, bars, live music. It's honestly just such a cool space, and both times we've gone, I've had a blast."
Corvino | Photo by Zach Bauman for Thrillist
Williams: For dinner, I've gone to three restaurants so far—Fox and Pearl, The Antler Room, and Corvino, and every single one has been amazing. I have yet to find a place I don't like.
Mewis: Corvino is one of the best restaurants here, and it's where my husband Pat works, so obviously that's on my list—I actually just ate there last night in the tasting room with my sister.
About a year ago, when I was getting ready to go to the Olympics, Pat decided to leave his job as an analyst at a tech company in Boston to cook in a restaurant. Food has been a passion his whole life. When COVID happened, it was a moment for him to regroup and consider what he wanted. I'm really proud of him for that. A teammate had a connection at Corvino and helped get him an interview. They also have great live music every night. Pat was telling me they modeled some of the menu and the atmosphere after a Kansas City jazz club.
Williams: If I don't go out, I'll end the day by inviting some friends over for dinner on my patio. There's a store close to us in the Plaza that has all the charcuterie things you could possibly need. I can spend hours there. Every time I go in, I'm like, "Oh no, I'm in trouble." It's called The Better Cheddar.
Mewis: I feel very lucky. When Pat's home, I'll have this incredible gourmet meal made for me. And then the next night, when he's at work, I'll have to scramble together eggs for myself. It's so pathetic. So, ideally, my husband would cook me dinner. We would sit on the patio with Finn, eat, and relax. To be honest, on a truly perfect day off, I think the only time I'd go out would be for the dog.
Places to Eat & Drink
1830 Walnut Street, Kansas City, MO
501 Berkley Parkway, Kansas City, MO
4149 Pennsylvania Avenue, Kansas City, MO
409 Armour Road, North Kansas City, MO
8758 NE 82nd Terrace, Kansas City, MO
1624 Grand Boulevard, Kansas City, MO
2143 Summit Street, Kansas City, MO
2506 Holmes Street, Kansas City, MO
604 W 48th Street, Kansas City, MO
1599 Iron Street, North Kansas City, MO
3002 W 47th Ave, Kansas City, KS
Things to See & Do
1 Sporting Way, Kansas City, KS
1621 Locust Street, Kansas City, MO
10611 Nall Avenue, Overland Park, KS
5200 Wornall Road, Kansas City, MO
6900 Swope Memorial Drive, Kansas City, MO
1616 E 18th St, Kansas City, MO
4706 Broadway Blvd, Kansas City, MO