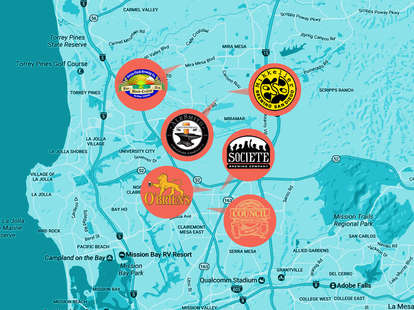 The 5 Best San Diego Brewery Crawls, Mapped
If you're even thinking of being in San Diego, check out the rest of our DestiNATION: San Diego guide. It's stacked with expert advice from locals on what to eat, where to drink, and what to do.
Even if they weren't making some of the best beer known to humanity, the sheer number of craft breweries in San Diego would make it a must-visit city for beer lovers. The easiest term to use here is "buttload," but if you need to get slightly more precise, it's up to 131 (and counting) within county limits. That's fully one-quarter of California's independent breweries, and more than the entire United States had just 30 years ago. To try them all at least once, you'd have to visit two to three breweries every week to get through them all in a year.
While that type of purposeful drinking is a noble goal, obligatory stops can also take some of the fun out of it. Plus, let's face it -- not every brewery in San Diego should be at the top of your list. But there are more than a few to keep you occupied, and luckily there are plenty of pub and brewery tours -- some DIY, some luxury group excursions -- specifically designed to help you hit the hot spots and avoid the dud suds. Visitors and locals alike, take note.
North County
North County is a sprawling suburb of industrial parks and beach towns separated by seemingly endless stretches of depressingly drab freeways and strip malls. Sounds great, right? Well, actually, snuggled betwixt Carl's Jrs. and discount tire stores are some of the best breweries in San Diego (and thus, in the country). Sheer distance between them makes a party bus or other form of guided tour the recommendation here. You might not custom-tailor your tour, but rest assured you'll end your day with incredible beers sloshing around your belly. And if you get tired of enjoying the comfortable, but often repetitive tasting room architecture, hit up the fried fare at Churchill's Pub & Grille, a British-style institution in San Marcos.
Must-see breweries:Stone Brewing World Bistro & Gardens (Escondido), The Lost Abbey/Port Brewing (San Marcos), Toolbox Brewing Company (Vista), Abnormal Beer Company (Rancho Bernardo), and Rip Current Brewing (San Marcos).
If you're extra thirsty:Karl Strauss Brewing Company (Carlsbad), Bagby Beer Company (Oceanside), Pizza Port Brewing Company and bottle shop (Carlsbad), Mother Earth Brewing Company (Vista), and Belching Beaver Brewing Company (Vista).
Tours & pricing: Starting at $89 per person, Scavengers offers a North County safari-style ride for up to 12 people that includes three breweries, beer samples at each stop, a BBQ lunch, and a tasting glass. You can choose from three pre-planned routes or request a custom route, and they proudly proclaim that every excursion is headed by an "authentic 'beer geek' tour guide." San Diego Brew Tours offers a "North County IPA Brewery Route" and a "Surfrider Brewery Route," which seems to be the more scenic and slightly more legit set of brewery options, but is limited to groups of eight people.
If you want a private tour, scope out Brewery Tours of San Diego or Brew Hop. You'll get maximum control over the budget (starting at $75 a person) and direction of your North County binge.
North Park/South Park
North Park is hands-down the best beer neighborhood in the city. It's walkable, bikeable, and perfect for the DIY drinker who wants to experience the best of San Diego beer without an itinerary, with plenty of restaurants and small shops for detours.
Known as "The best beer street in America," 30th St runs from Adams Ave in Normal Heights, through North Park and South Park, and down into Golden Hill. Serious drinkers will want to focus on the 1.5-mile stretch between Adams Ave and Upas St. Stroll from Fall Brewing to Toronado in minutes, or branch off at 30th and University Ave to visit North Park Beer Company for a pint of the award-winning Hop-Fu! IPA.
Must-see breweries & pubs:Fall Brewing Company (North Park), Modern Times (North Park), Toronado (North Park), Hamilton's Tavern (South Park), North Park Beer Company (North Park), Blind Lady Ale House (Normal Heights), and ChuckAlek Biergarten (North Park).
If you're extra thirsty:Tiger!Tiger! (North Park), Hess Brewing (North Park), Bottlecraft (North Park), and South Park Brewing Company (South Park).
Tours & pricing: If walking isn't your style or you have a larger group, Social Cycle is a party bike pub crawl that irritates motorists but seems to delight buzzed riders as they lazily pedal their way from brewery to brewery. The 16-passenger "party on wheels" offers tours in various parts of the city (including North Park) and starts at $185 an hour, with a two-hour minimum.
For more curation, find the third Wednesday San Diego DrinkAbout, a seven-year-strong (free!) guided beer bus tour from 7pm to 11:30pm among a mix of dive bars and taverns that boast some of the city's best tap lists. For a slightly less sideways experience, the South Park Walkabout is a quarterly tradition that provides a great way for locals and visitors to enjoy South Park's best restaurants and bars with a late-night camaraderie (also free).
Tijuana/South San Diego
Don't be scurred to go south of the border -- you'll be rewarded with some of the most vibrant beers in the region. Plus, southern San Diego and the accompanying border towns of Mexico often blend food and drink excursions, so why settle for just beer? Try SALUD! in Barrio Logan for Mexican/American-style tacos or stop by Telefonica Gastro Park in Tijuana for authentic Mexican sustenance between brewery hopping.
Must-see breweries & pubs:Cervecería Insurgente (Tijuana), Coronado Brewing Company (Imperial Beach), Mamut Brewery (Tijuana), Border X Brewing (Barrio Logan), and Machete Beer House (National City).
If you're extra thirsty: Third Avenue Alehouse (Chula Vista), El Tigre (Tijuana), Iron Fist Brewing (Barrio Logan), and Border Psycho Brewery (Tijuana).
Tours & pricing: You like your adventures half-planned, half seat-of-your-pants? Book a tour through Baja California with Turista Libre, starting at $65 a head. You're guaranteed the stops listed on the tour (which are updated occasionally), but the American expat running the tour group will gauge the group's willingness to stray off the beaten path for extra stops (and thus, extra who-knows-what). Let's Go Clandestino offers similarly guided packages for beer and wine tours with a slightly more elevated feel, as well as customizable private tours across Baja that start at around $100 per person and go up from there.
Club Tengo Hambre offers the best Tijuana food and beer combo tour that starts at $75; with three food stops, three craft brewery stops, and a mezcal service on your private bus, it's a pretty incredible deal. Finally, any brewery stop this side of the border -- especially those in Barrio Logan and National City -- are easy Uber/Lyft rides from Downtown (but you probably won't want to try to hoof it from there).
Miramar and Mid-County
Ah, Beeramar. The heart of San Diego also happens to be the heart of craft beer country. This central region, convenient to virtually everyone in the county, is home to some of the best breweries in the city. You can get a beer bus tour or do it yourself, but a day in Miramar will yield excellent results for the serious beer tourist. A word of caution -- it also happens to be home to some of the controversially owned "sellout" breweries like Saint Archer and Ballast Point, so if you want to stay true to "craft" beer, do your research before embarking on your beer exodus.
Must-see breweries & pubs:AleSmith Brewing Company (Miramar), Mikkeller San Diego (Miramar), Societe Brewing Company (Kearny Mesa), Green Flash /Cellar 3 (Mira Mesa/Poway), O'Brien's Pub (Kearny Mesa), and Council Brewing Company (Kearny Mesa).
If you're extra thirsty:White Labs (Miramar), Common Theory Public House (Kearny Mesa), and New English Brewing Company (Sorrento Valley).
Tours & pricing: Starting at $75, Brewery Tours of San Diego has a three-brewery tour option with stops at Ballast Point Scripps Ranch, Green Flash, and AleSmith that includes flights, a behind-the-scenes brewhouse tour, lunch at Green Flash's Gastro Truck, and a souvenir glass. This is a good option for the aspiring beer enthusiast, but San Diego Brew Tours' private tours are a better option for those looking to personalize their route with a small group. Starts at $45 per person.
Complete DIY
Pretty much anywhere you go in San Diego has at least one craft brewery or taproom to try. Hardcore beer nerds will probably want to make the journey to Alpine Beer Company for a pint of fresh Nelson (don't bother calling it Gelson -- get over it already) and a plate of BBQ, but there are plenty of places along the coast and Downtown that are worth a visit.
For those looking to get a little wild, head to Pacific Beach or Ocean Beach for a true-blue pub crawl between places like Barrel Republic, Culture Brewing Co., Helm's Brewing, Amplified Ale Works, and more. Just leave enough juice on your phone to hail a car home afterward.
Downtown is home to plenty of cocktail-forward options: the not-so-secret Noble Experiment, Tiki concept False Idol, whiskey-centric Aero Club, and the painfully hip lounge El Dorado. But there's no shortage of beer to be had as well. Head to Monkey Paw Pub & Brewery for the best cheesesteak and craft beer combo in town, or flip a coin between Karl Strauss Little Italy and Quad Ale House for a slightly elevated take on San Diego's food and drink pairing scene.
If all of this sounds overwhelming, here's the easiest tour in town. During baseball season you can head to Petco Park, where beers from at least 15 different breweries will complement your afternoon cheering on the Padres. They'll sell you a cup of macrobrew as well. But when you're here, why drink anything less than true, independent, local craft beer?
Sign up here for our daily Thrillist email, and get your fix of the best in food/drink/fun.
Beth Demmon is a San Diego-based food + drink writer who loves craft beer and motorcycles (not necessarily enjoyed together). View her work at bethdemmon.com or follow her on Instagram at @thedelightedbite.