La Jolla Shores

| Flickr/Seth Rader
La Jolla Shores

| Flickr/Seth Rader
If you're even thinking of being in San Diego, check out the rest of our DestiNATION: San Diego guide. It's stacked with expert advice from locals on what to eat, where to drink, and what to do.
San Diego was built for surfing, and vice versa. Year-round gentle weather, consistent waves, warm water, beautiful people -- if you're not a surfer when you get here, you should be by the time you leave. Whether you're Laird Hamilton or a pasty Midwesterner swinging through for Comic-Con, you have to get onto a board while in town.
From the forgiving waves of Pacific Beach to the board-breaking La Jolla reefs, this area has produced some of surfing's most storied legends. La Jolla local Butch Van Artsdalen was the first master of Hawaii's famous Pipeline. His buddy Mike Hynson, a member of the world-famous Windansea Surf Club, was featured in the cult classic The Endless Summer. We've given the world design breakthroughs like the "Fish"-style surfboard first shaped by Point Loma resident Steve Lis and christened in the waters at Sunset Cliffs in 1967.
As for the surf itself? Some of the best breaks in the country. And believe it or not, we're a friendly bunch in San Diego, glad to share. Chat up the locals, ask us a few questions. Or take some of the knowledge I developed over three decades of surfing here to better help you explore these fine beaches. Just don't tell anyone I told you.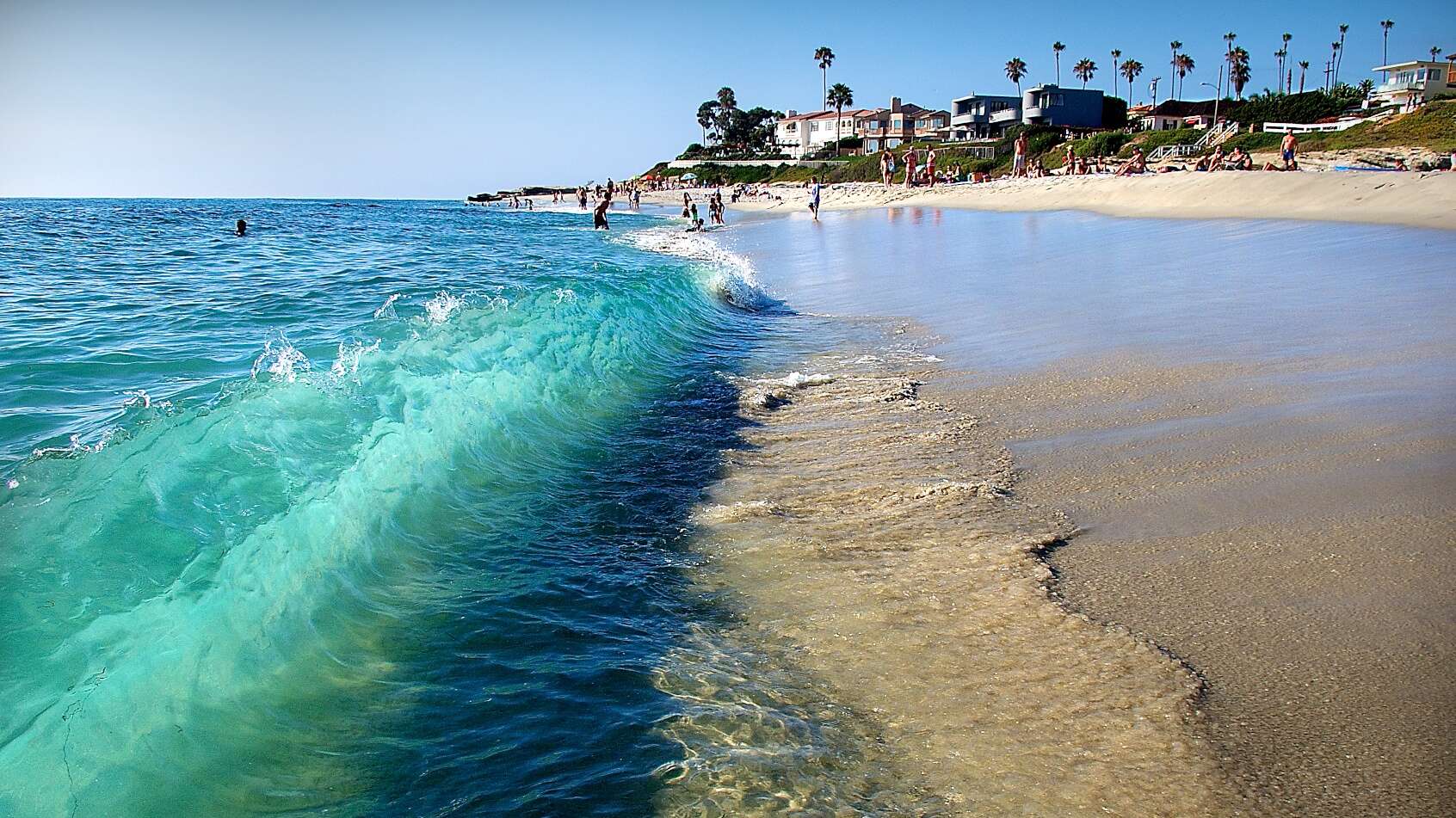 La Jolla/Windansea
Experience level: Intermediate/advanced only
Best seasons to go: Summer and fall
When you're talking San Diego surf, La Jolla -- literally, the Jewel -- is the star of the show. As such, it demands care. With the days of wild beach parties, vandalism, and riots now behind us, the area remains steeped in lore and tradition. As a kid growing up on these beaches, I was taught to respect the locals from the jump. The parking lot at Windansea was, and still is, packed with scrutinizing older locals -- and, today, with their kids, who hold down the lineup to make sure they get the best waves.
The wave itself breaks far off the beach. It packs a surprising wallop, and every year seriously injures dozens of people. Both the quality and the danger make locals quick to sniff out beginners and kooks, so if that sums up your ability, maybe give this one a pass. If you're already a skilled surfer, you'll have a great time on this south swell magnet that produces rippable waves year-round.
If you're not surfing, this is still the finest beach in town. By all means, visit for the rock caves, the tide pools, and the beautiful, scantily clad people who flock to this beach in the summer months. And if you only want to watch surfing, this is your spot. The bluffs that overlook the tight surf zone create something like a natural arena, giving you a better vantage than you'd have on a flat beach. On busy days, it's the best free show in town.
Local tip: Check out El Pescador Fish Market or Verdes El Ranchero for post-surf food and cocktails.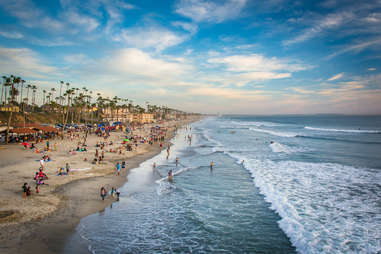 Oceanside
Experience level: Beginner/intermediate
Best season to go: Summer
A sensational spot for the novice. During the summer months, south swells wrap into the beaches on shifting sandbars, offering everything from playful waves to double overhead dumping barrels. But the best reason to hang around this one-time military area? It's by far the coolest beach community in our city, it's a working man's beach town. The salt-of-the-earth local surfers are likely to be musicians, skaters, and fishermen. They don't accept everyone at first, but once you make a friend, you'll find they're the real deal.
Surfers run some of the exciting restaurants popping up, like the Beach Break Cafe and The Privateer. If you want to get to know more about the surf spots in town, you can strike up a conversation with one of the friendly owners over a cup of coffee.
Local tip: Check out Captain's Helm for killer clothing and surf accessories and have a coffee at its amazing coffee cart, Captain's Grounds. You won't be disappointed.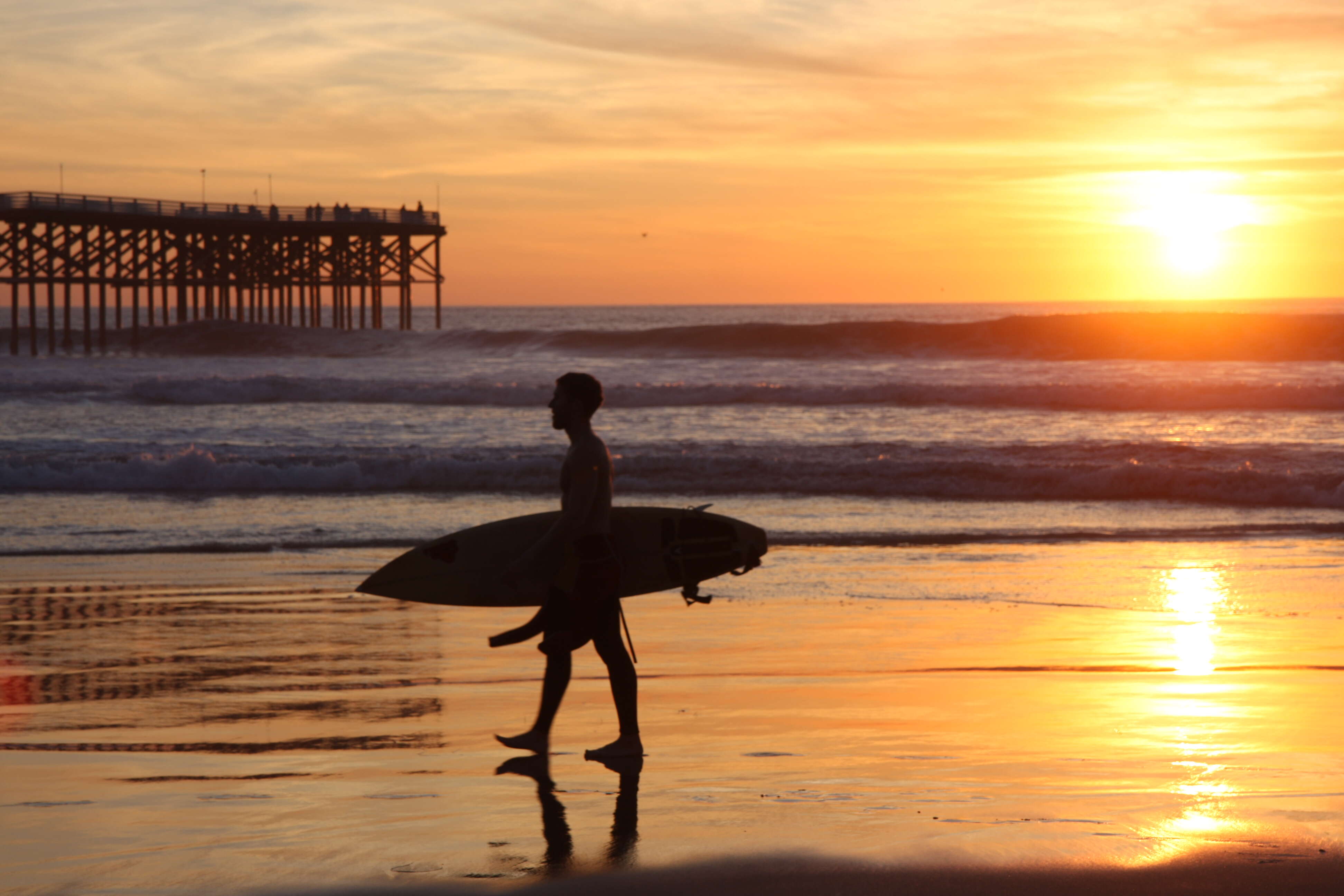 Pacific Beach
Experience level: Beginner/intermediate
Best seasons to go: All year
This is where I grew up and learned to surf back in the '80s, a glorious time to be a surfer in this town. The beaches were uncrowded, as surfing had yet to become a trend. We even had our own resident surfing legend, Skip Frye, a pillar of the sport who still surfs Tourmaline Surfing Park every day. Yes, PB as it's known, has a surfing park that none other than Richard Nixon dedicated to the city. The spot is a mecca for beginners as the wave breaks soft and mushy, perfect for kids and adults to learn on. There's even parking and bathrooms. It's the perfect place to catch your first waves.
Just down the beach to the south is Crystal Pier, which has bigger and more lined-up waves that break off the end of the pilings. If you want to stay somewhere cool, you can rent a cottage on the pier and sleep over the crashing waves.
Once a sleepy little beach town, PB has morphed into a full-on college party town, with bars and tattoo parlors dotting the main strip, Garnet Ave. Longtime residents slowly moved from the area as apartment buildings went up. PB now feels run by temporary out-of-towners who ignore the history of the area. Maybe I'm just a salty old bastard, but that stuff matters to me. If you're 21, this will seem like heaven on Earth. If you're over 40, you just might leave and never come back.
Local tip: Eat at Kono's Cafe at the foot of Garnet Ave for a great breakfast overlooking the ocean. Check out Pacific Drive Skateboard Shop, one of the nation's most legendary skate shops.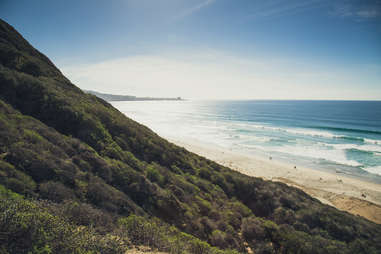 La Jolla/Black's Beach
Experience level: Intermediate/advanced only
Best seasons to go: All year
Even among La Jolla's dozens of world-class spots, Black's Beach is a cut above. Roughly perpendicular to the towering cliffs lies the undersea Scripps Canyon, a gorge that drops quickly to 120 deep and, further out, wanders to depths of 1,600ft. Waves coming in through the gorge bend and shift as they hit the shallow sandbars. Black's has many faces, from fun, high-performance peaks to scary "canyon" sets that break up to 25ft. It's unpredictable, though, and not recommended to anyone who's not a strong surfer or swimmer.
For as good as the surfing is, Black's is most famous as a nude beach. Take note, though, that the people most likely to be wearing the least clothes tend to be old men playing volleyball. While that image sets in, let me put it to you this way: In 30 years of surfing there, I've only seen hot babes laying out a couple of times. Maybe it has to do with the aforementioned old, naked men standing around everywhere. Anyway, leave the kids at home for this day trip.
Local tip: Park at the Torrey Pines Gliderport and take the groomed trail down the cliff. Avoid other trails, as they often leave people stranded on the steep cliffs. Pack a bag with plenty of water -- there are no amenities on the beach.
Lower Trestles
Experience level: Intermediate/advanced
Best seasons to go: All year
Lowers, as it's known, is one of the world's most high-profile and high-performance waves. It has been making California legends since the '70s, and 11-time world champion Kelly Slater calls it his favorite wave. While Lowers sits in the upper corner of the county, closer to San Clemente than San Diego, it's still on our side of the county line, so I'm claiming it.
Its only drawback is the insanely competitive crowd it draws -- more than 100 surfers on a good day. If you're not into crowds or jockeying for waves, leave this one off your to-do list. Instead head to one of the dozens of other fine waves around Lowers. When going, park up by the Carl's Jr. and walk under the freeway and down the path to the Train Trestle. Go South for Lowers or straight out for Upper Trestles and Cottons, both exceptionally fun waves with way more mellow crowds.
Local tip: Bring a skateboard or a bike to make transport faster. After surfing, drive up the road a couple minutes and try the world's best hamburger (I swear!) at The Riders Club.
La Jolla/the Shores
Experience level: Beginner/intermediate
Best seasons to go: All year
La Jolla Shores sits at the end of the 52 freeway, so all parts of San Diego dump right into the Shores, making it great for people-watching. Cowboys, gang members, bikers, surfers -- they all sun themselves on this vast beach where all styles are welcome. The beach access at the Shores is also the hub for a kayak tourism business that takes people on tours of the local waters and sea caves by La Jolla Cove. On busy days, it looks like a flotilla of pasty white tourists trying to invade the local beaches.
The surf on this stretch is perfect for learning and there are at least a half-dozen surf schools in the area where you can get a lesson and learn the rules the right way. One thing I will tell you is: Don't pick your feet up when walking in the water -- shuffle your feet along the ocean floor instead. This is the stingray capital of San Diego, and bathers step down on rays' stingers every day in the summer. It hurts. A lot.
While you're doing the stingray shuffle, watch for a far more pleasant annual ritual. At the end of the summer, pregnant leopard sharks flock to the warm waters to gestate their young. Don't be alarmed: They're docile and safe to swim around so long as you don't antagonize them. Keep very still and they might glide right over to you, 4ft-long and spotted. The kids'll love it.
Local tip: At lunch, head to Rimel's for the best surf-influenced burritos and bowls you've ever had. For breakfast, check out the legendary Harry's Coffee Shop. For all your surf needs, go to Mitch's Surf Shop. Mitch has been getting surfers dialed in since 1967.
Sunset Cliffs
Experience level: Advanced/locals only
Best season to go: Don't
Sorry, bud, I can't talk specifics here. Growing up in this town, you just don't talk about some things, and this beautiful set of breaks is one of them. It's our last great area of underdeveloped coastline. Unfortunately, a damn college sits right above the area. Kids paddle out thinking they've discovered a new spot and often don't take time to learn the breaks, etiquette, and personalities that dictate whether you will have a good experience. This has caused the vibe in the water to sour over the years and outsiders are judged quick by surfboard logos, wetsuit colors, and style.
If you're not a good surfer, don't even think about it -- stay at the city beaches and avoid the reefs until you get well into the intermediate stage. And then, if you do find your way to Sunset Cliffs, tread lightly and leave your 'sups? at home. This is an area where localism still thrives and kooks won't be tolerated. The kids who grow up here are taught early to keep the tradition alive, so be cool to all age groups. You never know whose dad can ruin your day.
Local tip: If you get chased off, go to Point Loma Seafoods for some of the freshest fish in San Diego. Try the smoked fish on sourdough with fries and beer. Or for an evening of great music, check out the Casbah just east of Point Loma, by the airport. Bands like Nirvana, The White Stripes, and Ben Harper have taken the stage at this legendary club.
Sign up here for our daily Thrillist email, and get your fix of the best in food/drink/fun.
Lifelong surfer Ken Lewis learned the action sports world by spending 30 years in the surf and skateboard industries. On Instagram he's @Hanger18.