The Coolest Small Town in Texas Is Building a Better Austin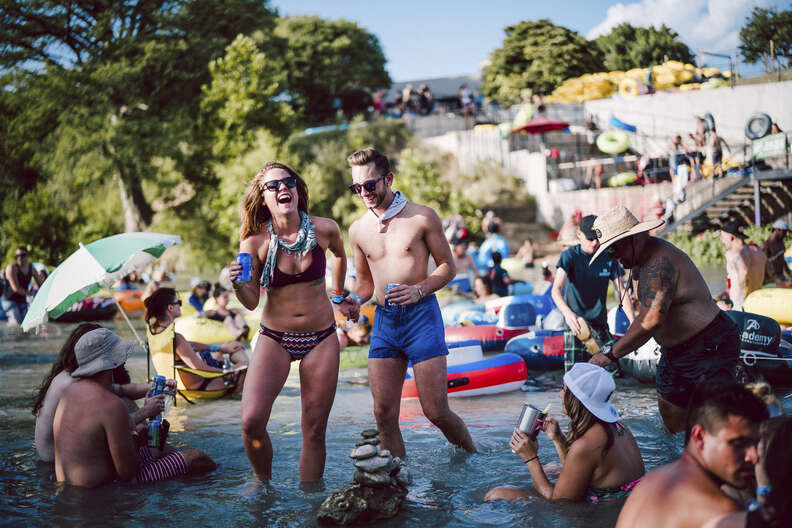 San Marcos River's headwaters

| Chad Wadsworth
San Marcos River's headwaters

| Chad Wadsworth
There's this city in Texas everyone wants to move to. You can wander its main strip on any given night and hear live blues or country or reggae wafting out of the dive bars. It's full of college kids and artsy types; also, a deeply tanned man named Sun God who dances in front of the courthouse every Monday morning. It's been called the most hippie town in Texas, and boasts some of the best dang barbecue in the world.
Thirty years ago, this all fit Austin to a capital T -- until the city's tech boom and widely acclaimed radness upped prices, slowed traffic, and raised highrises in the Texas capital. Austin is still 100% a fantastic place to live and visit, but the artists, musicians, eccentrics, and independent businesses that kept Austin weird are increasingly being priced out.
Many are heading south to San Marcos, a small Hill Country college town with a music scene and special brand of weirdness all its own. With near year-round sunshine and a crystal-clear river, it also happens to be a top destination for the ultimate summer pastime: floating downriver in a tube, holding a cold beer. When the summer heats up, Barton Springs be damned, San Marcos is the best place to keep cool.
The San Marcos River's headwaters, found on the Texas State University campus, are fed by an underground spring. This keeps the always 72-degree water at absurd Turks & Caicos levels of clear and clean. When the blistering Texas heat hits triple digits, people show up in droves for a float.
On summer weekends you'll spy a happy mix of hippie beards and cowboy hats and tattoo sleeves on the river. Children splash amiably alongside Lone Star-slugging college kids who store their empties in floating coolers. Not a single person looks like they're having anything less than the best day of their lives as they lazily loll from sun to shade, and down the occasional rapid.
If you want to get in on the tubing action -- or, inaction, as really there's not much involved beyond the occasional reapplication of sunscreen -- a couple of spots in town offer cheap tube rentals and great access to the river. The Lions Club will shuttle you from City Park for an hour-long trip that ends with a little waterfall. For a longer float, Texas State Tubes organizes three-hour trips, and will even drive folks down from Austin. (San Marcos is just 45 minutes away, per Google, but anyone who's ever driven down I-35 will take that with a grain of salt.)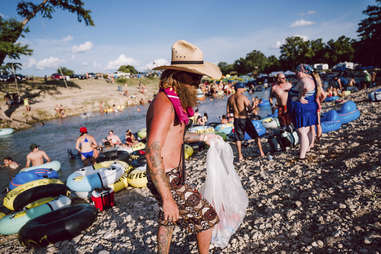 An even better idea is to come to San Marcos for Float Fest -- a two-day outdoor music extravaganza this July 21 and 22. Headliners this year include Tame Impala, Modest Mouse, Snoop Dogg, and Bassnectar. In addition to camping for the duration of the fest, the 20,000 attendees can float the San Marcos River for what will surely shape up to be the summer's wettest, wildest (read: shit-showiest, sun-burniest) river party.
My time on the San Marcos River was a tad more serene. I headed out at night, kayaking past oak trees under a flood of Texas moonlight accompanied by Jude Prather, a veterans services officer in Hays County. "This is the cream of the state: It's where everyone in Texas wants to be," he gushed about San Marcos, with a heavy dose of unapologetic Texas boasting. "It's the Hill Country, the music, the natural beauty. It's why we call it San Marvelous."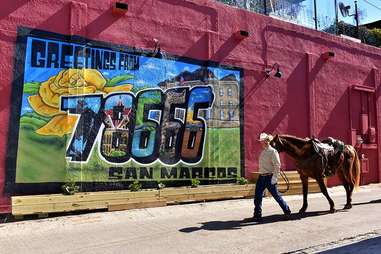 The best of the Texas Hill Country, without the Austin prices
San Marcos sits smack in the heart of the Texas Hill Country, a seemingly endless landscape of gentle rolling hills, wide open spaces, wildflowers, and green trees. It's the pretty Texas you see in Westerns, where big blue skies give way to meticulously planted crops and expansive ranches. More than 50 wineries dot the region, with a Texas Wine Trail that'll take you through them all.
But let's be honest, it's not just the refreshing river and rolling Hill Country setting that entice people to San Marcos; Austin has all that stuff, and the Greenbelt to boot. The secret might lie in the relative affordability.
The median home price in San Marcos is about $267,000, compared to $400,000 in Austin. Rent for a two-bedroom apartment in San Marcos is $1,169 -- Austin costs nearly that much for a studio. Austin's aren't exactly Manhattan prices, but enough to drive away artists and musicians.
30 miles down the road from the Live Music Capital of World, musicians can actually afford to play music.
Case in point is Jim Talbot, lead singer of Jimmy T and the Teardrops. Before a gig at Desiderata in nearby Lockhart, the tanned, long-silver-haired musician leaned over a whiskey and Coke at 4 in the afternoon and explained to me how he ended up in Hays County.
"Back in the days, Austin was just a little college town. The vibe was mellow, the rent was cheap, you could pursue music there," Talbot said in a raspy drawl. "But a lot of musicians can't afford to live in Austin now, so the music scene here is wide open. There's more competition, and it makes you hone your craft."
Thirty miles down the road from the Live Music Capital of World, musicians can actually afford to play music, tapping into the legacy of greats like George Strait and Stevie Ray Vaughan who both got their start in the area. The result is a burgeoning music scene on The Square, San Marcos' nightlife district where bars and venues surround the historic center of the city. Even on a Monday, you can stroll from the Green Parrot to Kiva to the Stonewall Warehouse and watch live bands on par with what you'd see in Austin or Nashville, a bass-and-guitar soundtrack laid under the clamber of young professionals and college students.
A creative culture that's luring artists, students, and businesses
From 2013 to 2015, San Marcos was the fastest growing city in America; the population has increased more than 30% since 2010. The university has been instrumental in that growth. Texas State has about 38,000 students, a pierced and progressive bunch taking advantage of an award-winning fine arts program, filling cafes like Tantra Coffee and dives like Zelicks Ice House (whose cut-the-crap signage accurately identifies it as a "badass outdoor hangout"). It's a low-key college vibe that hasn't reached Austin-levels of obnoxious -- like, there's no Urban Outfitters, just a young creative culture and a community that celebrates the arts.
"There's a real interest to have not just a great economy, but a creative economy," Mayor John Thomaides told me over breakfast at Blue Dahlia, one of several Austin originals that have found profitable pastures in San Marcos. "We're very welcoming of that diversity and creativity."
The city has, for example, begun commissioning artists to paint murals in downtown spaces. Ramon Alvarez painted a giant likeness of The Dude from The Big Lebowski in 2015. A saluting sailor adorns another Downtown brick wall, while a yellow rose and historic home act as background to a message welcoming visitors to Zip code 78666. The art isn't overwhelming or obvious, though -- tagging along for the monthly art and wine walks is a good way to see the highlights.
"We're very mindful of some of the mistakes Austin made along the way, and vow not to repeat those."
Business owners and entrepreneurs are coming to San Marcos for the low cost of living and favorable tax rates; and recently discharged veterans are drawn by an ordinance that covers their utility bills. Urban Mining Company is also moving its corporate headquarters here, bringing engineers and an army of tech workers.
But unlike Austin, where a lack of infrastructure and a shortage of housing have made the city expensive and traffic-clogged, San Marcos is planning for responsible growth.
"There's a real interesting vibe here that reminds a lot of people of Austin 20 or 30 years ago," Mayor Thomaides told me, "but we're very mindful of some of the mistakes Austin made along the way, and vow not to repeat those."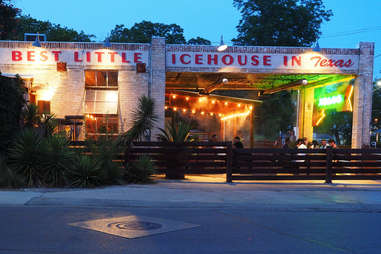 Over the past decade, Hays County has invested half a billion dollars into roads. Most of them are lightly trafficked now, but the city expects to nearly double in population by 2030. Texas State Highway 130 -- aka the Pickle Parkway -- is a toll road that moves commuters through the region with Texas-sized speed limits of 80-85 mph. Both Austin and San Antonio are within easy reach, making San Marcos an attractive midpoint for logistics-heavy corporations. To wit: Amazon, Best Buy, and Urban Mining Company have all opened major operations here, thanks in large part to infrastructure that has prepared for the future.
And while highways and corporations might not be sexy, they're the backbone a creative city needs if it's going to make itself viable -- and, hell, maybe even keep itself weird.
"You can forget the Texas stereotype here," says Mayor Thomaides. "Austin has led the way, and San Antonio has a great culture that's unique in the country. We take a little of both from those two cultures and add in our own bit of Texas. And I think we've created something great."
Sign up here for our daily Thrillist email and subscribe here for our YouTube channel to get your fix of the best in food/drink/fun.
Matt Meltzer is a contributing writer to Thrillist who's still working off that brisket. Follow him on Instagram @meltrez1.