In Northern Italy, It's Santa Lucia, Not Santa Claus, Who Steals the Show
Each winter, this blinded martyr—who delivers candy and presents in the wee hours of December 13—has Verona's children on the edge of their seats.
Verona's Christmas markets are stocked with toys, themed decorations, and, most importantly, candy.

| Marco Secchi/Getty Images
Verona's Christmas markets are stocked with toys, themed decorations, and, most importantly, candy.

| Marco Secchi/Getty Images
When Eleonora Lonardi, born and raised in Verona, Italy, looks back on her childhood memories of Santa Lucia, she does so fondly and with genuine happiness. But when she was a little kid, it was a very different story.
"Santa Claus is like your chubby grandfather who bears gifts and comes down the chimney," she says of the Christmas icon. "The tale of Santa Claus always put me at ease—Santa Lucia made me anxious."
Santa Lucia, however, might bristle at these words. Because here, Santa Claus isn't the main character—it's Santa Lucia. In Verona, the Roman Catholic saint's job is essentially the same as Santa's: bestowing gifts and pieces of sweet candy upon Verona's children, who, every year starting in mid-November, frantically prepare for her arrival.
On the night of December 12, as the custom dictates, local children leave milk and cookies out for Santa Lucia, her donkey, and her helper, Castaldo, hoping to provide a moment of respite for the pair during their busiest night of the year. In exchange, the kids awaken to a neat pile of highly coveted presents. Just like the jolly man's young disciples, only the nice kids get rewarded—but while Santa Lucia can't exactly keep watch like her counterpart, she definitely knows if you've been bad or good.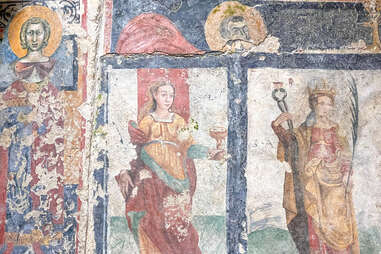 The legend begins in the 13th century, when a strange eye plague had the city of Verona on its knees. Out of options, the citizens turned to Santa Lucia—a saint who lost both her eyes as part of her martyrdom—to ask for mercy. According to the story, young people were particularly affected by the disease, and so it was decided that a child pilgrimage to the Church of Sant'Agnese—now the site of Verona's town hall—was in order.
But it was winter, cold and unforgiving, and naturally, the kids didn't want to go. "Walking In that weather? Absolutely not," they pleaded. Worried that their children would skip out on the blessings of health and good vision if they didn't buck up and brave the elements, Verona's parents decided to change tactics. The new plan? Bribery. "If you join us on the pilgrimage, you'll get candy and toys as soon as we're home," they said. "All courtesy of Santa Lucia."
Over the years, the tradition planted roots in the town. And as it so often goes, narrative twists were added and rules were adjusted along the way. Today, the people of Verona might all tell you slightly different Santa Lucia origin stories, each molded by their own family lore. "I have to be honest," says Lonardi, wrinkling her nose. "I heard a few bits of this tale here and there, but I don't think it's tradition to tell kids about the pilgrimage."
Instead, what was passed down to her was a bit more sinister—not entirely unexpected given that most representations of the saint depict her holding a dish containing her gouged-out eyeballs. "We were told that Santa Lucia was a Madonna-like figure, blind, and a holy protector of the eyes," Lonardi explains. "And if you tried to peek at her on the night she bears gifts, she'd throw sand in your eyes and you'd become blind, too."
No matter the specifics, there's no denying that in Verona, the two weeks leading up to Santa Lucia's annual visit buzz with a certain kind of magic. As the clouds descend upon the foggy gates of winter, Santa Lucia's growing aura begins to feel almost palpable. The Piazza Bra transforms into a lively open-air market featuring decorations, sweets, and toys, just like a Christmas market. As Silvia Zerbini, another Verona resident and a self-declared Santa Lucia superfan, notes, the town square takeover marks the start of the holiday season, a time when her beloved Verona "goes crazy" with decorations, street fairs, and twinkling light displays.
Area families also get in on the action, staging little rituals to keep the children on their toes. Inside the houses, bells ring out at random times, queuing unannounced candy drops. If a kid hears those bells, it means they're on track—Santa Lucia is happy and presents are imminent.
Some get even more creative with the anticipatory festivities. Zerbini still remembers her aunt dressing up as the iconic saint, complete with a white dress and white gloves. Like an angelic apparition, the embodied Santa Lucia presented herself to Zerbini and her sisters by gracefully walking across the glass roof that shielded the outdoor laundry area. "We looked up and saw sparkles coming down from her gloves," she recalls. "But you couldn't look her in the eye."
The spirit of Santa Lucia can also be mischievous, even playing silly games. She's been known to stash her gifts at the end of elaborate candy trails, turning hallways and living rooms into edible mazes. In the morning, the children rush out of bed and race to hunt down their prizes.
Of course, not everyone finds gold at the end of the rainbow. Both Lonardi and Zerbini warn that if you don't write Santa Lucia a nice letter detailing your wishes and fail to leave out some sort of snack—every household has its own take on the preferred refreshment—your chances of being rewarded are slim.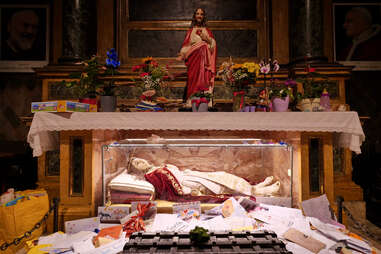 If you abide by Santa Lucia's rules and successfully make it through the year without falling prey to naughtiness, the morning of December 13 is a glorious culmination to all those weeks of suspense—that is, until school starts. Unlike Christmas, Santa Lucia's Day isn't a bank holiday, so children must rush to open as many presents as they can before it's time to head to class. Zerbini remembers bringing one or two of her gifts along with her to flaunt them in front of her classmates. Lonardi, on the other hand, recalls passing the day impatiently, counting down the minutes until she could finally go home and play with her new toys.
Every year, the same cycle repeats, the same roller coaster of emotions whisking the children of Verona away on a thrilling ride. Until time catches up and the ride inevitably stops. As much as they want to keep believing, every single kid is ultimately met with the realization that Santa Lucia, like Santa Claus, is just a fairytale. For some, it might come as a relief—no more antsy expectations, no more sleepless nights. But for most kids, learning the truth is a huge disappointment.
"It's the first big step you make, the first time you learn you're growing up," says Lonardi, a bittersweet edge creeping into her voice. "Personally, I always envied my brother—he was younger than me. He still could believe in Santa Lucia."
Serena Tara is a Staff Writer on the News team at Thrillist. She will beg you not to put pineapple on pizza. Follow her on Twitter and Instagram.