These airlines have the tastiest in-flight meals
Turns out, not all food consumed at 35,000ft has to be disgusting.
According to foodie mag Saveur's new Best In-Flight Dining Awards, some of it's actually quite tasty.
But which airline serves up the most fancified meals at altitude? That would be Singapore Airlines, voted number one by both experts and readers for a menu that includes mouthwatering dishes like nasi lemak (coconut milk-laced rice from Malaysia) and mee goreng, chili-seasoned fried noodles tossed with chicken, beef, or pork. The airline also got props for giving passengers proper stainless steel cutlery, hot towels, and bottomless snacks and drinks -- even Singapore Slings!
Saveur's panel of well-traveled culinary experts also awarded "outstanding" honors to Turkish Airlines, Korean Air, and Virgin Atlantic.
In case you're wondering about US carriers, four received a "notable" mention (which sounds a lot like pat on the back, if you ask us): Virgin America, Delta Airlines, United (which recently overhauled its in-flight dining service), and somehow JetBlue, which doesn't even actually serve free economy meals! Those must be some damn good Terra blue chips.

Anyway, spy the full list of winners below.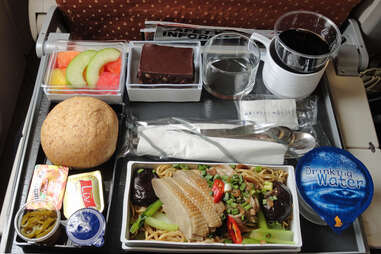 Economy Class

Experts' Choice & Readers' Choice
Singapore Airlines
Outstanding
Turkish Airlines
Korean Air
Virgin Atlantic
Notable
Emirates
Cathay Pacific
Delta Airlines
Air France
Etihad Airways
United
Virgin America
LAN Airlines
British Airways
JetBlue
Business & First Class

Experts' Choice
Emirates
Readers' Choice
Oman Air
Outstanding
Etihad Airways
Delta
Singapore Airlines
Notable
Qatar Airways
Virgin Atlantic
Lufthansa
Korean Air
South African Airways
Thai Airways Royal Silk Class
Air New Zealand
Turkish Airways
Qantas Airways
Virgin America
Chloe Pantazi is an editorial assistant on Thrillist's travel team and the only time she skips dinner is in the air. Follow her at @ChloePantazi.