Torres del Paine, Patagonia, Chile

| kavram/Shutterstock
Torres del Paine, Patagonia, Chile

| kavram/Shutterstock
The Insanely Beautiful South American Country That Blew Me Away
Nearly a year ago, my friends and I decided we were going to go to Chile. None of us had ever been to South America, and while Machu Picchu and Buenos Aires are typically the go-to first-timer spots -- Chile just called to us. Insane mountainous scenery? Check! Bustling, diverse cities? Yep. Wine that flows like water? Oh, God yes.
We made the journey just this month. And somehow, despite the fact that Chile is the longest country in the world (almost as long as the US is wide, to shine some perspective), we assumed we could see the majority of it in a week. Unless you're Superman, or have excellent frequent-flyer miles, that's virtually impossible. So when you do go to Chile -- and you should -- make sure you're hitting at least some of the spots on this list.
(Or all... if you go longer than a week.)
Torres del Paine, Patagonia
Here's the truth: Patagonia is every inch the jaw-dropping beauty it appears to be in all those fleece commercials -- even more so, if anything. And Torres del Paine is the linchpin of the entire operation, holding its ground as one of the most visited national parks in the area. That's primarily because it's jammed up with mountains, valleys, glaciers, lakes, rivers, caves; if it involves nature, and being just stupid pretty, you'll find it here.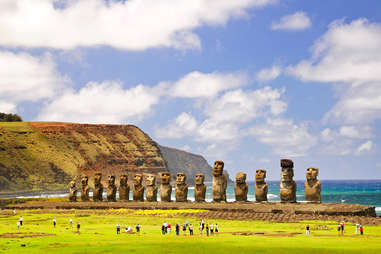 Easter Island
Oh Easter Island, I hardly knew thee. And that's because I never did see you in person. Don't let that be you! Aside from Patagonia, this is the quintessential place to visit in Chile; those 887 monumental statues on the island got their own emoji for Pete's sake. Just be fair warned it will take you some time to get there… given that it's 1,200 miles from any other civilization.
Valparaiso
Not that I'd dare compare a town in Chile -- or any town for that matter -- to Daytona, but this is the Chilean version of a beach town. Colorful houses line every mountaintop, the Pacific sprawls out beneath every vantage point, and the streets are covered with fantastic art. Which is probably why famed poet Pablo Neruda had a vacation house here. (Side note: You should visit his picturesque mountain home-turned-museum if for nothing else than to give a new, better meaning to #LifeOfPablo.)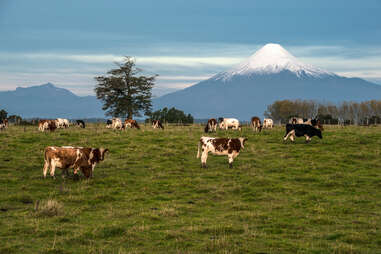 Osorno volcano
In the Los Lagos region, towering over two lakes, lies this active volcano in the Southern Chilean Andes. Sure, it hasn't erupted since 1869 -- but dammit, it could!
Santiago
There's a place in the Chilean capital called Cerro San Cristóbal. After you hike or ride a very scary, rickety trolley to the summit there, you can see the entire city of Santiago in all its surrounded-by-the-snow-capped-Andes glory. It's also the city's largest public park, and doubles as a sanctuary reflection area -- and, while not official, we're guessing it's the biggest place for selfies in this entire sprawling metropolis.
Cerro Torre peak, Los Glaciares National Park
It's right on the border of Argentina and Chile. The tallest of the four-tier mountain chain. Always has a chilled, icy rim. In other words, Cerro Torre peak has a lot to brag about, is a sight to be seen -- and, unless you're a trained professional, alas, probably not to be scaled.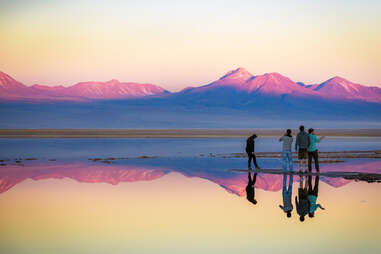 Atacama Desert
When people say something looks like the end of the world, they mean something that looks like the Atacama Desert. It's remote, breathtaking, and its Stranger Things-esque feel makes it borderline haunting. Plus, it's flipping enormous, stretching more than 600 miles from Peru into Chile. And parts of it have never seen a drop of rain. Ever.
The Enchanted Forest of Queulat National Park
You've never met a more aptly named forest. It spans just a little more than a mile of Chile's insanely gorgeous Queulat National Park, but that small space packs a lot of scenery -- draped in whimsical greenery that dangles over crystal-clear glacier lagoons. There could even be actual fairies in there, who knows? I'm going out on a mossy limb to say yes. Yes, there are.
Lake Chungará
Remember the two lakes that the Osorno volcano towers over? This is one of them. It's also one of the most elevated lakes in the world, surrounded by valleys (likely with lots of alpacas grazing on them). The entire thing was formed thousands of years ago by an avalanche -- and suitably that water is still pretty brisk.
Marble caves at General Carrera Lake
This may just be the most breathtaking place on the whole damn list. We can only assume the reason many Chileans know them as the "Marble Cathedral" is because of all the times "oh my God" is spoken upon entering. The caves are made of solid marble, and the glacier water changes its levels regularly depending on the season. Only downside? Getting here isn't exactly a picnic. Think a long plane ride, long car ride, followed by a not-as-long dirt-road car ride -- and finally a boat to get you into the caves. All of which are completely worth it.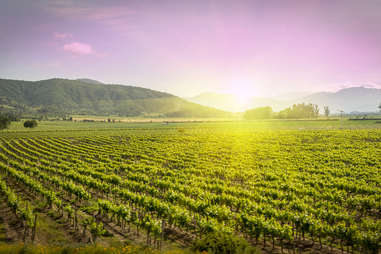 Colchagua Wine Valley
If I'm being 100% honest, I could have spent my entire trip in Colchagua -- and not only for the delicious carmenere (the signature Chilean red that flowed from every winery), though that had a lot to do with it. This entire town is so stunning it's hard to know where to look. The mountains are all covered with grapes, wineries you can bike to (don't miss MontGras, Laura Hartwig, or Lapostolle), and even in the middle of the day, the sunlight always shines like it's magic hour. A trip here means you've officially entered a #NoFilter zone.
Sign up here for our daily Thrillist email, and get your fix of the best in food/drink/fun.
Liz Newman is a contributing writer to Thrillist, and is already planning her trip back to Chile. Follow her on Twitter and Instagram @lizn813.