When it comes to taking in fall colors, trains have infinite advantages: There are no traffic jams. You can gaze wistfully out the window like the lead in a coming-of-age film, or nap peacefully if you so desire. There are open-air viewing cars and, often, bars. Moreover, they allow you to chug through forests and up mountains to get the greatest, most immersive autumnal experience out there. The below railways are offering up unbeatable chances to soak up leaf-peeping season in style—all with safety policies still in place to ensure you're as safe as can be while riding the rails.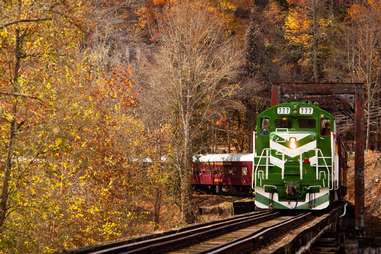 Bryson City, North Carolina
Tickets start at $56
Every year North Carolina puts on a vivid, highly underrated display along the Tuckasegee River shoreline, peppered with buttery gold, burnt sienna, and deep crimson. The Great Smoky Mountain Railroad's 44-mile Nantahala Gorge Excursion is a 4.5-hour voyage into the heart of it all. Snaking along the Nantahala River and across vertiginous trusses, the train stops off at the Nantahala Outdoors Center so you can get a closer, more stationary look. Book the excursion aboard their modern diesel train, or go the purist route and request their vintage steam engine locomotive. There's also a moonshine train and a wine train, if you want to add a little extra excitement to the experience.
Colorado to New Mexico
Tickets start around $122
Movie buffs may recognize this vintage coal-fired steam engine from its big break in 1989's Indiana Jones and the Last Crusade, but it actually dates back to the 1880s. This rolling National Historic Landmark traverses 64 miles, bringing passengers through the Rocky Mountains, along the tapered Toltec Gorge, and across the 10,000-foot Cumbres Pass. The route zigzags past miles of quintessential Western scenery, historical sites, towering mountain peaks, and woodland wildlife. If you want to get in on this year's trip, better act fast: The last train rolls out on October 24. But if you're looking way ahead to next year to travel—and, look, who isn't—it's never too early to book for 2022.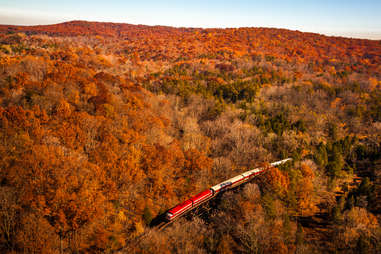 Bardstown, Kentucky
Tickets start around $74
If there's anything Southerners love more than sitting and staring, it's eating while they do it. And you'll eat in style during this 20-mile trip between Bardstown and Limestone Springs in Kentucky's famed Bourbon County. Once aboard, prepare for a gourmet meal served alongside the ever-changing backdrop of Kentucky's fall foliage and postcard-perfect scenery. The train runs year-round, but prospective passengers should still plan ahead—reservations tend to fill up quickly. Speaking of bourbon, it'd be a shame to have that prime rib without some of the brown stuff: Upgrade to a Bourbon Excursion and you'll get your sights and bites with a pairing courtesy of a master distiller.
North Conway, New Hampshire
Tickets start at $20
Any New Englander knows that New Hampshire in October is the epitome of the autumn jaw-dropper, and this coastal stretch serves up some of the most vibrant views this side of the Mississippi. Hop aboard this vintage passenger train and wind through Crawford Notch, an area beloved by adventurists thanks to its staggering bluffs, cascading streams, and panoramic mountain views. Add some fiery maples to the mix and you've got a recipe for an unforgettable train ride. Learn about the historic route and local folklore as you trek along tracks laid nearly 150 years ago.
Clarkdale, Arizona
Tickets start around $99
Chances are Arizona isn't the first place that comes to mind when you think "fall foliage," but don't rule it out. This 1940s-era train has a romantic charm about it, and its Sedona Fall Colors Tour—available in October and November—teems with shades of amber, garnet, and gold. And on the limited-edition Ales on Rails route, which rolls every Thursday to Sunday from late September through the end of October, you can quench your thirst with the railroad's exclusive private label brew or other local craft varieties during your four-hour tour.
Hood River Valley, Oregon
Tickets start at $35
A relatively short but nonetheless stunning excursion, the Mount Hood Railroad's hour-long ride snakes through the Hood River Valley floor. But what a valley floor it is: Hood River is an impossibly cozy town in the middle of the Columbia River Gorge, one of the most beautiful places in the Pacific Northwest. The train ride allows you to peep the foliage as it creeps from the river banks steadily into the snow-peaked Mount Hood. More crucially, after the ride you're in the heart of Oregon's fruit-growing country, and those mountain roads wind up into an endless array of orchards, cideries, and wineries.
Maine to Massachusetts
Tickets start around $60 roundtrip
For more of New England's seasonal splendors, hitch a ride on this route that snakes its way from Brunswick, Maine, down to Boston. It operates year-round but really comes to life in the fall, schlepping passengers through kaleidoscopic panoramic views. It even offers free Wi-Fi so you can 'gram from the tram and document your journey all up and down the coast. The train is also pet friendly, so bring a dog and stay snuggled up the whole way.
Mount Washington, New Hampshire
Tickets start at $876 roundtrip
The best way to climb the highest peak in the Northeast is while sitting. The Washington Cog Railway has been dutifully carrying passengers up and down the mountain for nearly 150 years. A three-hour trip here includes an hour at the summit where you can avail yourself of the observatory, plus panoramic views of five states, two countries, and an ocean (as well as a snack bar). Summit season closes before October's out, but if you missed the boarding call you can tide yourself over with a quick, inspirational preview.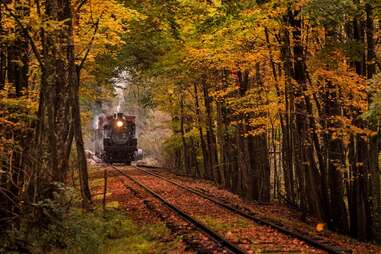 Cass, West Virginia
Tickets start at $45
Despite the astute analysis of Lloyd Christmas and Harry Dunn, John Denver was absolutely not full of shit. Especially when he called West Virginia "almost heaven." The scenery here is nothing short of spectacular, especially in the fall, and this quick jaunt is the best way to soak it up. You can choose a two-hour journey along the Greenbrier River and into the Monongahela National Forest via the coal-fired Durbin Rocket or long-haul it for 4.5 into the heights of Appalachia with the Bald Knob trip, which takes you to the second-highest vista point in West Virginia. Either way, you're bound to run out of alternatives to the word "amber" and "fiery" en route.

Once used to transport lumber to mining camps, these original locomotives now haul passengers up a four-mile, 11%-grade slope with sweeping views of the mountains below. At the top of the ride is Whittaker Station, a restored logging camp. For optimum results, go in October when the fall foliage is at peak amazingness.
Pikes Peak, Colorado
Tickets start at $58
Perched atop the most beloved fourteener in Colorado, Pikes Peak Summit House recently underwent the highest-altitude construction project in North America. Now, along with unparalleled views of the Colorado Front Range (and the most legendary donuts in the lower 48, which you can now customize with add-ons like cocoa, cinnamon, sugar, and nutmeg), those who trek to the top will find improved accessibility, new interpretive exhibits, a trail mix bar, and more. The least back-breaking way to enjoy Pikes Peak is by riding up on the Cog Train, which has been in operation since 1891 and recently got a facelift of its own with new train carriages imported from Switzerland and miles upon miles of new track to guide you through the hills.
New York City to Montreal
Tickets start at $70
When she sang "Autumn in New York," Ella Fitzgerald was technically talking about the sights and sounds of the five boroughs. But for the purposes of this story, we're going to expand the tune's adoration of fall to include the rest of New York State—especially considering the tendency of city-dwellers to go flying Upstate around this time of year. If you've already ticked apple-picking off your list, Amtrak's Adirondack train will keep the cozy vibe going. Running daily, the 10-hour ride will take you from NYC, past Lake Champlain, and through the wineries of the Hudson Valley. Plus, in non-Covid times, you can ride the last leg up past the border and onto one of the best fall foliage cities in Canada: Montreal.
Kastalia Medrano is Thrillist's Travel Writer. You can send her travel tips atkmedrano@thrillist.com, and Venmo tips at @kastaliamedrano.

Ian Centrone is a freelance writer from New York who traded a perfectly comfortable life for nomadic adventures abroad. You can usually find him talking to strangers, eating weird foods, and documenting it all on Instagram.