Every autumn, my family used to pile into our minivan and hit the open road from the suburbs of Long Island to my grandparents' farm in Lancaster, Pennsylvania (yep, Amish Country). I was convinced there was no better way to appreciate the fall foliage, and it was one of my favorite childhood traditions.
Then I grew up and realized that actually planning a road trip totally sucks. Traffic, detours, tolls, speed traps, refueling at questionable highway exit gas stations -- man, when you really get down to it, that just sounds like work. That's when I figured, why not leave all the planning to the original masters of cross-country transportation?
Turns out taking a train is way easier: naps, incredible scenery, abundant snacks, a bar car. More than spring and summer, autumn is a cheap time of year to take a trip for the pure scenery of it. From Napa Valley to New England, you can find plenty of rail trails that make for a prime leaf peeping getaway. Bust out your flannel, because these are some of the best (and most affordable) routes across America to explore this autumn.
Bryson City, North Carolina
Tickets start at $95
Every year North Carolina puts on an epic, highly underrated display along the Tuckasegee River shoreline, peppered with buttery gold, burnt sienna, and deep crimson. The Great Smoky Mountain Railroad's 32-mile route is impressive on its own, but be sure to pop into one of the open-air gondola cars for the ride's best overlooks. This trip also includes a countryside stop in the super cute village of Dillsboro, home to more than 50 shops, inns, and restaurants. Book the excursion aboard their modern diesel train, or go the purist route and request their vintage steam engine locomotive.
Colorado to New Mexico
Tickets start at $95.75 (adult) and $49.75 (child)
Movie buffs may recognize this vintage coal-fired steam engine from its big break in Indiana Jones and the Last Crusade (1989), but it actually dates back to the 1880s. This rolling National Historic Landmark traverses 64 miles, bringing passengers through the Rocky Mountains, along the tapered Toltec Gorge, and across the 10,000-foot Cumbres Pass. The route zigzags past miles of quintessential Western scenery, historical sites, towering mountain peaks, and woodland wildlife. To sweeten the deal: yo, a buffet lunch.
Bardstown, Kentucky
Tickets start at $70
If there's anything Southerners love more than sitting and staring, it's eating as they do it. You'll eat in style during this 20-mile trip between Bardstown and Limestone Springs in Kentucky's famed Bourbon County. Once on board, prepare for a gourmet meal served alongside the ever-changing backdrop of Kentucky's fall foliage and postcard-perfect scenery. But prospective passengers should plan ahead -- reservations tend to fill up quickly.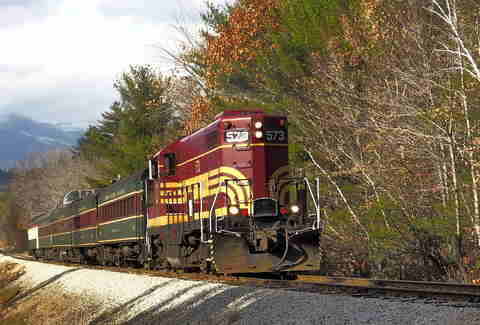 North Conway, New Hampshire
Tickets start at $17.50 (adult) and $12.50 (child)
Any New Englander knows that New Hampshire in October is the epitome of an autumn jaw-dropper, and this coastal stretch serves up some of most vibrant views in the East. Hop aboard this vintage passenger train and wind through Crawford Notch, an area beloved by adventurists thanks to its staggering bluffs, cascading streams, and panoramic mountain views. Add some fiery maples to the mix and you've got a recipe for an unforgettable train ride. Learn about the historic route and local folklore as you trek along tracks laid nearly 150 years ago.
Napa Valley, California
Tickets start at $329
Travelers in search of a shmancier affair should head west where wine reigns supreme. This six-hour tour takes place on a renovated 1915 Pullman railcar operated by Noble House Hotels & Resorts and marries award-winning vino against world-famous Napa Valley views. There are actually three new routes to choose from, and each includes a sparkling wine tasting, four-course menu, and stops at iconic wineries along the way. It's a feast on wheels, worth the splurge.
While the wildfires this fall have been tough on the wineries in the area, tours and journeys will still be operational as long as the air quality remains at a safe, breathable level. The Napa Valley Wine Train team continues to update the site with new business hours and changes in the schedule.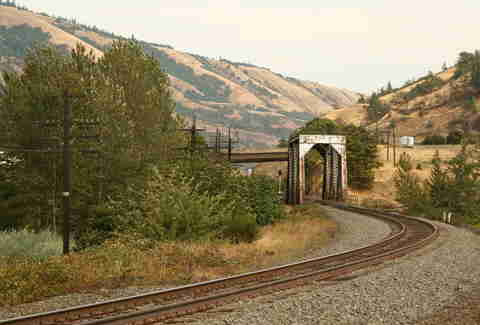 Hood River Valley, Oregon
Tickets start at $45 (adult) and $40 (child)
Mount Hood Railroad's Harvest Fall Special is the stuff of your guiltiest pumpkin-spiced dreams. Scope out the greatest hits of this rugged region aboard a four-hour ride through soaring evergreens and sepia-toned mountaintops. In typical Oregon fashion, passengers can look forward to a Harvest Brew beer tasting as well as a fall-themed keepsake. Don't fill up on beer, though; there's a picnic lunch pit stop with seasonal specialties like slow-cooked pulled pork, pear coleslaw, and cider-baked beans.
Clarkdale, Arizona
Tickets start at $65 (adult) and $45 (child)
Chances are Arizona isn't the first place that comes to mind when you think "fall foliage," but don't rule it out. This 1940s-era train has a romantic charm about it, and its Sedona Fall Colors Tour teems with shades of amber, garnet, and gold. The limited edition Ales on Rails route rolls every Thursday through Sunday in October -- you can quench your thirst with the railroad's exclusive private label brew or other craft varieties including Scotch ales, IPAs, chocolate porters, and more. Cheers to that.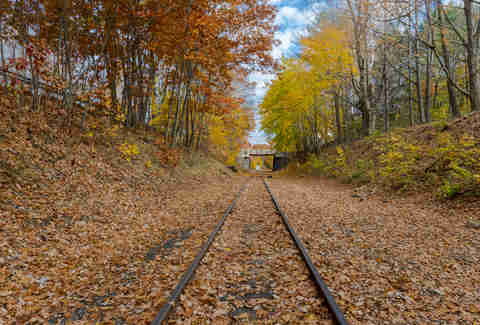 Maine to Massachusetts
Tickets start at $53
For more of New England's seasonal splendors, hitch a ride on this route that snakes its way from Brunswick, Maine to Boston. It operates year-round, but really comes to life in the fall, schlepping passengers through kaleidoscopic panoramic views. It even offers free Wi-Fi so you can 'Gram from the tram and document your journey down the coast. The train is also pet friendly, so bring a dog and get snuggled the whole way.
Sign up here for our daily Thrillist email and subscribe here for our YouTube channel to get your fix of the best in food/drink/fun.