How a Scuba Diver Found Thousands of Sunken Ships Around a New England Island
Stories from a lifetime under the sea.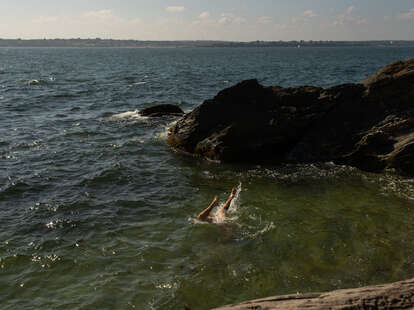 Photo courtesy of Chris Mongeau
On a midwinter day, with the wind howling and temperatures frigid enough to freeze the sweat on their skin, twenty-year-old Jim Jenney and his friends went out to sea on a patched-together inflatable life raft. They'd found the 32-man boat discarded behind the US Navy base in Newport, Rhode Island and outfitted it with a makeshift transom and mounted an outboard motor. The group shoved out from the northern tip of Jamestown, where Jenney was born and raised, and into Narragansett Bay. They were on the hunt for the 188-foot tugboat Mount Hope, which struck a shoal and quickly sank during a 1968 storm.
"With the top on, [the raft] looked like a floating tent," Jenney recalls. "I'm surprised nobody called the Coast Guard and said they saw survivors of a shipwreck or something."

Jenney never looked back—only down, at the thousands of wrecks that litter the ocean floor.
The men eventually found the wreck, and the inflatable vessel became their transportation of choice to a variety of other watery graveyards. With this raft, the group hunted for the Lightburne, a steamship that ran aground beyond the towering bluffs near Block Island during storms and heavy fog in 1939. "We had a terrific day diving," says Jenney. "Then we came back and realized we had to lug all this stuff (tanks and equipment) back up a 300-foot cliff."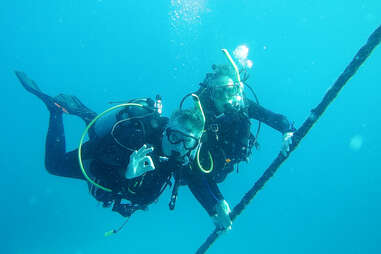 Jenney could tell vivid stories about his scuba diving adventures for hours, and no wonder: he's spent most of a lifetime under the sea. He got his start in the sport at age eight, when his diver father popped a respirator in his son's mouth and led him into the water. Jenney never looked back—only down, at the thousands of wrecks that litter the ocean floor off the coast of Rhode Island.
As an adult, Jenney parlayed his passion for the deep into a career in professional wreck diving. He has made and guided hundreds of dives around Jamestown and its rock-strewn, scenic sisters, Newport, Watch Hill, Narragansett, and Block Island. In the process, he's become the foremost authority on Rhode Island shipwrecks.
The severe beauty of the New England coast has proved a prolific muse, bringing Jenney face-to-face with the skeletons of eighteenth-century fishing schooners and privateers, turn-of-the-twentieth-century steamships, two-masted yawls, and other ghosts that list, rusted and hole-ridden, along the ocean floor.
Before the state passed legislation awarding itself ownership of any items lost to the silt and surf for 50 years or more, Jenney salvaged a variety of items. Some of his favorites include a collection of 400 nineteenth-century bottles, found in different spots around the coast, including off the old ferry landing on the east side of Jamestown.
He's especially proud of having raised cannons from the Minerva. The Spanish brig struck Breton Reef in 1810, off the coast of Newport, in an area where wrecks are torn to pieces by brutal ocean currents. "That one was pretty special," Jenney says. "We spent a lot of time trying to work under the radar, because people knew we were looking and would have followed."
All the ghostly, watery secrets Jenney amassed over the years are pretty rare—so much so that the diver used his firsthand knowledge to write nine books about wrecks and diving, including In Search of Shipwrecks. And he's helped compile a shipwreck database for the Beavertail Lighthouse Museum in Jamestown.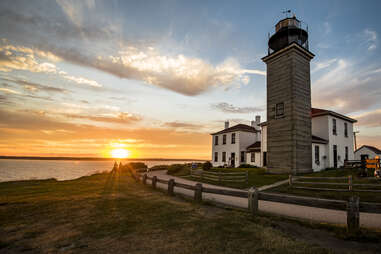 The historic lighthouse complex, located on the arrow-shaped southern tip of Conanicut Island, includes the red-roofed keeper's and assistant keeper's houses, plus a striking, late-1800s square granite tower with a cast-iron top. It replaced the original 1749 light tower, which was damaged in the disastrous hurricane of 1938. In addition to its fourth-order Fresnel lens (that's naval-speak for the enormous light that formerly sat at the top of the lighthouse), the Beavertail Museum presents artifacts, videos, touch-screen educational displays, and a variety of descriptive signage on wrecks around the state, many of which were based on Jenney's original research.
The museum also has an exhibit devoted to the 1938 storm. Dubbed the "Long Island Express," the hurricane came on without warning and whipped itself into a fury of 60-mile-per-hour winds that engulfed beaches and coastal communities in tidal waves 30 feet high. Boats were set adrift. Homes and businesses were smashed into toothpicks. Hundreds of people were lost.
"Every wreck has a different story."
In the West Passage, a notoriously difficult and low-visibility place to dive in Narragansett Bay, the hurricane tore the top portion of the cast-iron Whale Rock Lighthouse from its foundation and swept it, and its lightkeeper, out to sea. The lower floor collapsed in on itself shortly after. Today, a crumbling foundation atop a hump-backed rock bears witness to the disaster.
The wind and currents move in opposite directions in this area, creating what sailors and divers call a confused sea. This treacherous stretch has claimed hundreds of vessels, including the early 1800s schooner Providence Journal and an unnamed circa-2000 barge, both of which capsized and sank in the bay.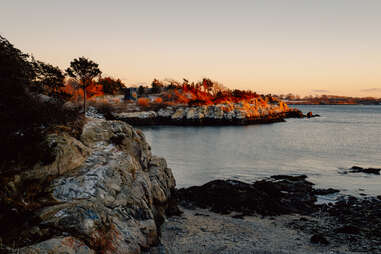 These and other ill-fated ships have been captured in Jenney's extensive database of 3,400 wrecks, found at the museum and online—the most comprehensive listing of maritime events in Rhode Island waters from the Colonial era to today.
"To this day I cannot say there is any place I would rather be than underwater."
Some seven decades into his wreck-diving career, Jenney is still motivated to uncover the story behind the haunting majesty of a sunken ship. "Every wreck has a different story. That's what got me hooked on maritime history, 24/7, 365 days a year. It's been my life's work."
Of his hometown, Jenney says, "The best place for scuba near Jamestown, particularly if you're interested in wrecks, is around Beavertail." Because competition with fishermen here can be problematic, he also recommends heading toward Newton Rock, about a quarter mile off the coast of Jamestown. Beyond that, Jenney names the area around nearby Block Island, which has better visibility, as his favorite for Rhode Island diving.
After seven decades spent in and around the sea, Jenney still hasn't gotten his fill. "To this day I cannot say there is any place I would rather be than underwater," he says. "Scuba diving in Rhode Island is one of the greatest pleasures anyone could experience."