Forage for Edible Seaweed on the California Coast
Join Spencer Marley for the foraging adventure of a lifetime—and a mean bowl of seaweed ramen.
California's Central Coast is known for its lush green valleys and rolling hills that provide bountiful agriculture for world-renowned wine and cuisine. But unbeknownst to many, some of its most exciting culinary wealth comes from its majestic coastline, where the Pacific Ocean crashes into cliffs and embankments. Here, you'll find multiple varieties of edible seaweed, if you know how—and where, exactly—to harvest them.
It's also where you'll find Spencer Marley, founder of Marley Family Seaweeds and self-described seaweed nerd, who runs a seaweed foraging experience through Airbnb in San Luis Obispo County. Marley, a former commercial fisherman who grew up feeling connected to the sea, began foraging after meeting some seaweed sellers at a farmers' market.
"I knew enough about the sea, and when I did some research and found different varieties of seaweed in the area, I found what I was looking for," he recalls. With the help of friends and a biology professor at Cal Poly, he got into the business of seaweed foraging.
In it, he found an opportunity to reconnect with the ocean. "Seaweed foraging is an activity that gets us in touch with nature at an elemental level," he says.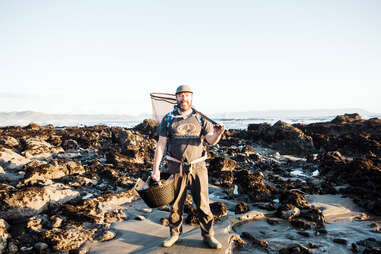 Marley also found a new career, working to harvest seaweed commercially. "In the heyday, I would harvest 50 to 100 pounds at a time and sell it at farmer's markets," he says. But contrary to what many believe, he explains, seaweed isn't 100% regenerative. Most of it grows back to about 60% if foraged correctly. The more he learned, the more he realized he needed to stop selling large quantities of seaweed. Meanwhile, he began to realize that the people who stopped by his farmer's market stall were often interested in how he collected the seaweed.
And so Marley got into teaching. "I found that teaching them to do it the right way was more valuable and soul satisfying to me," he says. But he's quick to point out that he's far from the first to forage in this area.
"Here in the Central Coast, we have historical evidence of Chinese families who came to work on the railroads, leasing land from ranchers to forage seaweed and sell it to other local Chinese families in the 1800s."
On one of Marley's recent foraging excursions, I had the opportunity to collect seaweed for myself. Marley emphasized sustainability, explaining that sustainable seaweed harvesting can be done by snipping the ends of the seaweed, leaving behind the holdfasts (the seaweed version of roots) to allow for continued growth. But glean foraging, he said, has a lower impact on the environment.
Glean foraging is done in intertidal areas, like the ones near Cayucos, Point Lobos State Marine Reserve, and Duxbury Reef State Marine Conservation Area, and takes advantage of seaweed's natural process of decay. When the weeds grow too long, they break off in the waves and wash into shore.
That's where Marley comes in with his sieve buckets and nets. "You feel like a gatherer as you forage for seaweed, sifting through the troughs and dips along the beach," he says.
As a beginner forager, I approached the task tentatively, expressing concern that I might inadvertently gather the wrong seaweeds. Marley was quick to assuage my fear, explaining that unlike mushrooms, there are no inherent toxic seaweeds in the world. But there are other dangers associated with collecting food from the sea.
"Make sure you study the tide charts and know when to head out," he warned. "You do not want to be caught unawares by changing tides."
We set up base camp at a sheltered spot on the beach, then waded across the many streams and rivers that emptied into the ocean, on a mission to collect seaweed. Soon my basket was filled with olive rockweed (which tastes kind of like capers), sea lettuce, nori, and my personal favorite kombu (which is great in soups). I felt like a kid in biology class as I listened to Marley talk about each of them, their flavor profiles, and their distinguishing characteristics.
When we were done foraging, we returned to the beach. Marley set an orange camp stove on the ground and cooked up a pot of hot, briny ramen, using the seaweed we'd foraged. Any seaweed we didn't use, we tossed back into the sea.
"It will continue to decay and provide nutrients and food for the other animals and shore birds long after we are gone," Marley explained. "It truly is one of the most giving organisms on the planet."