There's a magical festival about an hour and a half outside of Orlando each spring, where the "pop" of opened soda bottles fills the air and the accessory of choice is sugary, bubbly drinks. No, this isn't a drum-up-business-for-dentists convention—it's something so much sweeter. This carbonated wonderland of a weekend (happening April 7 and 8 this year) is the Sebring Soda Festival, which offers more than 200 craft sodas to sample, along with everything from a Soda Pop Princess Pageant to a mascot dressed like a soda bottle. When it comes to fizzy beverages, nobody pours it up like Sebring.
It all began in 2018 with Jeff Cannady, who was the first owner of the Sebring Soda & Ice Cream Works, an ice cream parlor and shop in town that's stocked with craft and vintage bottled sodas. Cannady approached Sebring's chamber of commerce and tourism boards about putting on an event focused on carbonated beverages, and the idea appealed.
"We realized that when you hear about festivals in general, you hear about lots of the same types of things over and over," said Liz Barber, who was the president and CEO of the Greater Sebring Chamber of Commerce at the time. "When we sat down and thought about what Sebring has that most places don't have, a downtown craft soda shop was one of them."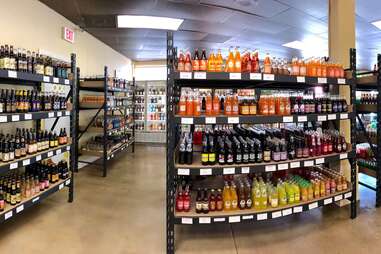 Cannady was also an ambassador for the inaugural fest in April 2018, combining his business contacts with soda suppliers and distributors with general soda savvy to get things up and running. He also teamed up with Sebling's Chamber of Commerce, Tourism Development Council, and Community Redevelopment Agency.
"We had a fantastic first year and Jeff's business got busy as a result," remembers Barber.
Nonetheless, Cannady ended up decided to close Sebring Soda & Ice Cream Works soon after the festival.
"Originally my first thought was, well, you can't close, we just had an extremely successful event," remembers Barber. "So, I just kind of casually said, 'Well, have you thought about selling it to somebody?' and he's like, 'No, do you want it?'"
Barber and her husband Daniel decided that the answer was a resounding yes, purchasing the shop a few weeks later. The business has since expanded to include a shop in Lake Placid, and remains involved with the Sebring Soda Festival. It sells bottles of the event's popular featured soda brands, as well as tickets that are required to participate in the festival's soda tasting.
While soda is the centerpiece, the two-day event has grown to include live entertainment and that soda bottle mascot. The 2021 festival introduced a Soda Pop Princess Pageant, and this year marks the addition of a Soda Pop Pre-Teen Pageant. In keeping with the event's theme, contestants put on soda-related skits.
"Their skit is their time to shine and they show their personality," says Tenille Drury-Smith, president and CEO of the Greater Sebring Chamber of Commerce. "Last year, a lot of them chose to go more of a fifties diner theme, but this year, they're definitely getting very creative with what they're doing."
Other offerings include a soda-themed pet costume contest, a photo booth resembling a giant soda caddy, food trucks, and a kids fun zone with bubble parties on the night of Friday, April 7.
And then, of course, there's the soda sampling. Vendor tables are managed by local nonprofit organizations who hand out condiment cup-sized servings of fizzy drinks.
"It's a way for them to set up a booth and promote their nonprofit, and in return, they distribute the soda tastings for us," says Tenille Drury-Smith, this year's festival co-organizer. "Nonprofits that do help tend to come back year after year. It's a platform for them to be able to share their mission and what they do."
The festival's website lists the names of sodas poured out at the event, but Drury-Smith notes that these are subject to change. Among them, Avery's Beverages of Connecticut is a popular brand that she thinks caters well to kids, in part due to their "Totally Gross Sodas" line.
"They have names like Unicorn Yack, Kitty Piddle, and Dog Drool; those are fun flavors," she explains. In 2019, Avery's even made a custom festival soda called Gator Grog.
Other vendor participants include Capt'n Eli's Soda of Maine, Boots Beverages in Texas, Hank's of Pennsylvania, and Boylan Bottling Co. of New York. About 200 cases of soda are purchased and delivered right before the festival, which amounts to around 2,400 bottles. Totally Gross Sodas aside, other selections incorporate more common flavors—think root or birch beer, cherry cola and cream soda—with specialty varieties such as espresso, butterscotch, cucumber, and candied bacon.
If you want to join in on the soda sampling, you can purchase tasting cards for different numbers of samples. Cards start at $6 for eight samples, followed by $15 for 24 and $25 for 48. The cards are shareable, too, so that (for example) a family of four can use a single card to get stamped for samples.
But if you hoard a single card to yourself, no one will judge you for it. Drinking down lots of soda is the event's main attraction, after all.